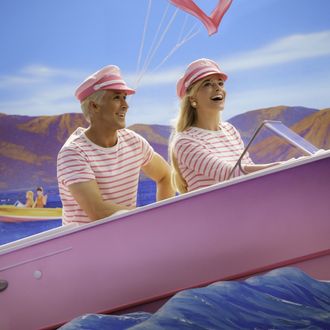 Ken and Barbie, not Monsieur Hulot.
Photo: Jaap Buitendijk/Warner Bros.
What'd Beyoncé say? "You know you that Barbie when you cause all this conversation." First reactions to Greta Gerwig's wildly anticipated technicolor fantasia slash existential comedy slash Mattel commercial are in, and they, like the Lady Bird and Little Women director's own works, are filled to the brim with ideas. The main through-line in much of the early reviews concerns just how revolutionary a film can be if it's based on existing IP, produced by that IP's corporate daddy, and successfully marketed after 18 months securing brand deals and devising an advertising blitz. The film stars Margot Robbie as Barbie and Ryan Gosling as Ken, both of whom expertly carry the production, and charts their travels from Barbie Land to the real world when the former doll starts to think about dying. Her dawn of consciousness sets of a chain of events that finds the pair grappling with our own misogynist society, women's empowerment, and a metacommentary on the toy brand. "The trouble with trying to sneak subversive ideas into a project so inherently compromised is that, rather than get away with something, you might just create a new way for a brand to sell itself," Vulture critic Allison Willmore says of the attempts to inject socially conscious ideas in the two-hour-long Mattel spot. Below, what critics thought about Barbie.
"There's a streak of defensiveness to Barbie, as though it's trying to anticipate and acknowledge any critiques lodged against it before they're made, which renders it emotionally inert despite the efforts at wackiness. To be a film fan these days is to be aware that franchises and cinematic universes and remakes and other adaptations of old IP have become black holes that swallow artists, leaving you to desperately hope they might emerge with the rare project that, even though it comes from constrictive confines, still feels like it was made by a person. Barbie definitely was. But the trouble with trying to sneak subversive ideas into a project so inherently compromised is that, rather than get away with something, you might just create a new way for a brand to sell itself." — Allison Willmore, Vulture
"The victory that is Gerwig, Robbie, and Gosling — along with a supporting cast and crew that revel in the idea of joining a benefic Barbie party — slipping in heady notions about sexualization, capitalism, social devolution, human rights and self-empowerment, under the guise of a lucrative, brand-extending trip down memory lane? That's enough to make you giddy." — David Fear, Rolling Stone
"However smartly done Gerwig's Barbie is, an ominousness haunts the entire exercise. The director has successfully etched her signature into and drawn deeper themes out of a rigid framework, but the sacrifices to the story are clear. The muddied politics and flat emotional landing of Barbie are signs that the picture ultimately serves a brand." — Lovia Gyarkye, The Hollywood Reporter
"It's a movie that sits at an interesting inflection point in moviemaking and movie consumption, when almost every idea seems born from a pre-existing product. While it's easy to balk at — and believe me, I have; many, many times — the truth is, the tension between filmmaking and commerce has and always will be present in the work itself, be it a broad Hollywood blockbuster or the most idiosyncratic and Terrence Malick–y of endeavors. Something like Barbie lays that tension bare and exposed in its unabashed commercialism and heightened sensibilities, so that you can't not think about how its aims may be at odds with its execution." — Aisha Harris, NPR
"It's kind of perfect that Barbie is opening opposite Christopher Nolan's Oppenheimer, since Gerwig's girl-power blockbuster offers a neon-pink form of inception all its own, planting positive examples of female potential for future generations. Meanwhile, by showing a sense of humor about the brand's past stumbles, it gives us permission to challenge what Barbie represents — not at all what you'd expect from a feature-length toy commercial." Peter Debruge, Variety
"Barbie, when it comes down to it, is a coming-of-age film. While Gerwig's excitable direction and the film's eye-popping set design easily distract from its central message, Barbie's sincerity shines through. Its message may be a bit simplistic and delivered in feminist platitudes, but like anything covered in glitter and jewels, it's a bit easier to sell. Some may call Gerwig a sellout, but she's the one who hid a moving, emotional journey of self-discovery inside a toy commercial." — Hoai-Tran Bui, Inverse
"Barbie never descends into a cheap girls-versus-boys final showdown; it just reckons with the different ways self-image gets sold to us, the weary, willing consumer, even as the world grows savvier and more cynical. That it does so through bright musical numbers, acidic quips, and the right scoop of sentimentalism is all the more impressive." — David Sims, The Atlantic
"Gerwig does much within the material's inherently commercial parameters, though it isn't until the finale — capped by a sharply funny, philosophically expansive last line — that you see the Barbie that could have been. Gerwig's talents are one of this movie's pleasures, and I expect that they'll be wholly on display in her next one — I just hope that this time it will be a house of her own wildest dreams." — Manohla Dargis, The New York Times
"Most of the film's funniest moments belong to Gosling, who along with his fellow Kens (Simu Liu, Kingsley Ben-Adir and others) morphs into an obnoxious, mansplaining dude-bro."  — Ann Hornaday, The Washington Post
"Opuses can and will be written about Sarah Greenwood's production design and Jacqueline Durran's costumes. Barbie is a lovingly crafted blockbuster with a lot on its mind, the kind of feature that will surely benefit from repeat viewings (there is so much to see, so many jokes to catch) and is still purely entertaining even in a single watch." — Kate Erbland, IndieWire
"The movie is at its best when it's simply leaning into its own fast, funny, free-floating goofiness, whether it's letting Kate McKinnon do her thing as a self-explanatory Weird Barbie, pitting multiple dancing Kens against each other in a hypnotic dream ballet, or throwing in a coconutty reference to Monty Python and the Holy Grail. I could've done without the filler-ish comic subplot featuring Will Ferrell as Mattel's CEO, a mostly toothless bit of corporate ribbing that nonetheless does lead to a visually striking chase sequence through a maze of office cubicles, cleverly staged as a riff on Jacques Tati's classic Playtime." — Justin Chang, Los Angeles Times
"Never doubt Gerwig. The Oscar-nominated filmmaker has crafted a fierce, funny, and deeply feminist adventure that dares you to laugh and cry, even if you're made of plastic. It's certainly the only summer blockbuster to pair insightful criticisms of the wage gap with goofy gags about Kens threatening to 'beach' each other off." — Devan Coggan, Entertainment Weekly