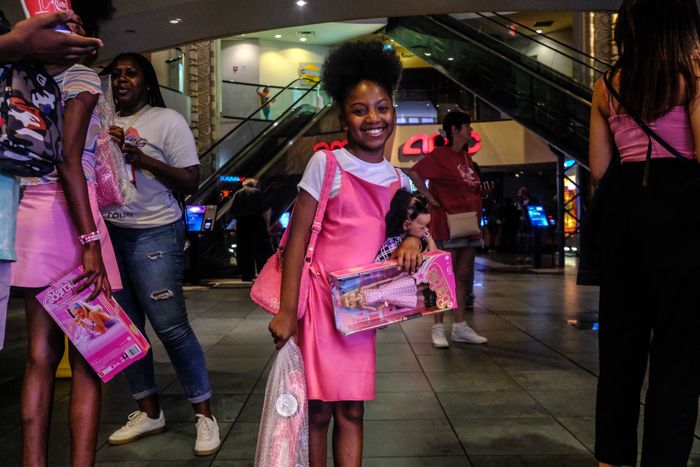 Barbie
and
Oppenheimer
's staggering returns seem to signal franchise fatigue — or at least that audiences want alternatives to the same old, same old.
Photo: Stephanie Keith/Getty Images
The Barbenheimer box-office tallies are finally in. Greta Gerwig's Barbie and Christopher Nolan's Oppenheimer split the theatrical moviegoing atom over their opening weekend, unleashing a terrible new knowledge about the fearsome power of unharnessed toy IP and the undersung counter-programing bankability of summertime adult drama. Both movies wildly overshot even the most optimistic prerelease financial expectations: The plastic-fantastic existential-dramedy musical Barbie surpassed 2023's previous record holder The Super Mario Bros. Movie with a $162 million domestic three-day total to log the year's biggest opening. And Nolan's three-hour, R-rated historical drama (largely plotted around scenes of Serious Men in Serious Locations talking and talking) took in $82 million in North America — each title more than doubling its prerelease "tracking" estimate in the process.
At a time when overall ticket sales are down 21 percent from the pre-pandemic levels of 2019, and with some of this summer's biggest presumed rainmakers like Mission: Impossible — Dead Reckoning Part One and Fast X basically breaking even at the box office, it all compelled the National Association of Theatre Owners to issue a statement calling the combined, Barbie-Oppenheimer $520.4 million global haul a "truly historic weekend." Industry observers (well, okay, just me) could be forgiven for paraphrasing the father of the atomic bomb's famous Bhagavad Gita utterance: I am become Barbenheimer, buster of blocks.
Amid a summer season otherwise saturated with superhero movies (The Flash, Guardians of the Galaxy Vol. 3), sequels (Spider-Man: Across the Spider-Verse, Extraction 2, Indiana Jones and the Dial of Destiny, Insidious: The Red Door), live-action adaptations of beloved animated movies (The Little Mermaid), and reboots (Transformers: Rise of the Beasts, White Men Can't Jump), Barbenheimer's robust returns are probably evidence of franchise fatigue — or at least that audiences are still willing to turn out in staggering numbers for alternatives to what they perceive as the same old, same old. Barbie's numbers stand as the best-ever opening for a movie based on a toy (toppling Transformers: Dark Side of the Moon's $115.9 million debut), and the second-best theatrical bow in history for a female filmmaker (Captain Marvel, co-directed by Anna Boden and Ryan Fleck, took in $455 million worldwide over its first three days in 2019). Oppenheimer, meanwhile, arrives as Nolan's most successful non-Dark Knight opening to date. The upshot: the most money-earning weekend for movie-theater owners since Avengers: Endgame became an inescapable cultural sensation in April 2019.
Planning for the live-action feature adaptation of Mattel's 64-year-old fashion-plate doll began back in 2009 with various iterations over the years set to star Anne Hathaway and Amy Schumer. Oscar-winner Diablo Cody took a crack at an early script draft and Wonder Woman filmmaker Patty Jenkins briefly negotiated for the director's chair before star-producer Margot Robbie brought Oscar-nominated writer-director Gerwig onto the project. But with the March floppage of Dungeons & Dragons: Honor Among Thieves, a $150 million fantasy-thriller loosely plotted around Hasbro's tabletop role-playing game, intellectual properties based on even the most cherished toy lines were hardly hot stuff around Hollywood. Gerwig's Barbie breakthrough (she also wrote the script with her life partner Noah Baumbach) has now catapulted her into the industry's top tier of directors and all but guarantees future franchise installments as part of a larger Warner Bros. push to develop movies based on Mattel toys like Hot Wheels, He-Man, Rock 'Em Sock 'Em Robots, and Uno.
As the more adult-skewing offering of the Barbie-Oppenheimer double feature (seen by an estimated 200,000 people who bought tickets to both movies on the same day, according to NATO), Nolan's prestige biopic was less obviously a smash-in-waiting and, arguably, the harder sell. Hitting 3,610 screens at the apex of popcorn movie season (with mid-to-late July serving as the British auteur's preferred release corridor for almost all his major movies save for Interstellar and The Dark Knight Rises) the talky, weighty historical drama about the recalcitrant father of nuclear war was more obviously suited to an awards season bow than as a lead-in batter for Meg 2: The Trench.
But beyond drafting off of Barbie's outsized box-office draw — Puck's Matt Belloni points out that 6 percent of moviegoers who saw Oppenheimer did so because Barbie was sold out, yielding around $5 million of the biopic's weekend gross — the film's $82 million turnout stands as the latest triumph in a hit-strewn 2023 for Universal film group chairman Donna Langley. Langley recruited Nolan to the Uni fold after he became disenchanted with longtime studio home Warner Bros. for bungling the release of his sci-fi mindbender Tenet in 2020 and controversially day-and-date dumping the entirety of its 2021 movie lineup onto HBO Max. And she has been on a Hollywood streak this year, launching a worldwide horror hit with M3gan, scoring a respectable breakthrough with the original (if insane) IP of Cocaine Bear, and following those relatively minor triumphs up with the franchise-kickstarting, blockbuster bona fides of The Super Mario Bros. Movie, which similarly seemed to come out of nowhere and strike the Zeitgeist to put more butts in seats than almost anyone inside the industry thirty-mile zone could have ever predicted.
On July 21, Gerwig made a surprise visit to a Barbie screening at Brooklyn's Alamo Drafthouse. She spoke about her aspirations in making the movie but could have just as easily been describing how Barbenheimer connected with moviegoers. "When we made this movie, we made it with so much hope and joy, and we hoped that people would go back to the movie theater and be together," the director said. "And this is just fucking extraordinary!"