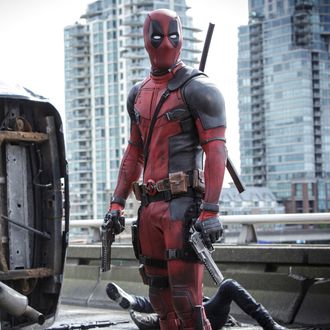 Photo: Joe Lederer/Twentieth Century Fox
Ryan Reynolds is taking a break from soccer football-team ownership. Five years after Deadpool 2, the third film in the franchise is finally in production, and it's turning into a superhero meetup of epic proportions. Reynolds is bringing in some unexpected classics — ya know, the kind who fully died in-universe, or haven't been reprised in almost 20 years. But while we know a bunch of the cast, and we know their prior histories, we don't necessarily know much about the film itself. So suit up, and by that we mean squeeze your ass into red spandex, and get the Deadpool details below.
Hugh Jackman not done playing Wolverine?
It's just like the old saying goes: You can take the boy out of the X-Men movies, but you can't take the weapons-grade adamantium out of his bones. Hugh Jackman, who was said to have retired his Wolverine character after Logan, apparently just can't stay away from the old crank for long. On September 27, Ryan Reynolds posted a video called "Deadpool Update" in which he apologizes for missing D23, explaining that he was hard at work because "his first appearance in the MCU obviously needs to feel special. You need to stay true to the character, find new depth, motivation, meaning." Meanwhile, a montage plays involving a shot of him plugging his Aviator gin. Then, a very decent Jackman body double walks by in the background. Jackman will be playing Wolverine "one more time," according to Reynolds, with the blessing of Logan director James Mangold, in Deadpool 3. Because no one makes it out alive before getting absorbed into the Feige-Borg.
Reynolds followed up on September 28 with a video called "Deadpool Update, Part Hugh," in which he keeps the first video's Modern Family aesthetic alive with Jackman on the couch next to him, mainly explaining that Wolverine is alive because "Logan takes place in 2029 — totally separate thing." Oh God, is there going to be a new one of these every day until 2024?
Speaking to the Empire Film Podcast, Hugh Jackman said that Deadpool and Wolverine will at least start the movie more on the enemy side of the frenemy continuum. "Ten being really close, zero being the reality, we're zero. We're opposites, hate each other," he said. Sounds like the unstoppable wisecracking force of Deadpool is going to meet the unmovable, un-laughing object of Wolverine. Jackman said Logan is "frustrated by him, wants to be a million miles away from him or wants to punch him in the head. Unfortunately, he can't be a million miles away from him in this movie, so I'm probably going to punch him in the head a lot." When two regenerating heroes meet, you can do a lot of semi-permanent damage. Like, a lot a lot. One time in the comics, Logan regenerated from a single drop of blood.
Who else is in the cast?
Wolverine won't be the only member of the Deadpool family. Reynolds announced on Valentine's Day (aw!) that Emma Corrin is joining the team in an undisclosed villainous role. There's always a villain in the family. And Logan's not the only comeback. Jennifer Garner will also be returning to the Deadpool-verse as Elektra, according to The Hollywood Reporter. Garner first played Elektra in her now ex-husband Ben Affleck's 2003 Daredevil film, then reprised the role in her own starring vehicle, Elektra, in 2005. Now, almost 20 years later, she's lacing the corset back up.
Let's see the first look.
All we have so far is one first-look image of Reynolds and Jackman together in some bright primary colors, debuting Wolverine's classic comic-book suit for the first time on the big screen.
It kinda feels like they need a blue superhero to round out the crew, especially with Elektra's signature red being added. Might we suggest the Tick? He'd fit right in.
What's the release date?
Deadpool 3 is currently slated to come out May 3, 2024. The superhero linkup from across universes and eras will be the perfect bipartisan message to get your mind off of the election that'll be raging at that time.