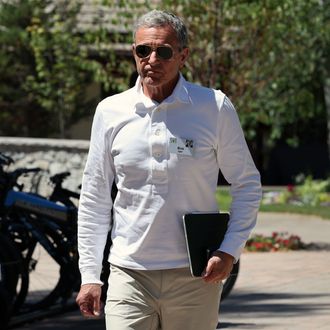 Bob Iger.
Photo: Kevin Dietsch/Getty Images
Not even 24 hours after contract negotiations broke down and SAG-AFTRA prepares to potentially strike, Disney CEO Bob Iger opened his mouth. The chief executive appeared on CNBC's morning show Squawk Box on July 13 to share his thoughts on the writers and the actors currently on strike after the studios failed to agree to a fair contract. "It's very disturbing to me," he said, per Variety. "We've talked about disruptive forces on this business and all the challenges we're facing, the recovery from COVID which is ongoing, it's not completely back. This is the worst time in the world to add to that disruption." Iger, whose salary over at the House of Mouse is reportedly $27 million annually when accounting for stocks and bonus, thinks that the strikers are just asking for too much money. How dare they want to stop living paycheck to paycheck in this inflated economy potentially heading into a recession?
"I understand any labor organization's desire to work on behalf of its members to get the most compensation and be compensated fairly based on the value that they deliver," the CEO continued, before saying Hollywood's woes would worsen if it gave in to those asking for fair pay and protections against AI. "We managed, as an industry, to negotiate a very good deal with the directors guild that reflects the value that the directors contribute to this great business. We wanted to do the same thing with the writers, and we'd like to do the same thing with the actors. There's a level of expectation that they have, that is just not realistic. And they are adding to the set of the challenges that this business is already facing that is, quite frankly, very disruptive." Disney just announced that it'll be keeping Iger on through 2026, extending his contract by two years.