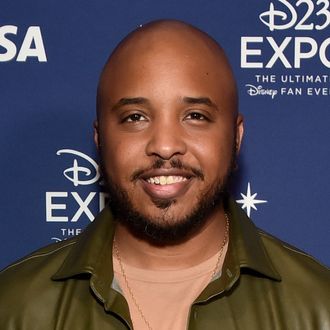 Haunted Mansion
director Justin Simien.
Photo: Alberto E. Rodriguez/Getty Images for Disney
In case you somehow missed it, the Screen Actors Guild is striking, which means most studios have canceled their upcoming premieres (including Oppenheimer) as actors sit out promotional events in solidarity with their fellow guild members. Disney, however, decided to plow ahead anyway with the premiere of the Haunted Mansion remake, even though the entire cast of the film was not in attendance. This makes it the first major Hollywood event to take place after the SAG-AFTRA strike was authorized. The film's cast (which includes Tiffany Haddish, Lakeith Stanfield, Danny DeVito, Rosario Dawson, and Jamie Lee Curtis) did not attend the premiere, which was held outside Disneyland's Haunted Mansion ride. Who, then, was walking the red carpet?
Well, mostly Disneyland cast members in character, including Mickey and Minnie Mouse, Maleficent, the Evil Queen, and Cruella de Vil, who did their best to keep spirits high at an obviously cursed event (it should be noted that the Disney cast members are not scabbing, as they are Disneyland employees and not covered by SAG-AFTRA). Director Justin Simien was also at the event, but emphasized that the striking actors have his full support. "It's sad that they're not here, at the same time, I totally support the reason why they're not here," he said. "And I'm happy to be the one to ring the bell in their stead."