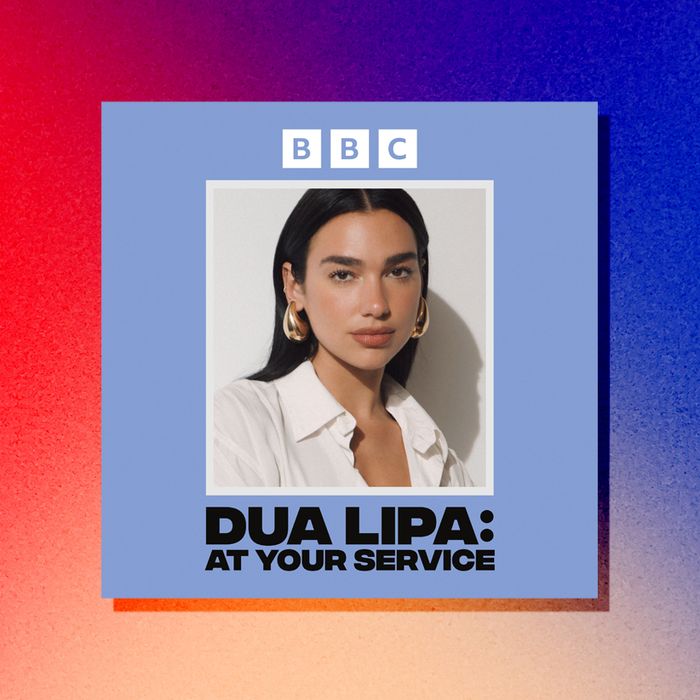 Photo-Illustration: Vulture
There's a studied quality to the questions Dua Lipa asks on her podcast, Dua Lipa: At Your Service. She tends to reach for gravitas while underscoring her own status as a global celebrity — someone whose life story you may already know. "You grew up in a South Asian family with parents who emigrated from Pakistan in the 1970s," she says in the opening volley of her interview with Riz Ahmed. "I'm really interested in families that have what you call a hyphenated identity, coming from one myself."
Dua Lipa is excellent at being a pop star. After leaving home at 15 to pursue a music career in London and willing herself into fame in part via SoundCloud and YouTube, the British and Kosovar Albanian artist ascended to megastar status with her 2020 sophomore album, Future Nostalgia, serving up dance-pop bangers you're unlikely to escape no matter how deep underground your bunker may be: "Don't Start Now," "Levitating," "Break My Heart." But to be a celebrity is to diversify. An indie-music star is also a best-selling memoirist. A pro athlete is also a movie producer. Here, the pop star is something akin to a middlebrow public intellectual — with a podcast that aims to be a kind of "Fresh Air" for the jet set.
A media brand is par for the course, and in February 2022 Lipa launched hers, a lifestyle-media company called Service95. Now comprising a weekly newsletter, At Your Service, a website, and a book club, it aims to feel heftier than your garden-variety vanity project.
She places a heavy emphasis on politics and activism, which she's made pillars of her public image: She's used her fame to express support for Palestinians, champion LGBTQ rights, and establish a philanthropic organization in Pristina, the capital of Kosovo; last year, the Kosovar president named her an honorary ambassador. Her newsletter foregrounds that — while also framing itself as a lifestyle product, inspired by Lipa's love for making recommendations lists of books, food, or fashion for her friends. The blend can be jarring. A list of the five best vintage stores in New York City appears next to a piece arguing for the need to decolonize western health-care systems. A dispatch in May paired Lipa's list of favored wines with a story about Black women shaping the wine industry, both of which are bundled with commissioned stories about adaptive fashion and an explainer on the "Love Jihad" conspiracy theory.
The corresponding podcast seems to possess similar high-low ambitions. Now produced with the BBC, At Your Service is a longform interview show, and while celebrity-hosted podcasts are a dime a dozen these days, Lipa's feels distinct: World-beating pop star hosts conventional talk show for public broadcaster. Much like her newsletter, the guest roster on At Your Service is idiosyncratic. You have the Hollywood types, like Bowen Yang and Pedro Almodóvar, but also novelists, such as Min Jin Lee and Hanya Yanagihara, and activists, including gun-safety advocate and Pulse-shooting survivor Brandon Wolf and Iraqi Nobel Peace Prize winner Nadia Murad. In an unexpected turn, the second season closed with an interview with Dean Baquet, the former executive editor of the New York Times, in which Baquet ended up inviting Lipa to sit in on a front-page meeting. This season, she has brought in Billie Eilish, Jennie Kim from Blackpink, Penn Badgley, and Esther Perel. The famous guests often come with a message; the not-so famous ones are usually the message themselves. And At Your Service still makes space for lifestyle influencing: The podcast released a three-part summer miniseries featuring Lipa in pseudo-Goop mode, including a recipe for a no-recipe roast chicken. In some episodes, she'll respond to listener emails, accentuating her accessibility.
This is not a baggy hangout show premised on listening to a bunch of famous people running over each other while trading stories. Lipa is a solid interviewer. She may be eager to evoke her own experiences in conversation, but she also knows how to save some space for guests to express and be. And while her style leaves little room for surprise — the pursuit of self-actualization is a constant theme — the guest curation is editorially alive. Greta Gerwig's appearance on the show in November featured one of the earliest previews of how the writer-director was thinking about her upcoming Barbie movie. Lipa's conversation with Edward Enninful, then the editor-in-chief of British Vogue — in which they discussed his career and struggles as a Black gay man in prestige publishing — turned out to be one of the last extended interviews he gave before stepping down from the role, a development still shrouded in palace intrigue.
It doesn't always feel as responsive to the real world as you might want. The episode with Trevor Noah, released around the same time tabloid gossip started bubbling up about a romantic relationship between him and Lipa, contains no reference to the meta-text whatsoever. And, curiously, the one category of guest that feels scarce on At Your Service is pop stars. The show has featured several, including Megan Thee Stallion, the South Korean rapper CL, and Elton John, with whom Lipa had collaborated on the single "Cold Heart." It's just that you'd expect her to include more.
Maybe the fact that she rarely focuses on pop stars is meant to emphasize Lipa's self-definition as a wide-ranging cultural authority, feeding into the ideals behind Service95. When she does talk to other singers, she ends up sharing the kind of details only a fellow pop icon would understand — and there's some appeal to that, even when it sounds familiar. "A routine is great," she says in the episode with Charlie XCX, reflecting on their shared globe-trotting lifestyle. "But also having to create a new routine in every single city, and trying to figure out what your favorite place is, waking up in a new room, where do you like to go to grab a coffee — it's not actually a routine."
Every interview show ultimately tells a story about the interviewer, a tale communicated through their choice of guests and topics. The story that unspools around Dua Lipa in At Your Service is one of the pop star as hustler and thinker, curious and politically engaged. It's a tricky project: In the cynical world of celebrity, the line between activism and the performance of activism is thin. With At Your Service, Lipa argues it's a distinction without a difference.