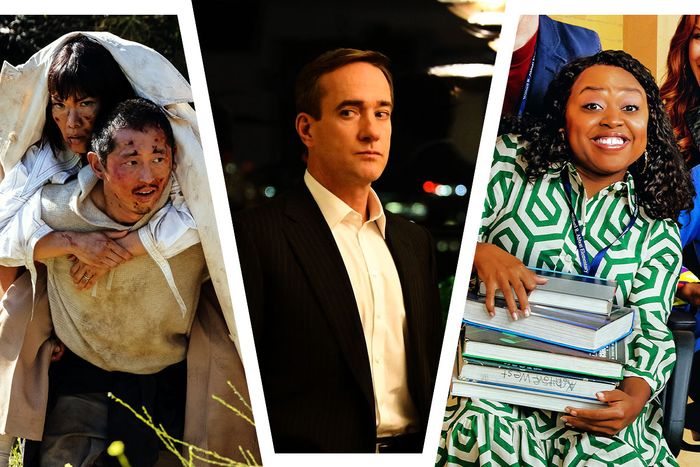 Photo-Illustration: Vulture; Photos: Netflix, MAX, ABC
It's an especially weird, tense time for the Emmy Awards. When this year's nominees are announced on Wednesday morning, Hollywood will be more focused on whether or not the Screen Actors Guild will join the WGA and announce a strike of its membership. (The deadline for SAG to reach an agreement with the AMPTP is 11:59 p.m. PT on July 12, just hours after the nominees are announced.) Even the ceremony itself, currently scheduled to take place on September 18, could be postponed if the writers and/or actors remain on strike into the fall. In the middle of so much uncertainty there is only one thing to do: confidently tell you which shows that aired between June 1, 2022, and May 31, 2023, will, beyond a shadow of a doubt, be nominated for Emmy Awards tomorrow morning. Okay, fine, these are educated guesses based on what other prognosticators are saying, Emmy history, and my own instincts.
Outstanding Drama Series
Predicted Nominees:
Andor
Better Call Saul
The Crown
House of the Dragon
The Last of Us
Succession
The White Lotus
Yellowjackets
All the HBO Sunday-night offerings — Succession, The Last of Us, The White Lotus, and House of the Dragon — seem like locks, as do Netflix's The Crown and AMC's Better Call Saul, an exceptional series that has been nominated 46 times (!!) and never won a single Emmy but will almost definitely lose to Succession in this category. Showtime's Yellowjackets was nominated last year and I suspect will score again. That eighth slot could go to FX's The Old Man, a crime-drama anchored by Emmy-worthy performances from Jeff Bridges and John Lithgow, but I suspect Disney+ and its critically acclaimed (and Television Critics Award–nominated) Andor will take it instead.
Outstanding Comedy Series
Predicted Nominees:
Abbott Elementary
Barry
The Bear
The Marvelous Mrs. Maisel
Only Murders in the Building
Poker Face
Ted Lasso
What We Do in the Shadows
Yes, it's ridiculous that the funniest show on television, The Other Two, probably won't get nominated here while the corny-ass third season of Ted Lasso definitely will. But a nod for The Other Two would require a whole bunch of Hollywood types to actually be able to laugh at themselves and — this may shock you — not all of them are capable of that.
The only show I'm a little iffy about here is What We Do in the Shadows, because newcomers Shrinking, which did what Ted Lasso was trying to do this season except better, or Wednesday, which won a lot of fans on Netflix, could easily take that spot. But the fact that Shadows has been nominated twice before makes me believe that Emmy voters will go for the familiar — GET IT? — and reward it again.
Outstanding Limited Series
Predicted Nominees:
Beef
Black Bird
Dahmer — Monster: The Jeffrey Dahmer Story
Fleishman Is in Trouble
George and Tammy
This is a less meaty, harder to predict category than usual since, unlike recent years, there is no obvious front-runner. That said, Beef, Black Bird, and Dahmer feel like sure bets. Fleishman Is in Trouble and George and Tammy are both deserving of inclusion, though making the cut will depend on whether voters actually got around to watching both shows. Nominations could easily go to something like Max's Love and Death, National Geographic's A Small Light, Prime's Daisy Jones and the Six, or, in a just world that honors brilliant weirdness, Mrs. Davis on Peacock. But I'm betting the prestige aura around Fleishman and George and Tammy carries the day.
Outstanding Actor in a Drama
Predicted Nominees:
Jeff Bridges, The Old Man
Brian Cox, Succession
Kieran Culkin, Succession
Bob Odenkirk, Better Call Saul
Pedro Pascal, The Last of Us
Jeremy Strong, Succession
If any of these Succession men aren't nominated, I will personally make the Meal Fit for a King smoothie and drink the entire thing. I'm just as confident about Odenkirk — who really deserves an Emmy and probably won't win because Succession — and Pascal. Bridges seems destined to snag the sixth spot, although theoretically that could go to Diego Luna for Andor or Harrison Ford for 1923, although Ford is basically guaranteed a nod for Shrinking, which may rule him out here.
Outstanding Actress in a Drama
Predicted Nominees:
Melanie Lynskey, Yellowjackets
Helen Mirren, 1923
Sophie Nélisse, Yellowjackets
Bella Ramsey, The Last of Us
Sarah Snook, Succession
Imelda Staunton, The Crown
Locks in this category: Ramsey and Snook for sure, and Lynskey and Mirren most likely. The other two spots are a guessing game, but the Emmy voters' love for The Crown suggests Staunton has a decent shot. (Previous Queen Elizabeths Claire Foy and Olivia Colman won Emmys for their work.) Because sometimes the Emmys surprise us, Nélisse, the MVP of Yellowjackets season two, could score her first nomination, making her and Lynskey the first actors to be nominated in this category for playing the same character at different ages.
Outstanding Actor in a Comedy
Predicted Nominees:
Bill Hader, Barry
Steve Martin, Only Murders in the Building
Martin Short, Only Murders in the Building
Jason Sudeikis, Ted Lasso
Jeremy Allen White, The Bear
It is theoretically possible that Jason Segel could be nominated here for Shrinking, or that Donald Glover, a previous winner in this category, could land one last nod for playing Earn in the final season of Atlanta. But the five men listed above seem likeliest to hear their names come Wednesday.
Outstanding Actress in a Comedy
Predicted Nominees:
Christina Applegate, Dead to Me
Rachel Brosnahan, The Marvelous Mrs. Maisel
Quinta Brunson, Abbott Elementary
Natasha Lyonne, Poker Face
Jenna Ortega, Wednesday
Brosnahan has been nominated for every single season of Mrs. Maisel and will be again. Brunson also seems like a definite — she was nominated last year but lost to Jean Smart for Hacks — and Lyonne's smart-ass charm seems likely to win over voters. Elle Fanning could earn her second nomination for The Great, but I suspect that Applegate's moving performance in Dead to Me, delivered while she adjusted to her MS diagnosis, and the buzzy Ortega will edge her out.
Outstanding Actor in a Limited Series or TV Movie
Predicted Nominees:
Steve Carell, The Patient
Taron Egerton, Black Bird
Evan Peters, Dahmer — Monster: The Jeffrey Dahmer Story
Daniel Radclifffe, Weird: The Al Yankovic Story
Michael Shannon, George and Tammy
Steven Yuen, Beef
The only nomination that is a little iffy in this group might be Carell — he is deserving, but his ability to get a nod will depend on how many voters embrace the unabashedly bleak The Patient. That spot could go to White House Plumbers's Woody Harrelson, who is historically popular with voters. (He's been nominated for an Emmy nine times and won once for Cheers.) Or it could go to Ben Whishaw for his under-the-radar but excellent work in This Is Going to Hurt, assuming voters prioritized watching the British medical drama. Carell, who still does not have an Emmy win on his résumé, seems like the most solid bet, though.
Outstanding Actress in a Limited Series or TV Movie
Predicted Nominees:
Lizzy Caplan, Fleishman Is in Trouble
Jessica Chastain, George and Tammy
Dominique Fishback, Swarm
Riley Keough, Daisy Jones and the Six
Rachel Weisz, Dead Ringers
Ali Wong, Beef
A lot of names are being tossed around by Emmy prognosticators for this category, including Elizabeth Olsen for her role as accused murderer Candy Montgomery; Emily Blunt for her work in the British western The English; or Bel Powley, who generated recent conversation for her portrayal of Miep Gies, who helped hide Anne Frank from the Nazis, in A Small Light. I think Caplan, Fishback, and Keough will ultimately prevail, alongside more certain nominees Chastain, Weisz, and Wong. But I'm also fully prepared to be wrong.
Outstanding Supporting Actor in a Drama
Predicted Nominees:
Nicholas Braun, Succession
Giancarlo Esposito, Better Call Saul
John Lithgow, The Old Man
Matthew Macfadyen, Succession
Jonathan Pryce, The Crown
Alan Ruck, Succession
Alexander Skarsgård, Succession
Matt Smith, House of the Dragon
Because of the number of entries, there will be eight nominees in the supporting-drama fields, which means there's room for a fourth guy from Succession to get nominated. That will be Skarsgård, though ultimately, this is Macfadyen's prize to lose no matter who he's competing against. (Admittedly, I may have a Wambsgans bias.)
Outstanding Supporting Actress in a Drama
Predicted Nominees:
Carol Burnett, Better Call Saul
J. Smith Cameron, Succession
Jennifer Coolidge, The White Lotus
Elizabeth Debicki, The Crown
Meghann Fahey, The White Lotus
Aubrey Plaza, The White Lotus
Christina Ricci, Yellowjackets
Rhea Seehorn, Better Call Saul
It's possible Lesley Manville (The Crown) or Justine Lupe (Succession) are missing from this list, but I'm expecting other performers from Succession, The White Lotus, and Better Call Saul to dominate.
Outstanding Supporting Actor in a Comedy
Predicted Nominees:
Anthony Carrigan, Barry
Harrison Ford, Shrinking
Brett Goldstein, Ted Lasso
Ebon Moss-Bachrach, The Bear
Tony Shalhoub, The Marvelous Mrs. Maisel
Tyler James Williams, Abbott Elementary
Henry Winkler, Barry
While the supporting-drama categories will have eight nominees, the supporting races in comedy and limited will yield seven. (I know it's confusing; I don't make the rules!) There are definitely other actors who could make it into this group — Phil Dunster or Nick Mohammed (Ted Lasso), Stephen Root (Barry), James Marsden (Jury Duty), or Bowen Yang (Saturday Night Live), who has been nominated for the past two years. But I'm sticking with this septet at the moment because so many of them have been here before — Carrigan, Goldstein, Shalhoub, Williams, and Winkler have either been nominated or won in recent years — and the two newbies, Ford and Moss-Bachrach, are real standouts.
Outstanding Supporting Actress in a Comedy
Predicted Nominees:
Alex Borstein, The Marvelous Mrs. Maisel
Ayo Edebiri, The Bear
Sarah Goldberg, Barry
Janelle James, Abbott Elementary
Sheryl Lee Ralph, Abbott Elementary
Molly Shannon, The Other Two
Hannah Waddingham, Ted Lasso
There's a really good chance Juno Temple will get nominated instead of Molly Shannon, but I am including Shannon here because The Other Two deserves something and Keeley drove me nuts on this season of Ted Lasso.
Outstanding Supporting Actor in a Limited Series
Predicted Nominees:
Murray Bartlett, Welcome to Chippendales
Rodney Burford, Dahmer — Monster: The Jeffrey Dahmer Story
Domhnall Gleeson, The Patient
Paul Walter Hauser, Black Bird
Richard Jenkins, Dahmer — Monster: The Jeffrey Dahmer Story
Young Mazino, Beef
Ray Liotta, Black Bird
This is another category where it feels like the winner is predetermined — Hauser already won a Golden Globe for his portrayal of a serial killer — and the other nominees are incidental. (Though since Black Bird was one of Liotta's final roles before his death, I could see the TV Academy paying tribute to him here.) Otherwise, Jesse Plemons (Love and Death) or Joseph Lee (Beef) could easily take one of the other spots.
Outstanding Supporting Actress in a Limited Series
Predicted Nominees:
Maria Bello, Beef
Olivia Colman, Great Expectations
Claire Danes, Fleishman Is in Trouble
Lena Headey, White House Plumbers
Niecy Nash-Betts, Dahmer — Monster: The Jeffrey Dahmer Story
Ashley Park, Beef
Lily Rabe, Love & Death
It's hard to imagine this Emmy not going to either Danes or Nash-Betts, but this is the group I suspect will be their competitors. It would be a nice surprise, though, to see Camila Morrone receive a nomination for her grounded, compassionate work in Daisy Jones and the Six.