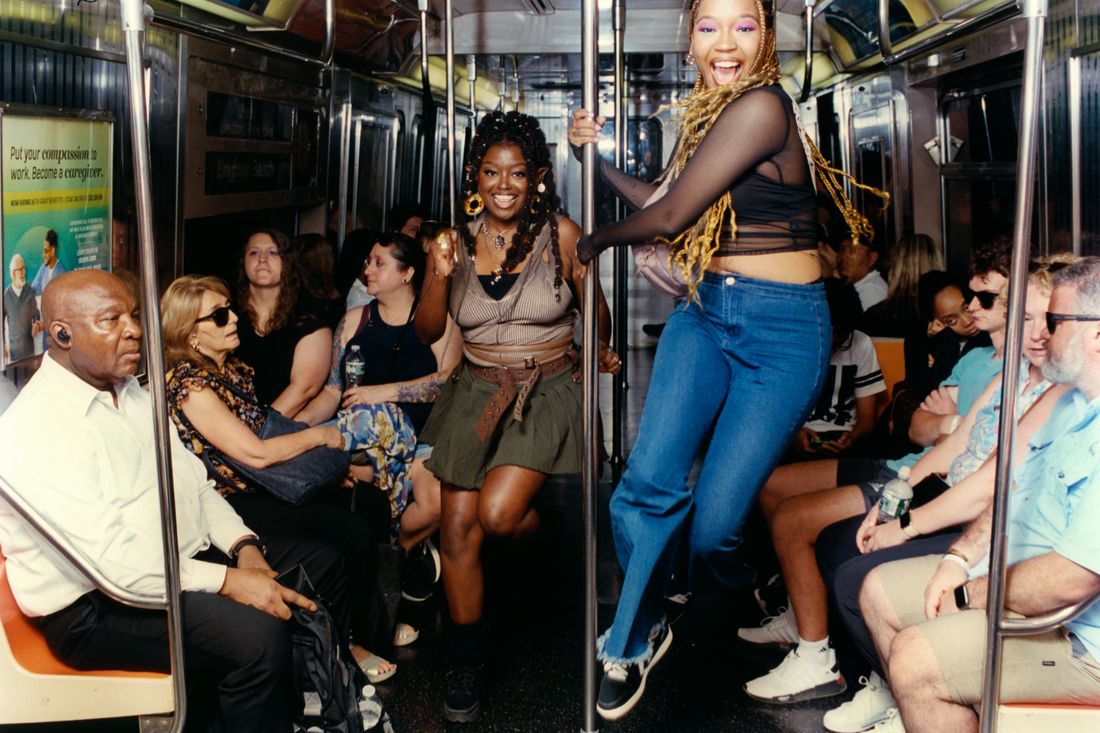 Folayan and Bobbi LaNea.
Photo: Ashley Markle
With one of the realest, most debaucherous prayers in 21st-century pop culture – "Hello Christ, I'm 'bout to sin again!" — Flyana Boss's opening bars to their hit "You Wish" has become the bat signal for Black alt-girls across the internet. The flygirl duo is made up of Bobbi LaNea and Folayan, and they've been working the TikTok algorithm to the bone all summer, posting short clips sprinting through various locations — Disney World, the Hollywood Walk of Fame, and, recently, the Google offices — spitting the increasingly viral record, inspiring followers old and new to do their own renditions in their schoolyards, workplaces, restaurants, and homes. They got on by tapping into a small team who understood their steez — producer Marky Style and videographer Evan Blum — creating a quasi-quartet that brought their vision to your phone. "You Wish," with its witty punch lines ("I be Michael Phelps, all the brand deals that I'm swimmin' in") and pure coruscation on the clock app, is the product of a dashing approach to brand building.
The pair first bonded at a Los Angeles music college and went on to make music separately for more than a half-decade on SoundCloud before reuniting and officially established Flyana Boss — a portmanteau of their names and an ode to thee diva, Diana Ross — in 2019. For the next two years, they committed to vlogging and releasing music and videos on TikTok every day. Tracks like 2020's "Ring Around" and 2022's "Miss Me" experienced early buzz through influencer-led dances and reposts, but it wasn't until "You Wish," released last month, that Flyana Boss got their own faces in front of the masses.
With the seemingly outta-nowhere-ness of their rise comes the common allegation in rap fan circles that the pair — who signed to Atlantic Records in 2021 — is some kind of industry plant, potted by suits for reasons yet to be defined. They've heard the chatter, and their response? "Google is free," Folayan says, flashing a truly radiant grin ahead of their recent barrel through Times Square. Bobbi chimes in: "Scroll down far enough in our TikTok" — with a quick flutter of magenta-shadowed lids — "you're gonna see us doing trends. You're gonna see when our baby hairs weren't laid."
Meeting at the Musicians Institute in Hollywood — what was that like?Folayan: It was great for networking, but as a school, no.
Bobbi: They accept everybody.
That's kinda wassup, though, no?
Bobbi: Like sometimes, right. But it's like the learning curve. Some people have never seen a piece of sheet music in their life, and some people have been classically trained their whole life. I think it stagnated people knew more about music. I mean … can we cuss?
Absolutely. 
Bobbi: It was a bit of a shitshow. Like, sometimes we would show up. I showed up more than she did.
Folayan: I never showed up.
You was skipping school?
Bobbi: I would never know if she would be in class or not and I'd be looking because, like, we were two of only a few Black girls in each of our classes. It's like, Damn, it's just me today.
When y'all first got together, how did y'all mesh? I've read that you're both pretty introverted, but as we sit here, y'all not really giving that. 
Bobbi: No, this is part of the performance.
Folayan: Also, there's a word for it.
Bobbi: Ambivert, I think.
Folayan: Yeah, we're a mix of both.
Bobbi: Right. Introverted is like when you have to recharge by yourself; extroverted is when you recharge around other people. So I do think we're both truly introverted when we need time alone to function, but we do love performing. And us together, like even when we're not on stage, it's a show. Even this conversation right now.
Folayan, you're from Dallas, and Bobbi, you're from Detroit. Both are two beacons of Black Weirds. Have y'all ever talked about the D-Town moniker?
Bobbi: I think I looked up D-Town and Detroit came up. Wait, no — we looked up Triple-D, and Dallas came up. But if you look up The D, that's Detroit. I'm a passionate Detroiter, for sure. But she doesn't really care.
Folayan: I'm just not connected in that way to my city. I don't know why. I think it's 'cuz my mom is just a worldly person. But I do love Dallas because I'm from there.
You traveled a lot too, though, right? I read you lived in Sweden after school. 
Bobbi: She's a citizen of the universe.
Folayan: I worked for a company — Epidemic Sound — that did like overhead music, or elevator music. Sync music. It was really cool. People in Sweden are so sweet. But there were no Black people, so I felt uncomfortable sometimes.
They always say Sweden is the happiest place on earth. And it's like, 'cus they only see themselves there. 
Bobbi: They don't have to deal with race.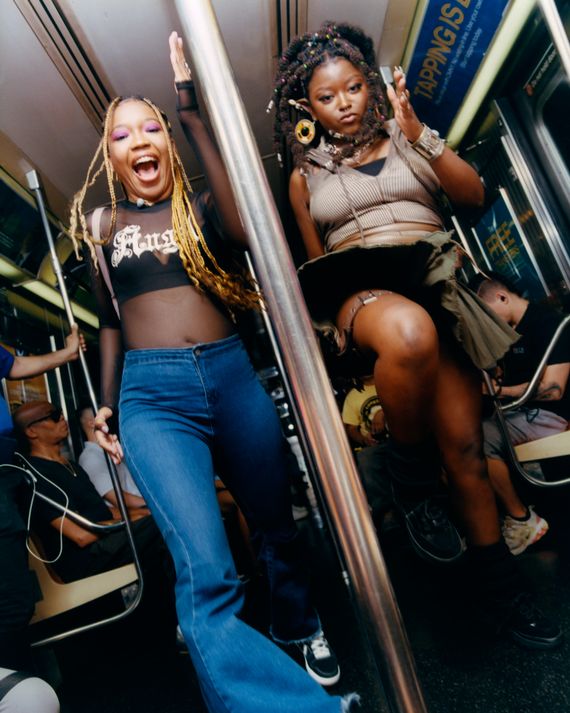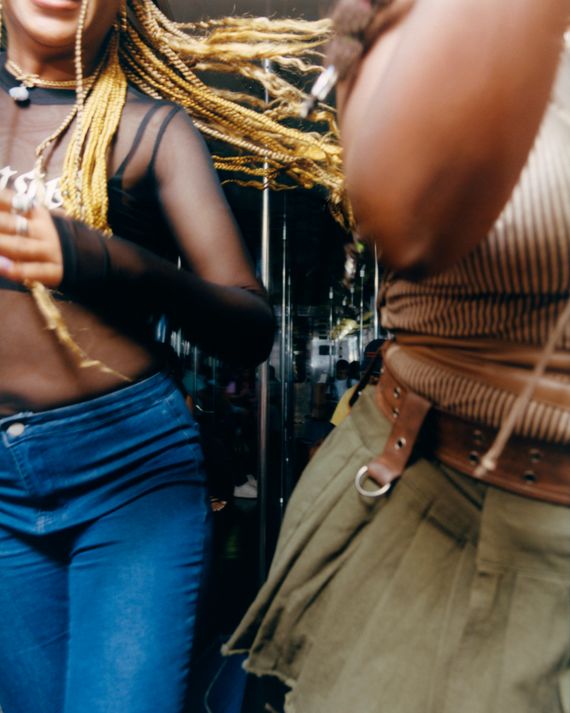 So after Sweden, you come back and y'all reconnect?
Folayan: One day, she showed me her music and the music videos she'd been doing.
Bobbi: I was tryna figure it out. And I was doing everything by myself — producing, writing, video treatments, dress, everything.
Folayan: And I was like, This is so good! I thought of the master plan that we should do this together.
Bobbi: But you kinda waited a little bit. You heard the music and were like, "This is good; let me know how I can help you."
Folayan: And then I came back to her and I was like, "Look, I have a proposal." 
For one EP, sum'n like that.
Bobbi: I was down for that. She's super-talented.
Folayan: But really I wanted to hold her down for the rest of my life.
Bobbi: And she locked me down!
Folayan: I'm committed!
You be planning shit out, Folayan. 
Bobbi: Very sneaky too. 'Cus she comes off like, "Oh I just had an idea."
So during that time you were living in L.A. Why did you leave Detroit to go there in the first place?
Bobbi: To become a star. That's what I wanted to do. First, I moved to L.A. and moved in with my mom's best friend. I was just at her house playing her piano all day and watching TV. But in my head I was like, I got a master plan to be a star. So we took a tour of the school together and then she called my parents and they got me signed up. And literally on my first day of class, I saw Folayan.
Folayan: And then I dropped out, moved to Sweden, came back. She was still doing her shit.
Bobbi: I feel like when we first met, my skill level wasn't as good as Folayan's. I worked hours and hours by myself, tryna become a better writer, artist, producer, and all of that. So then when she come back, I was much, much better.
Do y'all push each other heavy?
Bobbi: I think it's subconscious. It's not like, "Girl, you need to" — no, it's never that. It's more like a positive encouragement. Like, "Actually, I think you can try that." Or, "Why don't you do this?" Like, if I say "Oh, I'm self conscious about this," she'll say, "No I think you could do it."
Folayan: Or with lines, it'll be like, "I think we can do better than that" or "Girl, I don't know about that line, let's —"
Step it up.
Bobbi: For sure, but it's not a general thing you need to work on.
Folayan: It's not like "Wait, lemme talk to you outside real quick." 
There's a lot of trust built up there. 
Folayan: I feel so free around Bobbi.
Bobbi: It's a forreal friendship! I know people might think it's for show. It's not. This is the best friend I've ever had in my life.
That's beautiful, honestly, and refreshing to see. Then your careers really got goin in 2019.
Folayan: It's been four years, yeah. The pandemic fucked us up, so we took two years off. We didn't fully stop; we built our social media.
Bobbi: We didn't stop-stop. But we had been on a roll doing shows and sessions.
Folayan: Meeting people, exactly.
Bobbi: We were in the Triller office tryna do that stuff. But it all kinda got slowed down with the panorama.
How did y'all deal mentally with that?
Bobbi: We had each other. We talked; we FaceTimed a lot.
Folayan: Also 'cus we're introverted, it wasn't necessarily all the way terrible. We didn't like going out too much anyway.
Bobbi: We like to go out and dance and perform, but we don't hang out with our friends all the time. It's very occasional. But we definitely met up to do content and have studio sessions. Our producer, Marky, is very close with us. So the three of us pushed through the whole pandemic. There's a video of us with our masks and gloves on from when we performed at the first Triller Fest online, and it was just the three of us who filmed it.
So there were no lulls? Most people were fucked up from quarantine. 
Bobbi: I think we had a mental-health low, but we honestly pushed through.
Folayan: I worked in Chipotle, and we weren't closed down. An essential worker.
On the front lines!
Folayan: Helping the people, giving Black people extra of whatever they want. No charge.
C'mon, now! We need more workers like you. 
Bobbi: I worked there for three days.
Ayo, respect. We also need more workers like you who knows it's not for you!
Bobbi: Exactly!
How did y'all work through the lows, though? I'm sure Chipotle wasn't helping. 
Folayan: I was miserable! Unhappy. But I needed money. We were trying to go viral or for something to happen. So we said, We're gonna post every day for two years. And we did. You have to treat it like a job.
I've been studying TikTok more. It feels like people who pull the knobs and turn the buttons see creators who are doing things consistently and they're like, Yo, they are not just attracted to the platform, but want to build their own shit on it. And so they'll push it when they see that the work is being done.
Bobbi: I was convinced there was some sort of viral button they pressed to make this shit go off.
Folayan: I think it's all us!
Bobbi: So when we were at the TikTok office recently, I asked, Is there a viral button? And the TikTok people said, No, we don't know how things pop off.
I don't believe them!
Bobbi: I said, Do you know why we're getting a million views every video? They're like, It's engaging…
Folayan: We were like OK, so what should we do? They're just like, Doing what you're doing, literally.
Did y'all ever get tired of the TikTok grind? That's just a ton of energy. 
Bobbi: There was definitely a time where we got bored of it.
Folayan: We didn't see anything happen.
Bobbi: As soon as we started seeing payoffs, we were like, Oh yeah, we like this! People started really fucking with us.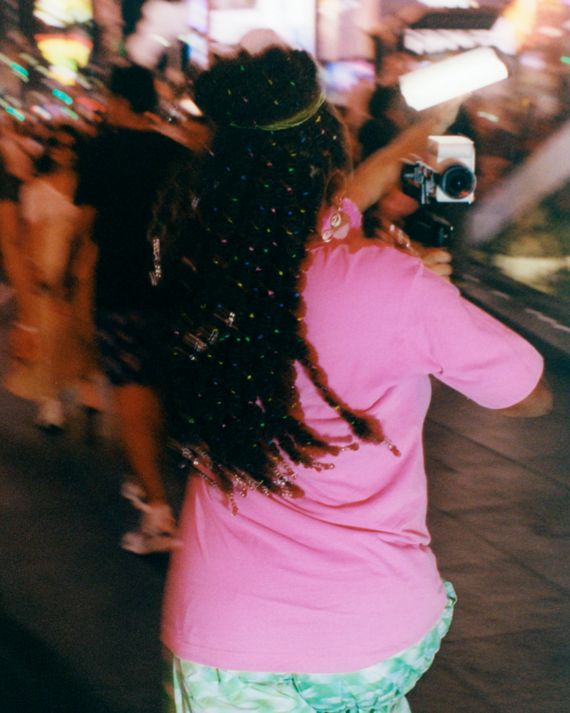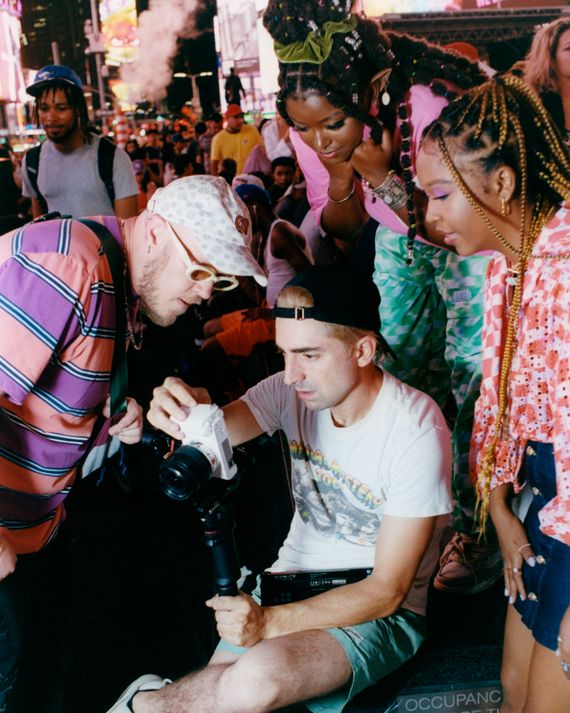 What was the first thing to pop off?
Bobbi: There was this video of our song. Well, Folayan recorded it on her own.
Folayan: I didn't tell anyone I was doing it. I just posted it.
Bobbi: It's a face-zoom of her lipping the first verse of our song "Miss Me"; it goes like "Fee fi fo fum." People loved that. And I remember I noticed it. I was literally just looking through TikTok, and I was like, This has 7,000 views. And that was a lot for us. She thought maybe one of our managers put an ad on it. But nah.
Folayan: It was like 1,000 comments!
Super-organic. 
Bobbi: The next one we did together got even more views. Then we just kept posting.
Folayan: We were getting like 100,000 views, which was on the sound. And then TikTok took it down once we released the song because we copyright-infringed ourselves. We didn't know that was a thing. Apparently you have to upload 59 seconds or less of your song before it comes out or it's gonna trigger some copyright thing. So all the organic stuff we had on this sound, wiped away.
Bobbi: Gone!
"Ring Around"popped off too. 
Bobbi: That was 2020. Definitely pandemic time.
Folayan: And we ran a campaign where we paid influencers to do a dance that we made. That was good.
Bobbi: That was okay. It helped us but nothing is like the organic stuff, like "Miss Me," and "You Wish" is even bigger.
Folayan: "Ring Around" was nice because other creators were doing it. But most songs that go off, especially then, were influencer campaigns. Like that was the way to get your songs out.
Bobbi: It made the streams go up, but people weren't curious about us. 'Cus they weren't actually our videos.
They weren't seeing y'all do it. 
Bobbi: We knew "You Wish" would be a hit-hit. We went to our managers like, "We want a TikTok campaign." And they're like, "They're dead, they don't happen anymore. People don't pay."
Folayan: We were like, What're we gonna do!?
Bobbi: Just "Way too expensive," blah, blah, blah.
Folayan: So we said fuck it! We'll pay our own … but we didn't.
Bobbi: We just ended up making our own content that went off.
Where did the idea to run through all these spots to "You Wish" come from?
Folayan: I always had a vision of someone in a car and we're following the car with either bikes or we're walking or something. We tried the bike idea that day but we didn't have any so we were like, What can we do on our videographer's street? And I was like, "Maybe we can get in this car. We would run." And Evan was like, "I don't need a car." He said, "Fuck that car!" So then he just starts running with us with the camera. And who knew he really can run.
Bobbi: He's an athlete too. He did lacrosse, though we didn't know that at the time. That's how we be dodging through them people: We just follow him with the camera, he never hit a soul.
Your music has shown up in some random places: Teen Mom, Harlem, All American, even League of Legends. How does that happen?
Folayan: We did a deal with SyncWorld early on. We just made an album for them technically, but it was on our page as well.
Bobbi: It's easy money, you know?
People sleep on that. 
Folayan: I think artists are scared to do that because they think they're gonna give an inauthentic version of themselves for these ads but, you can put your twist on it. Put your twist on it and get the bag.
Y'alls earlier stuff shows your range. Folayan, you were on your whole jazz-rap thing. 
Folayan: I was on my boom bap.
And Bobbi, you were definitely more melodic and singsongy: "In My Bedroom" was giving Janelle Monáe; the harmonies are really cute. And then "Fuck Y'all" is so frustrated, I was like, Who pissed my girl off?!
Bobbi: I forgot about that one!
Folayan: I remember that. I was in Sweden when you put that out!
Bobbi: I was pissed at everybody. Pissed off at the world. Mainly at school — I was definitely inspired by teachers at school.
What led y'all to evolve the sound?
Folayan: I guess 'cus Flyana Boss was just a different entity than what we were doing. This is the fun, bestie, silly, vibrant side of myself. And then the boom-bappy jazzy sound is my little chill side.
Bobbi: We got a bunch of quote unquote weird songs that the label people don't love that we love that we want to drop.
They don't know what to do with them?
Folayan: They're like, it's not gonna work. We're like, yes it is. One of our dreams is to do like how Outkast did a double album.
But what's cool to see is that people online are gravitating towards us because we're doing us. So it gives us more fuel to just keep doubling down on who we are. Fuck whatever the executive people or whatever are saying, people love us.
I don't know if y'all have heard the allegations. 
Folayan: The industry-plants thing?
Yes! Like what is going on?
Folayan: I don't know, Google is free! Google our names; you'll see my SoundCloud stuff has been up for a long ass time.
Bobbi: Scroll down far enough in our TikTok, you're gonna see when our sound got taken down out there. You're gonna see when we're doing trends. You're gonna see when our baby hairs weren't laid.
It's crazy to read. 
Bobbi: It does annoy us a little bit, 'cus we have worked so hard for so long.
Folayan: But it's kind of inevitable when you go viral. Viral is already something that people don't understand. I barely understand it myself. So you're just in front of so many people's faces and so they're like, There has to be a different explanation than them just working hard. 
Bobbi: It has to be some record label or they must have an uncle somewhere. Somebody literally wrote: "They have a white granddaddy at one of these record labels and that's how they're making this happen."
Folayan: Yeah it was like,"Smells like daddy's money," or something like that.
Folayan was at Chipotle! Y'alls music and background also suggest that there is a real intention to speak to young Black girls growing up. Is there a part of that ethic that's tied to making stuff that you might've wished you had as children?
Folayan: You always say we wish we knew each other when we were younger.
Bobbi: Because we were both doing the same things. We both were performing "Crazy in Love" for our family as babies. So yeah, if we knew each other when we were like 5 and 6, we'd be out of this world.
Isis Brantley, the owner of legendary Dallas natural-hair salon Institute of Ancestral Braiding, is famous for working with Erykah Badu. Folayan notes: "Those teeny-tiny braids that reached the floor? She did those."