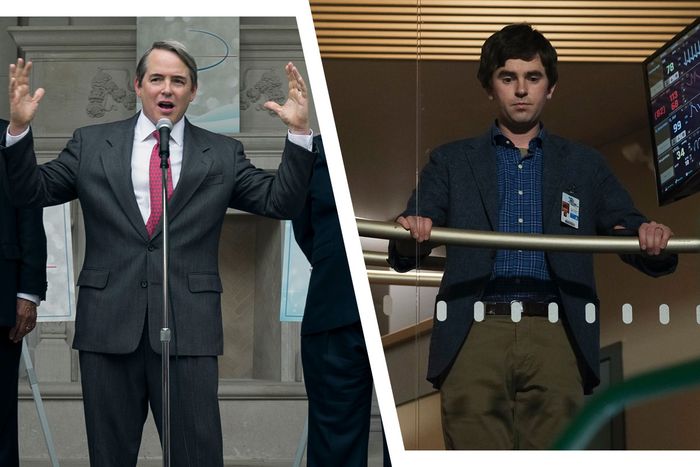 Netflix has plenty of shows, like Matthew Broderick's
Painkiller
, in the pipeline, while network series like
The Good Doctor
will likely suffer.
Photo-Illustration: Vulture. Photos: Netflix; ABC
While Hollywood studios' failure to strike a fair deal with writers and actors hasn't caused any real pain for Netflix (yet), that's not the case over at the platform's broadcast network rivals. For them, the ongoing WGA and SAG strikes represent apocalypse now: With soundstages dark, new episodes of big scripted hits like Abbott Elementary, Chicago P.D., and Ghosts will be missing from prime time this fall, replaced mostly by reality shows, reruns, and imports from the U.K. and Canada. "Network TV was already in a bad place, and this is really going to kick it in the nuts," says one veteran broadcast exec, who expects ratings to plunge 30 to 40 percent as a result of the de facto cancellation of the fall season. "Every week the strike goes on, the networks get weaker, and Netflix gets stronger."
You would think such a prospect would send the parent companies of ABC, CBS, NBC, and Fox scrambling back to the negotiating table to cut a deal. After all, many of the big issues in the current impasse — streaming residuals, tiny writers' rooms, short episode orders — are not ones that really impact broadcast TV. These companies also own streamers, but unlike Netflix, those platforms are bleeding money; linear networks still turn a profit every year (though it's far smaller than years past). What's more, the autumnal absence of network programming isn't just an issue for broadcasters: Some of the best-performing titles on Peacock, Hulu, and Paramount+ are next-day runs of network shows — the ones that will soon be AWOL. By letting the strike drag on, legacy companies such as Disney, NBCUniversal, and Paramount Global are risking real damage to both their linear and digital businesses in a way that Netflix isn't, at least not in the short term. (The long lead times in streaming means it has a deep stockpile of existing programming for fall, while a roster of international content will help keep the lights on when the well eventually dries up in 2024.) "I've gotta believe that Netflix is very happy to just sit back and let the networks burn," one industry vet says. "Whether that's by design or happy accident, I don't know. But even if they don't see the broadcasters as their main competition, everyone is competition in the video space. Now you're gonna knock three or four of your competitors off who represent 20 percent of viewing."
Despite all this, the old-school media giants have so far seemed content to link arms with digital-native platforms like Netflix and Amazon, even though the newbies have far more reason to preserve the status quo. That alliance has many longtime broadcast insiders shaking their heads — and wondering whether it will last. With broadcast ratings almost certain to plunge further and faster than they had been already, "it almost feels like the networks are complicit in their own self-destruction," says former longtime Law & Order: SVU showrunner Warren Leight. "It's like Stockholm syndrome. They're siding with people who've been eating their lunch for the last decade. I probably have more in common with execs at NBC than the execs at NBC have with execs at Netflix." The longtime broadcast exec is similarly befuddled: "Maybe their plan is to let their networks wither and die, which is what it seems," he says.
So what's behind this very weird marriage of traditional media companies and their disruptors? One line of thinking matches up with what our network suit suggests: The conglomerates actually don't think their linear businesses can be saved and are fine with the process being sped up by a strike. Just last week, Disney's Bob Iger seemed to suggest as much when he put a "for sale" sign on ABC and the Mouse House's cable networks (save for ESPN). Over at Paramount Global, CEO Bob Bakish still talks about the power of his linear brands, but his actions suggest he's all about streaming: Showtime is now basically a tile on Paramount+, MTV is 24/7 Ridiculousness, and CBS has gotten far less prolific in its scripted output and has let franchises such as SEAL Team and Criminal Minds migrate to its streaming sibling.
But at least CBS still has a president-level exec that's focused exclusively on the network: NBC (and ABC) don't even bother with network presidents anymore. Indeed, NBCUniversal just got rid of content chief Susan Rovner, who despite devoting a ton of her energies to making shows for Peacock was known internally as a strong advocate for treating NBC as something other than a distressed asset whose decline needed to be managed. "The nerds in charge of streaming — even at corporations with broadcast networks — resent the networks and their shows," laments one industry insider with decades of broadcast experience. "A ton of their [streaming] viewing comes from their network shows. But instead of embracing it, they act like it's a burden." That divide isn't just between networks and streamers: Someone who works at a legacy studio with ties to a streamer seconds that analysis of corporate priorities. "People who work at studios want one thing, but our streaming partners have a different way of looking at things," he says.
Obviously, execs at the legacy companies push back at the idea that some people just want to watch the networks burn, or even the idea that starving broadcasters of their biggest scripted hits for a few months is such a bad thing. While ratings will surely be way down, and ad revenue will also take a big hit, one of the biggest sources of revenue for broadcasters — the hundreds of millions in fees they collect from their affiliates and cable operators — will remain steady. At the same time, expenses will plunge, because reruns and reality cost a lot less than new episodes of scripted fare. One industry insider forecasts the networks have a "pretty good chance to come out ahead, at least for a little while." That might sound cold and calculating, but it's also probably true: In its earnings report Wednesday, Netflix said its cash on hand would jump by around $1.5 billion this year, a revenue bump that's in no small part a direct result of not having to pay actors and writers. "That's why there's zero hurry to settle," the network wag says. "Every quarter they're on strike, spending is down and profits are up."
But while there could be some short-term "benefits" to broadcast TV switching to strike mode this fall, there's also a real risk — specifically that the audience that tunes out will never return. "Whenever SVU is off for two weeks, there's attrition in the ratings," says Leight. The reality that most returning shows will go at least eight or nine months between original episodes — or longer if the strike drags on beyond October 1 — could spell Nielsen disaster. "This is going to hammer the ratings when shows are back on," he says. The biggest danger as these insiders see it is that the audiences who have stayed loyal to the broadcast ecosystem — the folks who still watch Abbott Elementary when it airs on ABC every Wednesday — may finally give up and give in to the streaming dark side. "Do they think they're going to flip a switch and everyone is going to come running back [to network TV] for ten episodes?," a network insider says. "Maybe most people will, but it's going to exacerbate what would've already been a 5 to 10 percent decline and make it so they're down 20 percent when it's all done. It's just another chance for people to get out of the habit of watching network TV."
Privately, some corporate execs don't disagree that a protracted strike could be devastating to the network model. But they also argue that striking workers — particularly those in the WGA — should be just as worried. Even if the guilds achieve most of their goals, if the result is a dramatically weakened network TV ecosystem, that will mean far fewer of the good-paying, residual-producing, back-end-yielding broadcast jobs. Networks were already cutting back on the percentage of their lineups devoted to comedies and dramas, and the strike promises to further tip the scales against scripted. "The moment the strike was announced, ABC announced an all-reality schedule," the network insider says. "There's no going back to a majority of the schedule being scripted. It's not going to happen. I think the writers have a lot of legit grievances. But some of the best jobs they've ever had are going to be gone after this … This feels to me like we're going to come out of this strike and everybody's going to lose."
That might be true, but it's hardly the guilds' fault that their employers have embraced a streaming model that clearly does not work for them the way it does for Netflix and other tech-owned streaming platforms. Most of the jobs in TV are now in streaming and at companies not associated with broadcasters. It wouldn't make sense for the WGA and SAG to ignore the real issues in streaming compensation in the hopes of preserving the shrinking number of good jobs on network TV. That's not to say there isn't room for writers and actors to compromise or to concede the legitimate stresses facing their employers. But any such conversation would have to start with companies either conceding there needs to be performance-based compensation attached to streaming residuals or for legacy companies realizing their interests aren't the same as Netflix or Amazon.
For that to happen, however, there would have to be a massive shift in thinking among the members of the AMPTP, who so far seem more focused on complaining about the rhetoric coming from guild leaders than on trying to come up with serious counterproposals to address central issues such as streaming residuals. Even insiders sympathetic to the studios suggest that is unlikely to happen soon because while people at the network and studio level are still passionate about competing and winning against the tech giants, the folks running most of these corporations are focused on making their bottom lines look as good as possible as quickly as possible — no matter how much pain results. Just look at the last year of brutal layoffs at big media companies, which have been cutting profitable departments and divisions despite the obvious damage it's doing to their end product. "It's a mistake to assume there's zero degree of humanity at any of these corporations. There isn't," says one industry veteran. "There's not one thought given to 'What does the business look like in five years' or 'How do we entertain the public?' It's all about what does this quarter look like and where is our stock price going."