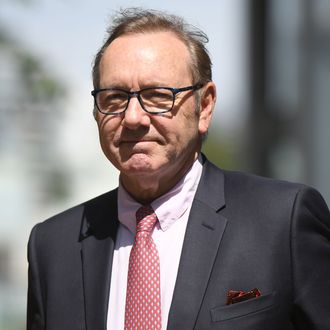 Kevin Spacey.
Photo: Chris J Ratcliffe/Getty Images
Kevin Spacey has been acquitted of nine charges, including sexual assault and other crimes, after a lengthy London trial, the Associated Press reports. The verdict came after two days of jury deliberations and a four-and-a-half-week trial, which heard accusations from four separate men who said Spacey assaulted them throughout the 2000s, when he was working as artistic director of the Old Vic Theatre in the city. Spacey denied all the claims, saying some of the encounters had been consensual and others never happened. The witnesses included Elton John, after one alleged victim said Spacey touched him after an annual party of John's in 2004 or 2005; John countered that Spacey only attended in 2001.
The jury had originally been deadlocked on some of the charges, the AP previously reported. The judge then told the jury earlier today that they could return a nonunanimous verdict if 10 of the 12 jurors agreed. Per Variety, Spacey cried upon the verdict, which came on his 64th birthday. It was the Oscar-winning actor's second such victory, after Spacey won a sexual-battery lawsuit from actor Anthony Rapp last fall in New York.