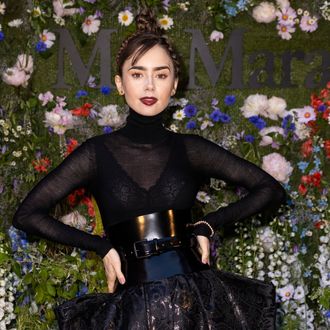 Photo: Michael Campanella/Getty Images
Mattel will not rest until every toy it makes is a billion-dollar movie. Fresh off the success of Barbie (and coasting off the viral "celebs playing Uno" moment), Mattel Films head Robbie Brenner spoke to Variety about its upcoming slate. The upcoming films include Daniel Kaluuya's Barney movie that will have Being John Malkovich vibes, J.J. Abrams's "grounded and gritty" Hot Wheels flick, a "PG-13 thriller" based on Magic 8-Balls, and a Polly Pocket movie from Lena Dunham and starring Lily Collins. Brenner said that Collins was "so smart and so specific and so productorial." That could mean that she's productive, or maybe that she's product-oriented? That would be handy for a movie based on a product.
Another IP on the Mattel Films productorial line is a family comedy based on American Girl Dolls. But (not to scab during a writers strike) we all know what an American Girl Doll movie should be, right? A multiverse movie with all the American Girls being disappointed in how badly history has gone. Can you imagine how Molly and Addy would feel about politics in 2023? Every American Girl has the same problems to overcome, and that's a clear refutation of a progressivist view of history.