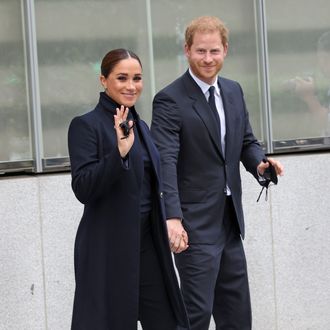 Photo: Taylor Hill/WireImage
Earlier this month, Spotify, Prince Harry, and Meghan Markle made a "mutual decision" to part ways on their $20 million exclusive deal. However, despite the microphones being put away, the noise inside Archewell Audio still seeps out in the form of drama and rumors. To backtrack a little: Spotify announced that the former royal family members signed an exclusive deal with it toward the end of 2020. With Archewell Audio, their goal was to create podcasts that centered on uplifting voice through "shared experiences, powerful narratives, and universal values." During their time with Spotify, they released two podcasts: a holiday special and Archetypes, hosted by Markle, which discusses stereotypes against women that featured guests like Mariah Carey, Mindy Kaling, and Paris Hilton. However, just a little under three years after the announcement, Archewell Audio is splitting from Spotify and reportedly searching for a new home for its audio projects.
As Markle and Prince Harry try to figure out their next move, we're still trying to figure out what in the past two years led to all this. Thankfully, we've compiled all the Meghan/Harry/Spotify drama and will be dishing it out in a 20-episode-long drawn-out podcast series with ads every 15 minutes. Kidding. It's all below for easy listening reading.
What was going on behind the scenes?
According to The Wall Street Journal, Spotify leadership was reportedly frustrated with the time it took to conceptualize and complete projects. Archewell struggled with its team, as it initially did not have a team member assigned to audio projects but eventually hired a head of audio. Despite the slow start, Archetypes flew to No. 1 on the Spotify charts and was in talks for a season two before the contract ended. However, its short success wasn't unconditional. Since its inception in 2020, the Archewell team had several departures in its leadership. The head of communications at Archewell left in May 2022, and several others, like the head of audio, head of scripted content, and head of marketing, left as well. Other departures included Promising Young Woman producer Ben Browning and president of Archewell Mandana Dayani.
Prince Harry pitched what as podcasts?
On Harry's end of the deal, he reportedly struggled to develop a podcast idea that led to an actual show. WSJ reported that some of his ideas ranged from interviewing military veterans to misinformation to his point of view on living in America. Others included celebrities' involvement, like co-hosting an unnamed show with comedian Hasan Minhaj. According to Bloomberg, he was also interested in a podcast about fatherhood and "major societal conversations," with Pope Francis on as a potential guest to talk about religion. However, the most random ideas that came from Harry were the reports that he wanted to interview guests like Vladimir Putin, Mark Zuckerberg, and Donald Trump on their childhood trauma to see how they became the people they are today.
What are industry leaders saying?
They are … not being supportive, to say the least. The CEO of UTA Jeremy Zimmer called Markle untalented during the Cannes Lions advertising festival. "Turns out Meghan Markle was not a great audio talent, or necessarily any kind of talent," Zimmer reportedly said of the end of the podcasting deal and the trend of celebrity podcasts, according to Semafor. "And, you know, just because you're famous doesn't make you great at something." Spotify executive and the Ringer CEO Bill Simmons called the couple "grifters" on his podcast, criticizing their involvement with the platform. "The F**king Grifters. That's the podcast we should have launched with them. I have got to get drunk one night and tell the story of the Zoom I had with Harry to try and help him with a podcast idea. It's one of my best stories … F**k them," he stated.
Have Harry and Meghan responded?
Not officially, no. But according to a report from the Daily Mail (which should be taken with a grain of salt), the pair have privately blamed bad luck for their failure to produce content at Spotify as well as Netflix. An unnamed insider told the Mail that "Covid, economic woes, the death of the Queen and the decline in Price Philip's health" are, according to the couple, behind their misfortune. "The word is that they think they've been really unlucky," the source said.
What's Taylor Swift got to do with this?
It all leads back to Taylor Swift. Markle allegedly wrote Swift a personal letter asking her to Speak Now (Taylor's Version) to come on the Archetypes podcast, to which she declined through a representative — she was probably working on Midnights during that time, to be fair. No other details have been confirmed on what their episode topic would've been.
So, now what?
Well, the ex-royals still have their deal with Netflix. Despite Harry and Meghan becoming the most-watched documentary on the platform, they are apparently on thin ice, according to The Sun. The Sun reports that the couple was only paid half of their Netflix deal and will allegedly only get the rest if they produce another hit. Scripted content is probably off the table due to the ongoing writers strike, so the couple is perhaps coming up with some reality-show pitches. Maybe there's a dating show between royals and commoners coming soon to Netflix, as long as it's nothing like I Wanna Marry Harry. Or actually …
This post has been updated.