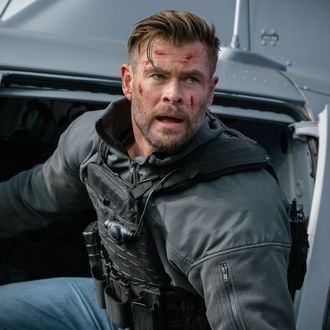 Extraction 2
— one of Netflix's biggest original movies of the last several months
.
Photo: Jasin Boland/Netflix
Netflix added 5.9 million new subscribers worldwide between April and June, the company's latest earnings report trumpeted — a signal that its strategy of reminding your thieving retiree grandma or deceptive former roommate to cough up their $8 a month … can make for a fairly okay quarter. As its letter to shareholders said of its May password-sharing crackdown: "Revenue in each region is now higher than pre-launch, with sign-ups already exceeding cancellations." Netflix's overall revenue hit $8.2 billion, with $1.49 billion in net income.
Of those 5.9 million new users, 1.2 million came from the U.S. and Canada. The gains bring the company's total subscriber counts to 238.4 million globally and 75.6 million in the U.S. and Canada.
The company also mentioned that it now plans to save about $1.5 billion more this year than it thought it would, for which it has Hollywood's striking labor force and shut-down productions to thank: "We now anticipate at least $5 billion in FCF for 2023, up from our prior estimate of at least $3.5 billion. Our updated expectation reflects lower cash content spend in 2023 than we originally anticipated due to timing of production starts and the ongoing WGA and SAG-AFTRA strikes." (Take note, savvy labor leaders!)
If all that paints a rosy picture of Netflix's business right now, allow us to disabuse you of that notion: Times are still tough. For instance, notching the U.S.-Canada numbers past 75 million in the second quarter of 2023 isn't as big a victory as it might seem: The last time Netflix had that many users in the region was late 2021 when it reported 75.2 million paid memberships before those numbers started dipping. In 2022, approximately a thousand years ago, Netflix was in a rough spot — beset with bad habits, massive subscriber losses, and competition from an increasingly crowded streaming landscape. The gains it posted today arrive after more than a year of hiking prices, cracking down on password sharing, laying off swathes of employees, purging its DVD business, launching an ad-supported business, and (today!) killing its cheapest ad-free tier for new members. That's a lot to wade through only to get back to baseline in your most important market. Netflix made back some lost ground in this second quarter, but not without leaving blood on the field.