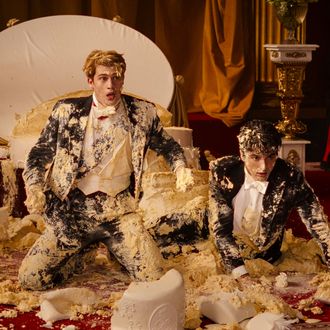 We said "Eat the rich," and they heard "Play in cake."
Photo: Jonathan Prime/Prime Video
One crown prince, one president's son, and a cake. That's the plot of Amazon Prime Video's upcoming film Red, White, & Royal Blue, based on a first-look image. "Yes that's real cake and YES it was delicioso," wrote co-star Taylor Zakhar Perez on Instagram. Seems a little wasteful to me, but I digress. The rom-com is an adaptation of Casey McQuiston's New York Times best-selling novel of the same name and yet another BookTok favorite to make its way from the phone screen to the big screen (or whatever device you use to watch direct-to-streaming movies. Pick your poison, etc.). Matthew López (The Inheritance) directs the enemies-to-lovers romp from a script written by himself and Ted Malawer. It follows a British prince and the son of the president of the United States as they channel their hatred into hate sex, if the remarkably horny book is anything to go by. Below, all the casting, release-date, and first-look details we know about Red, White, & Royal Blue.
What happens in the trailer?
Our leads, archenemies and representatives of their respective countries, cause an international incident at the royal wedding after failing to follow the simple instruction of not causing an international incident. The media dubs the event "The Buttercream Summit," because they destroy a massive cake meant to celebrate the heir to the British throne's marriage, an event that shows the whole world how much they hate each other. Together, the enemies go on a PR blitz that consists of pretending to be friends until they can't help but become lovers.
What does Red, White, & Royal Blue look like?
First-look images for the movie, which is out on August 11, 2023, suggest the love interests get into at least one sticky situation as they fall for each other. There's a still of them covered in cake for reasons unbeknownst to us but that may be funny and/or cute in the context of the film. "We did this scene fairly early on," co-star Nicholas Galitzine said of the cake sequence that triggers the events of the story, per Glamour. "It was a lot of fun to film because we just had several members of the cast hitting us in the face with cake, which I'm sure they probably would've enjoyed to do at the end of the process after we irritated them for three months." Because this is a romance, we see a tender, dimly lit image of the prince and the president's son holding hands while surrounded by Greco-Roman busts and statues. Museum date! They also party with their good-looking friends, sipping drinks under a tent's twinkling lights. Are they at a wedding? Time will tell.

Who's kissing who?
Zakhar Perez plays the First Son of the United States, Alex Claremont-Diaz. Galitzine is Britain's Prince Henry. They do kiss, even though they hate each other at first. "Alex is supposed to be shorter in the book and then this little shit comes in at six-foot-two!" Galitzine told GQ. Uma Thurman is the first female president, Ellen Claremont. Clifton Collins Jr., Sarah Shahi, Rachel Hilson, Stephen Fry, Ellie Bamber, Thomas Flynn, Malcolm Atobrah, Akshaye Khanna, Sharon D Clarke, Aneesh Sheth, and Juan Castano round out the cast.
What can you say to people who are actually watching it for the plot?
Director López said the movie is based on McQuiston's book but stands on its own. "Obviously, when translating a nearly 500-page book to the screen, there are things you have to lose and things you will need to change," he told Glamour. "It is an adaptation, not a recitation. I like to think that, as a fan of the novel, I was able to find the balance of serving Casey's story while also serving the needs of the movie." Here's the high-level summary: Alex and Prince Henry are nemeses. When their longtime feud boils over in a very public confrontation at a royal event, it's splashed across the tabloids, nearly upends U.S. and British relations at a bad time, and, of course, pisses off their parents. So Alex and Nicholas are forced into a "truce" that turns into something more.