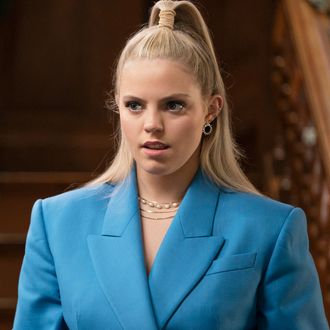 Leighton (bottom) and an iconic pony (top).
Photo: Katrina Marcinowski/HBO Max
The Sex Lives of College Girls is about to get a lot less mean, much less good at math, and a whole lot straighter. Leighton Murray, you will be missed. Reneé Rapp, who plays Leighton in the Mindy Kaling–created Max series, is leaving the show, Rapp confirmed on social media. Rapp has a burgeoning music career and has been cast in the upcoming film adaptation of the musical Mean Girls. "College girls moved me out to L.A. and introduced me to some of my favorite people. Two and a half years later — it's given me y'all and this community," Rapp wrote. "Thank u Mindy, Justin and everyone at Max for believing in me. A lot of queer work gets belittled — but playing Leighton has changed my life. I love who I am 10x more than I did before knowing her. I hope she gave y'all a little bit of that too. She's such a tiny part of representation but even the tiny parts count. I wouldn't be half the person I am without her and y'all. I love that bitch more than you know. I'm so excited for this season and I can't wait for you to see what we have coming for her and the girls." Rapp will reappear in a recurring capacity in the upcoming third season of the show before departing, according to Variety. From September 25 of this year through March 4, 2024, Rapp will be on her Snow Hard Feelings Tour promoting her upcoming album, Snow Angel, out on August 18. "We love @reneerapp so much and of course will be so sad to say goodbye to Leighton Murray!" Kaling wrote on her Instagram Stories. "But we can't wait to see our friend on tour!!" Hopefully nobody will throw any phones at her.