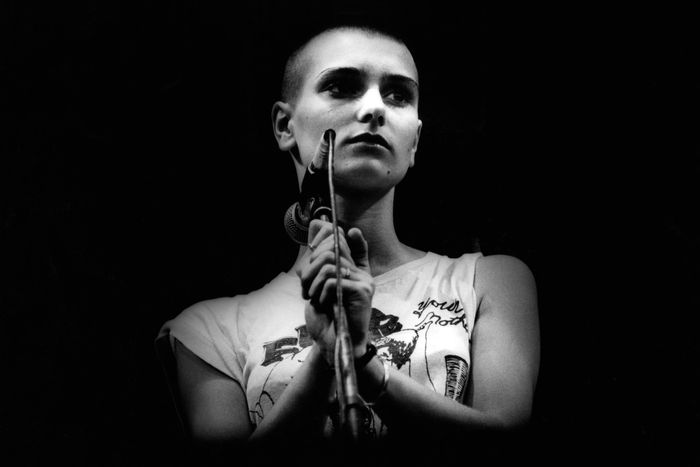 Photo: Michel Linssen/Redferns
Having survived a childhood marked by abuse at the hands of her mother, Sinéad O'Connor found her voice at a Catholic girls' reform school, where a nun bought her a guitar and a book of Bob Dylan songs. She wanted to become a protest singer in the vein of Dylan, John Lennon, and Bob Marley, but there was no lane for that in an industry that prized young women for their looks more than their music. After signing her first recording contract at 18, O'Connor shaved her head and wore ripped jeans and combat boots, an act of protest that foreshadowed many more to come.
After making her mark with her 1987 debut, The Lion and the Cobra, O'Connor rose to worldwide fame with the Prince-penned megahit "Nothing Compares 2 U." But instead of using her interviews and awards-show appearances to further advance her own career, she railed against the world's injustices. She called out MTV for refusing to play rap videos, which she rightly considered a form of censorship, and requested that "The Star-Spangled Banner" not be played before her show at New Jersey's Garden State Arts Center, which led to an infamous feud with Frank Sinatra.
When O'Connor destroyed a photo of Pope John Paul II on Saturday Night Live in 1992 to draw attention to the Catholic Church's child-abuse crisis, much of the world stopped listening to her. Yet O'Connor, who died this week at 56, refused to be silenced. In her unfiltered 2021 memoir, Rememberings, she wrote that SNL had "re-railed" rather than derailed her career, setting her back on the path of making protest music. For the next three decades, she continued to write and record songs that gave a voice to the disempowered. The six we've highlighted below are where you should start.
"Black Boys on Mopeds" (1990)
A direct indictment of Thatcherism and systemic racism, "Mopeds" is a sorrowful ode to Nicholas Bramble, a young Black man who died in a crash in 1989 after being chased by police who wrongly assumed he had stolen the scooter he was riding. "England's not the mythical land of Madame George and roses / It's the home of police who kill Black boys on mopeds," sings O'Connor, alternating between quiet restraint and vengeful anger. "I love my boy, and that's why I'm leaving / I don't want him to be aware that there's / Any such thing as grieving." The song appeared on her sophomore album, I Do Not Want What I Haven't Got, which she dedicated to the family of another young Black man, Colin Roach, who died in police custody after being shot. A photo of his parents appeared in the liner notes with the inscription "God's place is in the world, but the world is not God's place."
"War" (1992)
Although it wasn't on the 1992 album of show tunes and standards she was ostensibly there to promote, O'Connor decided to perform this song a cappella on Saturday Night Live. Written by Bob Marley in 1976, its lyrics were taken almost verbatim from a speech the Ethiopian emperor Haile Selassie gave before the United Nations General Assembly in 1963, a demand for the recognition of equality among all races, classes, and nations. O'Connor altered the song's original words and delivered them with a sense of urgency, purpose, and commitment to address the evils of child abuse. She told the show's producers ahead of time that she intended to hold up a photo of a child at the end of her performance. Instead, she held up a photo of Pope John Paul II that once belonged to her mother, staring at the camera with a look that could almost obliterate it. Proclaiming, "Fight the real enemy," she tore up the photo and left the audience in stunned silence.
"Famine" (1994)
A brilliant but not often discussed Celtic rap — with instrumental elements borrowed from "Eleanor Rigby" and Fiddler on the Roof — in which O'Connor talks about being an abuse survivor and connects it to the historical experience of the Irish people and the hope for a better future: "And if there ever is gonna be healing / Then there has to be remembering and grieving / So that then there can be forgiving / There has to be knowledge and understanding." O'Connor points out that breaking the cycle of abuse requires confronting the past, not simply denying or burying it.
"Thank You for Hearing Me" (1994)
O'Connor often said the job of an artist is to be themselves at any cost. Even as she faced professional setbacks, personal challenges, and unbearable hardships, including the tragic death of her son Shane in 2022, she never stopped using her voice to push back against injustice — and those who tried to silence her — no matter the impact on her career or public image. This track, with its hypnotic melody and lyrical repetition, says it all. O'Connor held up a mirror showing us who we are and who we could be if only we listened to one another's pain and responded with compassion rather than judgment.
"This Is a Rebel Song" (1997)
Bono often seemed to go out of his way to suggest that U2's 1983 hit "Sunday Bloody Sunday" was not a rebel song. But the Irish O'Connor suggests otherwise, recasting that moment in history through a story about loving an Englishman who doesn't love her back. It was a way to address the Troubles from an emotional, rather than a political, viewpoint. The backing instruments are sparse, the vocals delivered in a hushed multitracked whisper before building in intensity: "Your rage is like a fist in my womb / Can't you forgive what you think I've done / And love me, I'm your woman."
"Trouble of the World" (2020)
Long after she stopped turning out chart hits, O'Connor continued releasing great music across an eclectic range of studio albums in addition to collaborations, guest appearances, and music made for television and films. Whenever she chose to interpret songs written and performed by other artists, she always made them her own by conveying their deepest truth. That's certainly the case for her two haunting, echo-laden interpretations of "Trouble of the World," made famous by gospel singer Mahalia Jackson. In the liner notes for her version, which O'Connor released in the wake of George Floyd's murder, she explains, "For me the song isn't about death or dying. More akin, a message of certainty that the human race is on a journey toward making this world paradise and that we will get there."