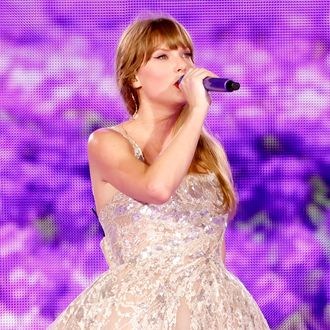 Photo: Taylor Hill/TAS23/Getty Images for TAS Rights Management
Long live Speak Now (Taylor's Version). Taylor Swift's third re-recording (and not-so-coincidentally her third re-recording) is officially out in the world. "I recorded this album when I was 32 (and still growing up, now) and the memories it brought back filled me with nostalgia and appreciation," Swift wrote on Instagram shortly after the album dropped. "For life, for you, for the fact that I get to reclaim my work. Thank you a million times, for the memories that break our fall." While a heist almost threatened the release, the newish album includes six new tracks that are from the vault, a.k.a. songs written during that era but never released. It also features Fall Out Boy and Hayley Williams of Paramore, two musical acts whom Swift drew inspiration from between the ages of 18 and 20.
Does Swift have any more surprises brewing — like a possible music-video announcement à la "Karma"? Well, we just have to wait until Friday night's concert in Kansas City to see how Swift is celebrating the first day of owning her record.