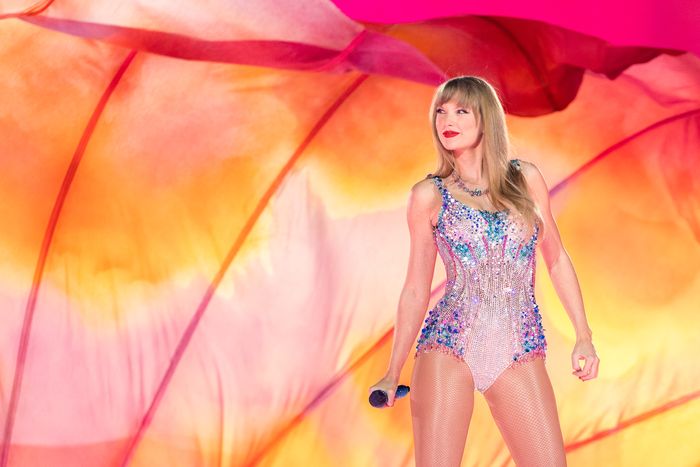 Taylor Swift, probably thinking of Easter eggs.
Photo: Christopher Polk/Penske Media via Getty Images
After scrapping the two-city Lover Fest in 2020 due to the pandemic, Taylor Swift has taken the Swift Show back on the road for the Eras Tour, her first trek in five years. Each performance is a journey through the pop star's, well, eras, with a 44-song set list pulling from all ten of her studio albums. A 52-stop U.S. Swift road trip also means so many Easter eggs. And everything is in play: The glittery costumes, the over-the-top props, the elaborate stage design, and even the dance moves hide clues about future projects (or nods to an earlier part of her career, depending which theory you choose). Since it can be difficult to spot them all during a three-plus-hour concert, whether there in person (probably weeping) or following along afar through fuzzy TikToks, we're keeping an ongoing list of every Swiftian hint we've found from the mastermind herself.
Are the Swift dancers in on the Easter eggs?
Swifties (and obviously Swift herself) aren't the only ones at the show dressed like old versions of Taylor — her dancers are too. During "Look What You Made Me Do," Swift's onstage crew are made to look like past versions of the pop star (a concept pulled from the song's music video), with new additions like folklore, evermore, and Lover joining the party. However, the homage doesn't come without a few tinfoil-hat theories for future rerecordings. During the performance, Swift walks over to a glass box holding the Speak Now dancer and unsuccessfully tries to break them out, which foreshadowed the Speak Now (Taylor's Version) announcement that arrived in early May. But do the other dancers hint at the rerecording after Speak Now? Maybe it'll be 1989? Three of the 12 dancers are in costumes inspired by that record (the "Shake It Off" cheerleader, the "I Know Places"/"All You Had to Do Was Stay" tour look, and the "Welcome to New York" tour look).
Those "22" shirts are burning red
The first two shows in Glendale, Arizona, had Swifties wondering whether their girl was leaving hidden messages in her own outfits. She wears a shirt that reads "A lot going on at the moment," a variation on her lockdown-era Instagram caption "Not a lot going on at the moment." She wears another that reads "Who's Taylor Swift anyway? Ew." Both shirts had letters bolded in red ("A lot" on the former; "Ew" on the latter), which made fans like TheThriftieSwiftie wonder if the red letters would eventually spell out "Speak Now (Taylor's Version)." Alas, we never found out, as the Speak Now TV news arrived before she got to finish. But maybe Swift will use this theory as an idea for a future announcement?
Is Taylor hinting at more than just Speak Now (TV)?
When Swift announced Speak Now (Taylor's Version) on May 5, Swifties noticed that she didn't update her social media icons and Twitter banner as she'd previously done after confirming Fearless (Taylor's Version) and Red (Taylor's Version). We do have the updated Speak Now cover already, so is Swift planning something more — like a double drop? Just last year, she did a double merch release of Speak Now and 1989. And to push the 1989 theory further, Ronan's mother, Maya, posted a pic from inside the 1989 (TV) booth at the Eras tour in Philly, which means Swift has the graphics ready to go. Plus, Swift released some 1989-era inspired photos with her girl squad for the Fourth of July.
What's up with the numbers 7 and 11?
Swifties know that every single detail with Swift is meticulously planned, and that includes her nails. TikToker JessByAThousandCuts recently noticed that after the tour's 11th show, Taylor changed the color of her Lover-themed nails from pink to orange — and has since kept it that way. Dare we say it's … Karma orange for her rumored 11th album? Plus, Swift is not so subtly hiding that specific nail color in her Instagram video promoting Speak Now (TV). So, how does seven play into this? Lover was Swift's seventh album — and the first one she owned — and "Karma" is the seventh song on Midnights. And (stick with us) in the final song of the tour, Swift dances as a giant orange door descends behind her. She also dances on an orange tile during "Vigilante Shit" while the other dancers are on white tiles.
What does the lack of Debut Taylor mean?
Each Swift set list includes two surprise songs, one played on acoustic guitar and the other on piano. Opening night in Glendale Swift City saw "Mirrorball" and "Tim McGraw," leading fans to believe that the latter was on the permanent set list. However, the second night of the tour featured no Taylor Swift songs. In fact, she's only returned to her debut a handful of times since then (for a total of eight performances off her first record). So what does the lack of Taylor mean? Could a separate tour made entirely of her first album be on the way? Or perhaps a special similar to the Folklore: Long Pond Sessions on Disney+?
Don't trust the set list online
Swift is refusing to let spoilers or live streams disappoint any future fans still waiting for their concert. After the release of Speak Now (Taylor's Version), Swift added "Long Live" to the Speak Now section. She plays her Koi fish guitar as her original band members join her on stage. But that's not the only permanent setlist change on tour. During the first night in Arlington, Texas at the beginning of the tour, instead of playing "invisible string," Swift replaced it with another folklore track, "the one." "You think you can just scroll and know the setlist, you think you can come prepared," said Swift on the setlist change. That wasn't the only change in Texas; she opted for a new shirt during "22," this time with the lyrics for "We Are Never Ever Getting Back Together." While fans are seeing if the new red letters are spelling out a secret message, we're trying to figure out how many songs, choreography, costumes, and graphics Swift prepared if she continues with set list changes throughout the tour.
Right now, we're at 45, not including the surprise songs she sings solo. And during the first night with Phoebe Bridgers as an opener, the two surprised the crowd with "Nothing New," temporarily adding another track to the 45-song-long set list. Does this mean HAIM will perform "no body no crime" at the later stops when they are openers? Hopefully we'll even get a fun little dance.
Can we predict the pairings of future surprise songs?
After night four of the Eras Tour, fans began to notice that the surprise songs were connected thematically. "Mirrorball" and "Tim McGraw" are about the legacy you leave with someone once you're gone; "A Place in This World"and "Today Was a Fairytale" are about feeling like you're in your own little world with the one you love; and "Mean" and "mad woman" are about people sucking and that it's okay to be mad about it. So what does this say about future pairings? Will we get a "Red" and "Maroon" night? Or will she play an all-Mayer grouping of "Dear John" and "Would've, Could've, Should've"? (I'm personally hoping for a post-breakup "Question …" and "Out of the Woods" moment.)
The return of the hand hearts
During the Fearless and Speak Now era, Swift would hold up a hand heart in the air to her audience. She's brought the gesture back for the Eras Tour — an Easter egg for the OG fans who remember teenage Taylor.
She's gonna burn this house to the ground
In the Midnights era, Swift confirmed a theory after liking a TikTok post that said the dark night surrounding the Lover house is represented by Midnights, marking the house complete with her discography. However, Swift takes it a step further during her performance of "Bad Blood," lighting the Lover house to the ground while finishing out the show's 1989 section. Could this mean all of her rerecordings are finished and ready to go? Maybe Swift is preparing to take a break from music after the rerecording to focus on her film career. This could also just be an homage to "Ivy" ("He's going to burn this house to the ground") as it is not a part of the permanent set list, but the idea of having all the rerecordings by the end of 2023 sounds more fun.
Making the whole place shimmer
Swift paid homage to Mikael Arellano's "Bejeweled" TikTok dance by including moves during the song on tour, sticking to her promise that she's listening to her fans about what they want to see. She even invited Arellano to some of the Philadelphia shows and gifted him the "22" hat, which he wore to do the "Bejeweled" dance.
Do the elaborate stage design and costumes hint at Swift's future film?
This is a stretch, but I'm all about flexing the Taylor conspiracy muscles. Swift's stage for the Eras Tour is an incredible mix of larger-than-life props, including large pine trees for Evermore and the Folklore cabin. But we must not forget that Swift is going to be a director of a feature-length film. Will her movie have fantastical production designs and settings, similar to how she sets the stage at her concerts? Will the film have sparkly costumes with hidden meanings? While she has not revealed the title or plot of the movie, maybe she's been telling us about it all along.