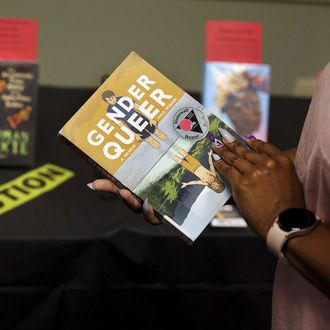 A book on display during Banned Books Week 2022 in Chicago.
Photo: Chris Sweda/Chicago Tribune via Getty Images
You'd think the people so feral about constitutional originalism, hooting and hollering about the Second Amendment, would reserve the same kind of energy for the amendment that came before it. Well, they aren't, according to Texas booksellers, publishers, and authors, at least. A group of them filed a lawsuit on July 25 to halt a new state law that would force bookstores to rate books based on their sexual content, accusing the Texas government of infringing on free-speech rights, per the New York Times. The maddening law, signed by Republican governor Greg Abbott, would make booksellers evaluate and rate every single title they sell or have sold to schools into categories such as "sexually explicit," "sexually relevant," or "no rating," a daunting task the group says is nearly impossible to perform. The Texas Education Agency would then list the ratings on a website, and the government would have both veto power over the bookseller and the ability to unilaterally impose its own rating if it disagrees with the first one. Anything marked "sexually explicit" would be prohibited from entering a classroom, while "sexually relevant" books would be made available to students only with parental consent. Failure to comply with the law would bar a bookstore from doing business with schools.
The new restrictions arrive at a time when censorship is once again in vogue with conservatives across the country. Just last week, author Ta-Nehisi Coates attended a South Carolina school-board meeting in support of a teacher who had been told to stop using his book Between the World and Me to teach her advanced English students about systemic racism in the United States. Overall, book bans are rising at a breakneck pace, according to an April report from PEN America. Late last year, the Keller Independent School District near Dallas banned books from libraries that talk about the concept of gender fluidity. Meanwhile, in book-banning-adjacent news, Florida governor Ron DeSantis and his minions rewrote new "standards" for Black history this month. The guidelines, which prohibit any lesson that could make a student uncomfortable due to their identity, are a result of the "Stop W.O.K.E. Act," a real name for a law we seriously didn't just make up (W.O.K.E. here stands for "wrongs to our kids and employees").