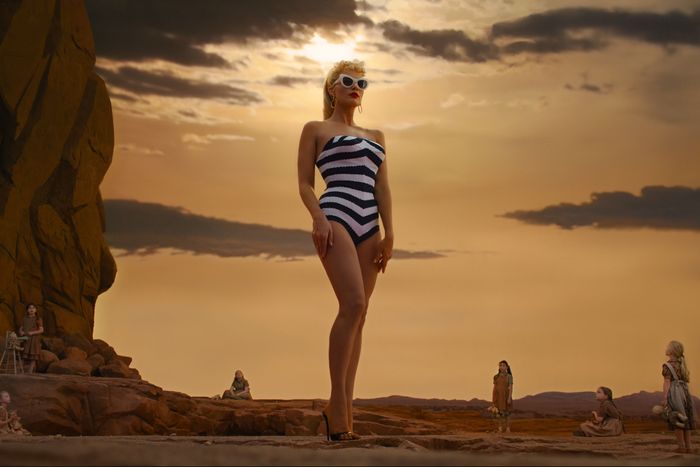 Mattel executive Robbie Brenner, head of the toy company's film division, tells us what it took to save the long-gestating adaptation.
Photo: Courtesy of Warner Bros. Picture
When Robbie Brenner arrived at Mattel in 2018, Barbie was dead. Universal had started developing the project in 2009 but dropped it in 2014, after which Sony took a stab, hoping to launch a new franchise. Along the way, accomplished names like Diablo Cody, Amy Schumer, and Sex and the City writer Jenny Bicks were attached, but no one could agree on what the movie should entail. Brenner's first task as head of Mattel's new film division was to resuscitate Barbie and inaugurate a booming slate of I.P.-driven adaptations. Seven years later, she has a list of 45 properties being cultivated for the big screen. A handful have already been formally announced, including Hot Wheels, Magic 8 Ball, Uno, Polly Pocket (to be directed by Lena Dunham), and an adult take on Barney starring Daniel Kaluuya.
Barbie is fertile ground for the toy company's entrée into franchise filmmaking: It's slated to make enough money to fund every Mattel executive's Dreamhouse and then some. Greta Gerwig's meta approach to the popular, polarizing doll has made it one of 2023's highest-profile releases, capable of outgrossing even a highly anticipated Christopher Nolan thriller. Gerwig and Margot Robbie have said Mattel gave them creative freedom but addressed specific concerns along the way, like the protagonist self-identifying as Stereotypical Barbie. "But the word 'stereotypical' is important because she is already putting parameters around herself that she is, later in the movie, going to step out of and break free," Robbie told the New York Times. "So that's important for her journey."
Brenner is a Hollywood veteran who spent years at Miramax, 20th Century Fox, and Relativity Media before the Mattel job came along. Her producing credits include View From the Top, The Fighter, Limitless, Dallas Buyers Club, and last year's Call Jane. The day before Barbie's London premiere, Brenner talked to Vulture about what it took to save summer's pinkest movie.
Before Mattel, you had a robust career at Miramax and Relativity. How are you finding the experience of not working for a traditional studio or production company?
I find it incredibly liberating, actually. I was hired by Mattel CEO Ynon Kreiz, who's an amazing thinker and spirit. In taking this job, one of the first things I talked about was that we wanted to start a film division that was not just about selling toys. It was going to be about telling great stories that have a reason to exist, that are emblematic of these toys but at the same time unlock a very specific vision.
What excites people about Barbie is that it seems to have a point of view, rather than just being an adaptation of a familiar toy. 
Any great piece of art, whether it's in Hamilton on Broadway or Into the Spider-Verse or The Lego Movie, has to feel like you've never seen it before. Certainly seeing Lady Bird and watching Saoirse Ronan fall out of the car in the first five minutes — that's the kind of thing that makes you feel like you have to go see it. It feels honest, it feels real. That's the way we're trying to unlock all the IP at Mattel: to lead with story first, lead with point to view.
When you arrived at Mattel in 2018, what was the status of the Barbie movie?
Ynon had started as CEO two months before, in June. I entered in August. The rights had reverted back to Mattel, so we started with a clean slate. I've heard things about where it sat before, but we weren't really concerned with that or what worked, what didn't, who was attached. It was just sort of like, This is a new beginning. This is the creation of Mattel Films, and we're going to start from the ground up and build. 
In 2001, Mattel released Barbie in the Nutcracker on VHS and DVD. It did bananas business — 3.4 million units in less than a year. Looking back, does it surprise you that a theatrical movie didn't happen sooner than 2023? 
No, it doesn't surprise me because I think everybody has a great relationship with Barbie. Everyone knows who Barbie is. There's such great expectations of what this movie should be, and I think to figure it out is so open-ended. There is a backstory: Barbara Roberts lives in Malibu, and she has a sister and there's Ken and other characters. But in terms of actual stories, that's a narrative that has to be created. Because Barbie has been empowering women for 64 years and has done so much — she's been a style icon and had so many different careers — it's like, How do you tell this story in a way that's going to resonate with people? To figure out what that was going to be, you needed somebody like Greta Gerwig to say, "I love Barbie. I grew up playing with Barbie." She showed me a picture of her and Barbie from when she was really, really little. Because of that, her vision feels unbelievably specific and intimate, and also reflects the world we live in. She and Noah did a fantastic job of unlocking the story and surpassing my goals for it.
When Sony dropped the project in 2018, how did you go about rebuilding it?
We partnered with LuckyChap, which is Margot Robbie's production company with her husband, Tom Ackerley, and producer Josey McNamara. We had conversations about what the movie should be and who we should talk to. Those conversations went on for a while, and we rolled around in different ideas. Margot had a relationship with Greta, and she brought Greta up. We were all like, "Yeah, of course." I mean, that's the dream. She reached out to Greta, who said she wanted to write it with Noah Baumbach. At that point, Tom, Margot, and I met with Noah and Greta in New York. It was a very relaxed, informal meeting. They talked very loosely about ideas, and that was the leaping-off point. We made a deal with Warner Bros., and then they went off and wrote the script, until it wound up in our inboxes, basically.
So it was Greta's idea to enlist Noah? 
Yeah. I think Margot approached Greta, and I think Greta and Noah probably talked about it. I wasn't part of those conversations between the two of them, but they've collaborated on other things. Noah is a fantastic writer, and it was probably really fun for them to figure out this road map together. He did write Madagascar 3. He has the movies that he writes and directs, but he writes other things as well. The two of them together have references for everything. They've seen every movie, and they're just so well studied.
At any point in the process of getting this off the ground, did you have conversations with Diablo Cody, Amy Schumer, Anne Hathaway, or any of the other figures who'd been attached to the project?
No. We just couldn't be concerned with that. We were starting a new Mattel. We made a conscious decision to say that we were going to start from the beginning. I'm sure the other scripts were fantastic, and those actresses are wonderful, but we wanted a clean slate.
At one point, Patty Jenkins was in the mix. How did that evolve?
It was before Greta stepped into the picture. Obviously she directed Wonder Woman, a female-empowerment film. So it's sort of a logical bridge for somebody to reach out and say, "Hey, what do you think about this?"
I assume the list of potential people who could take this on or be part of it in some capacity was long and very interesting.
I'm sure. But I think when you're working with a writer and director that actually has the vision for the movie they're going to direct, that's the best place to be. They're actually seeing the movie in their head as they're writing it as opposed to getting a script and then morphing it. Interestingly enough, the first script that they turned in is pretty similar to the movie that you'll see.
The movie is fairly adult, or at least it's been successful in piquing adults' interest. Was that always part of your and Margot's vision for it, or was there ever a possibility of a kid-centric Barbie?
I don't think that we talked about kids vs. not-kids. Obviously you want to reach as wide of an audience as possible. When Greta came into the picture, we just trusted that she was going to do something that felt different and would be commercial. I mean, she wants to win more than anybody. She wants to talk through everything to make sure it works.
The meta approach that Barbie and Barney seem to be going for is interesting: Any critique of Barbie the toy risks seeming like a critique of Mattel the brand. How do you balance those things? 
We all held hands. It's a toy company, not a movie company, and we say, "Okay, we're going to make this movie. Do we feel comfortable with these things?" Everybody willingly supported Greta. I think the portrayal in the movie is Mattel, but it's also a little bit like a microcosm for the rest of the world. It pokes fun of itself, and I think that's what good movies do. It's self-deprecating. You have to be able to laugh at yourself a little bit.
I respond to what you're saying because the IP loop that Hollywood is sucked into right now means that a lot of franchises and properties take themselves very seriously. With Barbie and Barney, it seems like you're willing to be a bit subversive and see what sticks. 
We certainly don't ever want to micromanage or control anybody. We want to support our filmmakers. I don't think that you can treat a creative process like an algorithm. We can't be thinking about the franchise until we get the first movie right. Let's be bold, let's be brave. My first year I was at Mattel, J.J. Abrams came in and did a fireside chat with the leadership team. I remember him saying that he decides to take a movie when he reads it and the hair stands up on your neck and it makes you feel scared. That's when he knew it was something he should do. That always resonated with me. You have to take risks. I think this movie does that, and hopefully we're gonna have many, many more to come. You can't win every time, but we will try.
Is there talk of establishing, formally or informally, a Mattel cinematic universe where adaptations coalesce, the way Marvel has done?
That's a very logical question, and it feels like that would be a logical step because we do have so many brands that can intertwine. You could certainly have other toys in a Hot Wheels movie. Our bench is so deep, and we have so many brands to play with. But I think right now, we're just focused on making great movies. Hopefully we'll be prolific, and then the interfacing of all these different brands is something that I'm sure will organically happen.
What's your position on Barbenheimer, the big Barbie-Oppenheimer showdown? It's exciting to see two movies that people are this enthusiastic about, and the tracking predictions are very much on Barbie's side. 
Well, I don't really see it as a showdown. Christopher Nolan is a fantastic filmmaker. I'm sure the movie is unbelievable. I think it's just great that the box office feels like it's coming back, that it's robust, that people want to go to the theaters. There's room for more than one movie in the marketplace at a time, so I think they're both going to do very well.
Have you paid attention to the memes and memorabilia? You can buy Barbenheimer T-shirts. 
Yeah. I think it's fantastic. I think it's great for our business. People just want to be happy in the world. It feels like we're emerging out of the darkness and into a pink sky. I think people will be surprised by this movie.