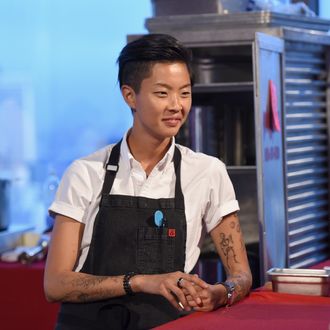 Let her cook.
Photo: Noam Galai/Getty Images
When Padma Lakshmi was announced to be leaving Top Chef on June 2, we shed gallons of tears. Well, now we can use them to make pasta to celebrate Top Chef: Seattle winner Kristen Kish assuming the role. She has all the qualifications: knowledgeable about food, proven ability to host, and is incredibly hot. That's what we call a slam dunk. Kish won Top Chef in 2013, has since hosted shows including truTV's Fast Foodies and Netflix's Iron Chef: Quest for an Iron Legend, and will now take her fateful place alongside returning judges Tom Colicchio and Gail Simmons. "Top Chef is where I started my journey — first as a competing chef, then a guest judge, and now as host I have the honor of helping to continue to build this brand," Kish said in a press release. "I'm thrilled to sit alongside Gail and Tom as we get to know new incredible chefs and see what they cook up. It feels like coming home."
Top Chef' season 21 will take place in the dairy capital of America: Wisconsin. The chefs will compete in Milwaukee and Madison. "We are honored to be able to welcome Top Chef to Wisconsin for its upcoming season," Wisconsin Governor Tony Evers said in a statement. "We're proud to be known here for our rich food culture, talented chefs, and exceptional local ingredients. I know our diverse culinary traditions will help inspire the participants, captivate viewers, and showcase all of the great things Wisconsin has to offer." That all sounds good, but we're mostly just hoping we get to see some shots of city chefs milkin' some udders.