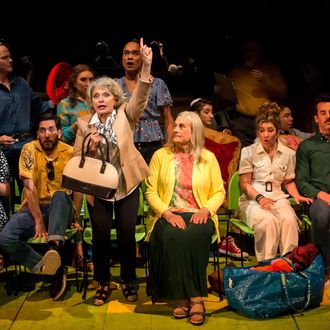 Photo: Craig Schwartz/All Uses © 2023 Craig Schwartz
Friendship ended movie musicals — now TV musicals are my best friend. Following the announcement of an upcoming Broadway musical based on NBC's Smash — and another based on CBS's The Nanny — a musical based on Prime Video's Transparent is coming to the Great White Way. A Transparent Musical, which premiered in Los Angeles, California, produced by the City Theatre Group at the Mark Taper Forum on May 23, is moving coasts at a yet-to-be-announced time in 2024. Generally following the plot of the Prime Video series, the show follows the transition of Maura Pfefferman, who comes out as a trans woman to her family, through the eyes of her youngest child, Ali. The musical's book is by MJ Kaufman and Transparent creator Joey Soloway, and the score is by Faith Soloway. This is not Transparent's first time in musical-land, as the series finale, Transparent: Musicale Finale, was also a musical.
"Transparent remains an incredibly impactful series with salient representation for the LGBTQIA+ community," Nick Pepper, head of U.S. SVOD wholly owned development at Amazon Studios, said in a press release. "We hope the audience walks away inspired after experiencing this poignant story." The California cast included Adina Verson (Ali Pfefferman), Daya Curley (Maura Pfefferman), Liz Larsen (Shelly Pfefferman), Zachary Prince (Josh Pfefferman), Hand to God's Sarah Stiles (Sarah Pfefferman), Kasper (Ezra), Drag Race alum Peppermint (Davina), and Murphy Taylor Smith (Rabbi Raquel). It has not been revealed if any cast members will make the transfer as well. Picture it: If this musical wins a Tony, a Grammy, then they eventually make an Oscar-winning Transparent movie, that would make Transparent the first-ever IP to EGOT.
This post has been updated.