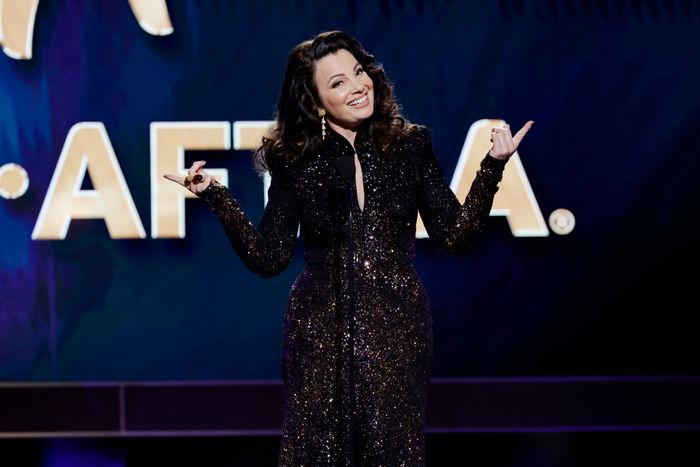 Photo: Kevin Winter/Getty Images
Welcome to Vulture's Strike Recap, or Strike-cap, if you will, a regular rundown of all the biggest news from the WGA picket lines.
The June Gloom has burned off Los Angeles, and striking is getting hotter. Hats are in on Picket Fits, and Barry writer Emily Heller even made a parasol that doubles as a picket sign. The heat is on for the AMPTP, too: It still hasn't come to an agreement with SAG-AFTRA, and the Los Angeles City Council unanimously passed a resolution urging the studios "to come to the bargaining table and reach a fair deal with the workers of the WGA." Hugo Soto-Martínez, whose district covers the Netflix and Paramount picket locations, said, "This is a fight for the future of Hollywood. As we hit day 60 of this strike, we can't allow these big corporations to play games with the future of this industry and refuse to pay their workers a living wage." Unite Here Local 11, for which Soto-Martínez used to organize, also went on strike. Here's all that happened last week — at multiple picket lines and negotiating tables.
Writers and Hotel Workers United
Unite Here Local 11 went on strike Sunday right in the middle of a holiday weekend. According to The Guardian, the chains affected include Marriott and Hilton and the frequent filming location the Millennium Biltmore. WGA members joined hotel workers picketing in front of the Fairmont Miramar in Santa Monica.
SAG Talks Get an Extension
SAG-AFTRA and the AMPTP extended their existing contract to run for another two weeks with the clock once again running out at midnight on July 12. "No one should mistake this extension for weakness," the negotiating committee wrote in an open letter on July 1. "We see you. We hear you. We are you." The "We see/hear/are you" messaging appears to refer to a letter signed by over 300 SAG members (including J.Law and Meryl Streep) urging the negotiating committee to go hard in the paint for them during these talks. Speaking of that letter …
The Strike Main-Character Award (Chaotic)
SAG president Fran Drescher has been criticized for not taking the WGA strike or her own guild's negotiations seriously enough. Many interpreted the SAG letter as being directed toward Drescher since she also serves on the negotiating committee. Well, get this: Fran signed the letter. It's quite the move, and we have yet to see how it will affect her bid for reelection.
Merch Alert
This Friday, the TV City picket in Los Angeles will be Taylor Swift–themed. If Ticketmaster has gotten in the way of getting Eras Tour merch, you can get some WGA-Taylor mash-up apparel that benefits A Life in the Arts (formerly the Actors Fund).
Writer Side Hustles
The Hollywood Reporter ran a story about late-night writers who have been returning to stand-up during the strike. Per THR, Seth Meyers and Jimmy Fallon have stopped paying their writers' salaries during the strike. "Some late-night shows, like Late Night With Seth Meyers and The Tonight Show Starring Jimmy Fallon, covered their writers' pay for the first two weeks of the strike — with Meyers and Fallon then covering a third week — but that compensation has now ended," the article read. While some writers are doing stand-up during the strike, others are getting crafty. If you want to directly support writers, consider buying their wall art or whatever on Etsy.
Who Didn't Bring Food: The Netflix Restaurant
@adamconover

Instead of negotiating with us, Netflix decided to open an overpriced restaurant. Here's what we did in front of it. Starring the incomparable Adam Lustick, with concept and props by WGA writer Shawn Wines

♬ original sound - Adam Conover
Spotted on the Picket Line: Grace and Frankie
Jane Fonda and Lily Tomlin were joined by Dolly Parton drag queens at the Netflix picket line on Thursday, June 29. "Striking 9-5 Picket — A Dolly Drag Event" was organized by the WGA's LGBTQ+ writers committee, and Fonda drew comparisons between the labor issues in that film and the issues the WGA is striking for. "If Lily Tomlin, Dolly Parton, and I were making 9 to 5 today, we'd be gig workers," Fonda said, per Deadline. "Contracted out by one company to another. We probably wouldn't know who our boss was. We wouldn't know who to complain to when there's wage theft; we'd likely be working two to three jobs to make ends meet."