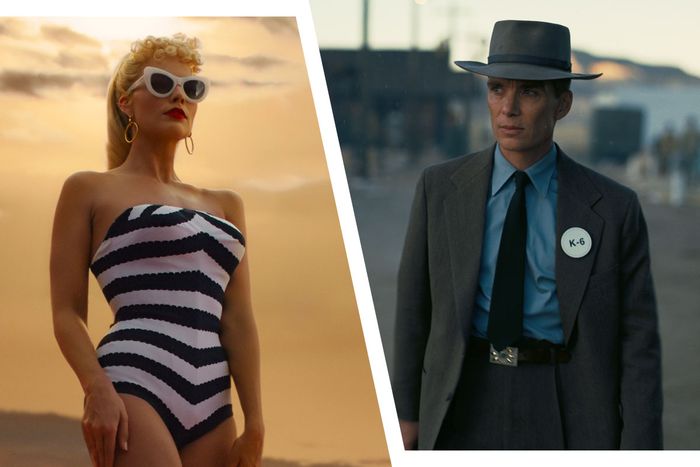 Barbie
;
Oppenheimer
.
Photo: Warner Bros.; Universal Pictures
Hi, Barbies! Hi, Oppies! Oh yeah, and hi, Kens! It's the weekend we've been waiting for — the fan-dubbed Barbenheimer doubleheader. It's been hyped up at nauseating levels, but who cares?! All this excitement is taking us back to the days of monoculture, baby. I remember sitting in a packed theater for Twilight at midnight levels of excitement and sleep-deprived delusions, all for the sake of cinema. Of course, Barbie and Oppenheimer aren't the only movies and television out this weekend: Hi, Minx! Hi, Shark Week! Hi, They Cloned Tyrone! Hi, Timothy Olyphant! (Call us!) Now, c'mon Barbies, let's all go to the movies. —Savannah Salazar
The Big Two
.

Barbie x Oppenheimer
Need we say more about this pairing? You all probably have your double-feature plans booked. If not, my colleagues and I put together our arguments for which order you should see Christopher Nolan's and Greta Gerwig's blockbusters. Barbie, then Oppenheimer, then Barbie again is my order of choice. Meanwhile, my co-writer James argues for Oppenheimer first, leaving the theater during the explosion, then Barbie, and then coming back to see the rest of Oppenheimer. —S.S.
More Featured Presentations
.

They Cloned Tyrone
John Boyega, Teyonah Parris, and Jamie Foxx are the trio at the heart of director Juel Taylor's fun mystery thriller, They Cloned Tyrone. As Boyega's Fontaine starts to notice some strange things happening in their neighborhood, he takes his group to uncover the secret government plot that is, as the title explains, cloning their town. —S.S.
.

Minx season 2
Minx, the Paul Feig–produced comedy about a fictional '70s feminist erotic magazine, was dropped by Max after its first season, then rescued by Starz. It picks up again with more confidence, a stronger sense of itself, and better stories for Lennon Parham and Jessica Lowe, who play the two best characters on the show. —Kathryn VanArendonk 
➽ It's a show where Jake Johnson wears a V-neck blouse most of the time. What more do you want, people?!
.

The Beanie Bubble
Nike shoes, a Soviet video game, an early smartphone, a spicy snack … 2023's trend of movies featuring corporate protagonists (or anti-heroes, depending on the flick) continues with this Apple TV+ movie about the drama behind the Beanie Baby craze of the '90s. (Not to be confused with the 2022 documentary of the same name — and topic — on Tubi.) —James Grebey
➽ I hope the Princess Diana Beanie Baby makes a cameo appearance.
.

Justified: City Primeval
U.S. Deputy Marshal Raylan Givens's white hat and Kentucky-fried temper return to the screen this week. The Justified miniseries revival brings all six feet of Timothy Olyphant back to the role as he navigates the complexities of the Detroit underworld, parenting a too-cool teen, and a new criminal nemesis played by Boyd Holbrook. Fire in the hole. —Eric Vilas-Boas
➽ No sign of Walton Goggins back in the revival yet, but we can dream.
.

Cobweb
If the existential horror of the atomic bomb isn't exactly your speed, there's a straight-up horror movie premiering alongside Oppenheimer and Barbie in theaters this weekend. Starring Lizzy Caplan and The Boys's Anthony Starr, Cobweb seems like a movie about two pretty bad parents. (So that's another thing it has in common with Oppenheimer.) —J.G.
Animation Station
The Venture Bros.: Radiant Is the Blood of the Baboon Heart
Against all odds (and, one assumes, despite David Zaslav's best efforts), Venture Bros. is getting a finale. Thank goodness. The cult classic Adult Swim cartoon, which premiered 20 years ago yet only had seven seasons before it was so rudely canceled, is getting a feature-length wrap-up, which is great because this show has so many characters and so much lore that all deserve a proper conclusion. —J.G.
Praise Petey
Former Saturday Night Live head writer Anna Drezen created this animated series about a Manhattan woman named Petey (Annie Murphy) who discovers that her estranged father has died and left her a southern town called New Utopia, which reveals itself to be a community built around a cult he founded. She is expected to lead it. —Jen Chaney
Under the Sea
The Deepest Breath
I am kind of scared of deep, open water, and, like, half the time when I put my head under, I get water stuck in my ear. And yet, I will be watching this documentary about free diving — about people who swim down the equivalent of 70 stories underwater without any scuba gear — in awe and abject horror. —J.G.
➽ Same with heights, and yet I watched Free Solo.
.

Sharksploitation
For a horror fan, Shudder's documentaries are like blood in the water, perhaps none more literally so than Sharksploitation. The new doc traces the history of the shark-attack subgenre, from Jaws to the dark ages of Sharknado and back into its recent resurgence with movies like The Shallows and 47 Meters Down. —J.G.
➽ Discovery's Shark Week kicks off this Sunday, if you need more shark content to sink your rows and rows of teeth into.
Make It a Double Feature Marathon
It's homework time. If you're excited about Barbie (or watched it and loved it), Greta Gerwig has a watch list of more than 30 films that inspired her movie. Four of them, including The Umbrellas of Cherbourg and The Truman Show, match Margot Robbie's alleged Letterboxd account. Gerwig's list starts with The Wizard of Oz. —S.S.
➽ Of course, another marathon you can do this weekend is of all the Barbie animated movies, from Barbie in the Nutcracker to Barbie: Skipper and the Big Babysitting Adventure.
Want more? Read our recommendations from the weekend of July 14.