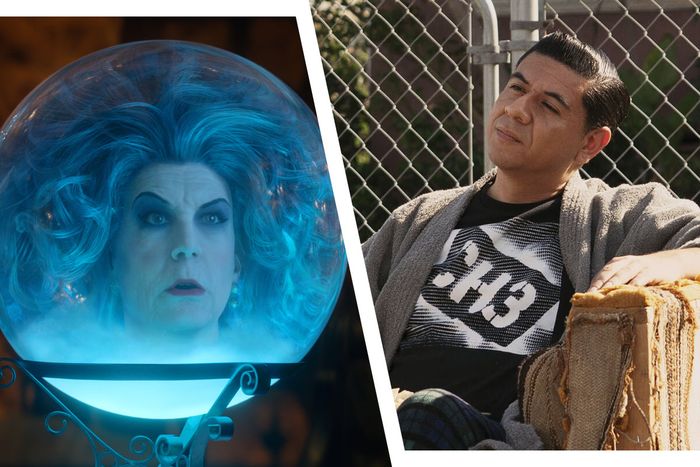 Haunted
Mansion;
This
Fool
.
Photo-Illustration: Vulture. Photos: Disney; Hulu
Let's be real: The biggest things to watch this weekend are the same things they were last weekend. But, if for some reason you haven't already seen Oppenheimer or Barbie and you're not headed back to the theater this weekend to see the atomic bomb explode in IMAX 70-mm., there are still some fun new releases, not to mention a bunch of TV premieres, including a Navajo noir, post-apocalyptic vehicle madness, and the return of a futuristic favorite (again). Barbie may be everything, but Barbenheimer isn't the only thing worth checking out. —James Grebey
Featured Presentations
.

Haunted Mansion
If you all had only put some respect on Eddie Murphy's Haunted Mansion, we wouldn't be in this mess. In director Justin Simien's new take on the Disneyland attraction, LaKeith Stanfield stars as a grieving astrophysicist-turned–tour guide who is tasked with helping a mother (Rosario Dawson) and her son (Chase W. Dillon) expel the 999 ghosts haunting their new home. Owen Wilson, Tiffany Haddish, Danny DeVito, Jamie Lee Curtis, and Jared Leto (jump scare) round out the cast in this comfortable family movie. —Savannah Salazar
➽ Do movies based on theme park rides seem better or worse compared to the coming onslaught of toy-based IP blockbusters?
.

This Fool
Chris Estrada's This Fool was one of the best new comedies out last year, so thank God, season two is already here. After Hugs Not Thugs shuts down, Julio (Estrada), Luis (Frankie Quinones), Chef Percy (Jamar Neighbors), and Minister Payne (Michael Imperioli) deal with the aftermath. We can't wait to see what mess these fools get into next. —S.S.
.

Dark Winds
Zahn McClarnon finally has the starring role he deserves in this series based on Tony Hillerman's novels, which continues its noir-meets-mysticism approach by setting McClarnon's Leaphorn against a new racist villain who claims to know secrets about the Navajo officer's past. The series boasts a predominantly Indigenous cast. Kiowa Gordon and Jessica Matten also return. —Roxana Hadadi
.

Twisted Metal
The Last of Us had great success earlier this year turning a video game into a gripping television narrative. Maybe the same can happen for this show based on the PlayStation game. Anthony Mackie stars as a milkman charged with delivering a mysterious package in a post-apocalyptic version of America. —Jen Chaney
➽ For all the New Yorkers reading this: Twisted Metal is actually a documentary about what it's like to drive. Enjoy the subway!
.

Heels
Starz continues to quietly put out some of the most unexpected workplace dramas, including Heels, about two brothers and rivals in professional wrestling. The first season was immersive, challenging, and fun. Whether this small-town wrestling league can support new faces and new competitors is the focus now. —R.H.
Horror Haunts
.

Talk to Me
If you thought teens these days were too addicted to TikTok or whatever, wait until you see what they're doing in Talk to Me, a movie about a group of friends who figure out how to conjure spirits using an embalmed hand. It's a great time until it goes horribly wrong. Who could've predicted!? —J.G.
Animation Station
.

Futurama
If you, like the protagonist of Futurama, were cryogenically frozen, you could've been woken up multiple times over the past 20 years and hear the exact same news: Futurama has been canceled/revived. Now Hulu has brought back the Planet Express crew for another two seasons of retro-futuristic adventures (with all the main voice actors, following some early contract disputes). None of the revived seasons has been able to match those first original four, which are full of classic episodes. —J.G.
.

Harley Quinn
Whatever's going on with DC Studios may be a mess right now, but at least DC's animated fare like Harley Quinn is going strong — just like Harlivy. Now in its fourth season, Harley Quinn starts a new gig being a hero with the Bat Family while Poison Ivy heads up the Legion of Doom with Lex Luthor. —S.S.
.

The First Slam Dunk
This 2022 anime sports drama, which is based on Takehiko Inoue's '90s basketball manga Slam Dunk (and directed by Inoue himself), is one of the highest-grossing anime films ever made, topping box offices in Japan, South Korea, and China. Will it be a, uh, well, "slam dunk" in America, too? —J.G.
Comedy Corner
.

How to With John Wilson season three
The most recent season of this sweet, surreal little show made a big impact on the smartest man in New York City — the mayor. "I think John Wilson from HBO showed us: Just about every culture has made scaffolding his own with seasonal decorations and signs," said Eric Adams. "This is not going to become the legacy of our city. That's why GSD today is going to be the acronym for Get Sheds Down." Just imagine what sort of public policy John Wilson will impact in his upcoming final season! —Ray Rahman
Genre Fare
.

Good Omens
It's been four years since the first season of Good Omens debuted. It was beginning to look like Neil Gaiman's adaptation was close to biting the dust, but thankfully for Good Omens fans, that was far from so. Now, Michael Sheen and David Tennant return as Aziraphale and demon Crowley, respectively, as the two help a lost archangel in this Prime Video series. —S.S.
Checking In on Taylor Sheridan
.

Special Ops: Lioness
In this series inspired by a real U.S. military program, CIA op Joe (Zoe Saldaña) works undercover to prevent terrorist attacks. Thematically, the show looks like it's picking up where the Islamophobia of Taylor's Sheridan's Sicario: Day of the Soldado left off. —R.H.
By Popular (on) Demand
Joy Ride
Nobody really goes to the theater to see comedies anymore (Barbie excepted), so maybe now that the raunchy girls-trip comedy Joy Ride is already on VOD, just weeks after its July 7 premiere, folks will want to watch from the comfort of their homes. —J.G.
Coming Soon
.

Only Murders in the Building season three
RIP Paul Rudd. Gunned down in his (eerily long-lasting) prime. —J.G.
Want more? Read our recommendations from the weekend of July 21.