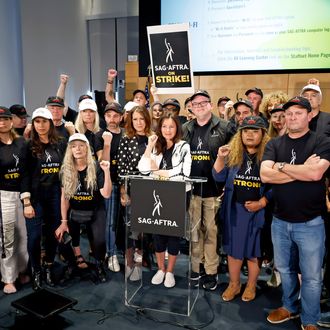 Photo: Frazer Harrison/Getty Images
Hours after contract negotiations broke down between the Screen Actors Guild and the studios, SAG-AFTRA announced it will join the writers in their strike. "After more than four weeks of bargaining, the Alliance of Motion Picture and Television Producers (AMPTP) — the entity that represents major studios and streamers, including Amazon, Apple, Disney, NBCUniversal, Netflix, Paramount, Sony, and Warner Bros. Discovery — remains unwilling to offer a fair deal on the key issues that are essential to SAG-AFTRA members," the guild said in a statement sent before the July 13 press conference, per Variety. Meanwhile, the AMPTP shared its own statement, saying they offered alleged "historic pay and residual increases, substantially higher caps on pension and health contributions, audition protections, shortened series option periods, a groundbreaking AI proposal that protects actors' digital likenesses, and more."
SAG-AFTRA president and The Nanny style-icon Fran Drescher was the presser's master of ceremonies, alongside chief negotiator — and surprisingly fluent Spanish speaker — Duncan Crabtree-Ireland (yes, he fully answered a question in another language, which was nice). So what went down at the first moment we heard from SAG since the strike was authorized? Here's the most pressing information the dynamic duo shared.
How did negotiations go?
Poorly, according to Crabtree-Ireland. "The AMPTP wants to insist that other unions adhere to things that they have negotiated with other unions," he said. "Minimum increases is one example where that's the case. The companies insisted that we agree to limit the increases in minimum salaries for our members to a pattern deal. And our negotiating committee rejected that idea."
Crabtree-Ireland also described how SAG members' salaries are shrinking in this new environment. "Our members need to receive increases that allow them to keep up with the pace of inflation," he said. "We believe that our members should not be working in 2023 for less money in real dollars than they made in 2020. And we certainly believe that our members should not be working at the end of the term of this contract in 2026 for less money than they made in real dollars in 2020."
What are actors allowed and not allowed to do during the strike?
Great question. "In general terms, any kind of promotion of any project that was made under the TV/Theatrical agreements, either current or past, will not be allowed — whether that's at a con, at a festival, at a panel, on social media, at a premiere, in any form," Crabtree-Ireland said. However, he noted that members can still participate in autograph signings and other activities that "are not related to specific companies or projects" produced under said agreements.
According to Crabtree-Ireland, SAG is sending members, agents, lawyers, and publicists more information on exactly what is prohibited. "We encourage all members who have any doubt about the boundaries there to reach out to the union," he said.
Is the AMPTP saying it will offer protections against the use of generative AI?
While the studios and streamers called their AI deal "groundbreaking," Crabtree-Ireland had a different opinion on the matter. "This 'groundbreaking' AI proposal that they gave us yesterday says that our background performers should be able to be scanned, get paid for one day's pay, and their company should own that scan, their image, their likeness, and should be able to use it for the rest of eternity in any project they want, with no consent and no compensation," he told the press. "So if you think that's a groundbreaking proposal, I suggest you think again."
After a journalist told SAG's reigning president that the AMPTP described its deal as historic, Drescher mocked that very idea. "What was historic about [the negotiations] is that we were really so marginalized, so dishonored, and so disrespected that it was really egregious and disgusting," she said. "So that's what was historic. That at a moment when streaming and AI and digital is so prevalent in the industry, it has disemboweled the industry that we once knew."
"When I did The Nanny, everybody was part of the gravy train," she added. "Now, it's walled in a vacuum. And, not only is it unfair to everybody up and down the ladder, but the entity that employs us is really un-American. And it's unconscionable. What are you doing? We're not curing cancer here. It's a collective art form."
When will SAG-AFTRA and the AMPTP go back to the table?
"That's up to them," Drescher said. "We're open to talking to them tonight. But, uh, you know, it's up to all of this. It's because of their behavior. It's up to them if they're willing to talk in a normal way. That honors what we do."