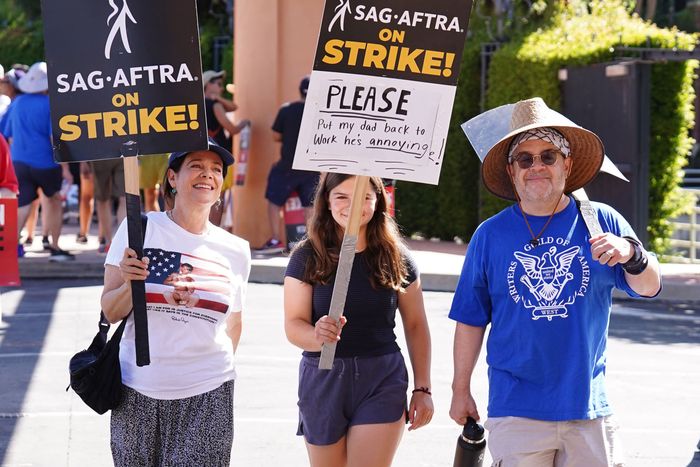 Roasted.
Photo: Hollywood To You/Star Max/GC Images
Welcome to Vulture's Strike Recap, or Strike-cap, if you will, a regular rundown of all the biggest news from the WGA and SAG picket lines.
The AMPTP is set to meet with the WGA again sometime this week. "Last Friday, 102 days after they walked away from the bargaining table and put us out on strike, the AMPTP offered responses to our proposals in all work areas," the WGA said in a statement Friday, August 18. "We will continue to meet next week." The WGA advised its members to be skeptical of stories from those not at the negotiating table (more on that below). The Guild and the AMPTP had been in talks for four days prior to making the announcement.
Earlier on Friday, the Guild also called for members to make public comments to the Federal Trade Commission and Department of Justice in support of revised merger guidelines that have been proposed. The goal is to stop further consolidation of media conglomerates, which the WGA feels is a major cause of the strike. But new signs calling out the constant dance of mergers and acquisitions in corporate media will have to wait — at least on the West Coast: Los Angeles pickets have been canceled today because of Hurricane Hilary. In the meantime, catch up on the latest showrunner goss, Timothy Olyphant's strike hairdo, and more.
Did Somebody Ask for This?
On August 16, Variety released a story claiming that one of the major sticking points still left between the WGA and AMPTP is the question of staffing minimums. The WGA has asked that shows over a certain number of episodes have a minimum number of writers, which would change the auteur-heavy writer/producer/star format many buzzy shows have taken of late. According to an anonymous source, showrunners are against this idea. "Nobody asked for this," the source said. "Every showrunner I know is against this. It doesn't make sense to anybody." The story caught the ire of many showrunners on Twitter who did want staffing minimums. "Hiring my brilliant writers to make me seem less dumb is the only smart thing I do," wrote Pitch Perfect: Bumper in Berlin showrunner Megan Amram.
Amazon Blames Some Cancellations on the Strike
Amazon has un-renewed The Peripheral and A League of Their Own for a second season. The streamer cited the strikes as why both shows were now canceled, something that League co-creator and star Abbi Jacobson pushed back on. "To blame this cancellation on the strike, (which is an essential fight for fair wages, protections and working conditions, etc. …) is bullshit and cowardly," she wrote.
Background Actors on Background
As part of her work on AI issues for SAG-AFTRA, Justine Bateman solicited stories from actors who have been scanned for background work. The stories vary, but many reported issues like not signing anything or being threatened with termination if they didn't comply. Meanwhile, a judge ruled last week that AI art can't be copyrighted. Things are looking grim for our robot overlords.
Spotted: Celebs on the Line
Timothy Olyphant rocking the Tom Schwartz crisis blonde! Charlie Kaufman wearing multiple WGA shirts in Sarajevo! And MCU star Florence Pugh joining her Don't Worry Darling co-star Kate Berlant on the Disney line! And Nog!
A Latino Picket Has Some Blue Beetle Questions
The Latinx Writers Committee and SAG-AFTRA National Latino Committee led a picket outside Warner Bros. in Burbank on Friday, just as DC's Blue Beetle was hitting theaters. Constance Marie, whose credits include the film Selena (!!!), told the Los Angeles Times that the studio's willingness to release Beetle — the first Latino-led and directed DC superhero film — while none of its cast can promote it is concerning, to say the least. "I am very concerned that the big studios would rather let these movies come out and not have any of the performers talk about it, not support us in a way that would magnify the movies," she said.
SAG-AFTRA's chief negotiator Duncan Crabtree-Ireland also told the paper he'd specifically asked the studio to wait until the strikes were over to release Beetle. "Obviously, they didn't choose to do that and I think that's unfortunate, but we're going to be lifting those cast members up and really recognizing them for their unity and solidarity," he told the paper. As it stands, Beetle is experiencing "one of the softest starts in the history of the DC Cinematic Universe," according to Variety, but in addition to the lack of publicity, there was also a pretty significant weather event named Hilary to consider. Anyway, here's Marie herself at said picket line dancing to Selena (!!!):
Cutest Sign Award
This is an award we just made up the very moment we saw Alice Oswalt absolutely roasting her dad, comedian Patton Oswalt, with a sign that reads, "Please put my dad back to work, he's annoying!" Our hearts go out to her and truly all the teens of Hollywood currently stuck at home with parents who have a celebrity-level need for attention. But don't worry kids, school starts soon!
Themed Pickets
Jeopardy! vets went to Culver City to bring their qualms with recycled questions and scab contestants to Sony's front door. Singers came to Disney to do their pro-solidarity version of "When You Wish Upon a Star." Meanwhile, Wednesday will see a Glee picket at Warner Bros. in Burbank.
Do you have a story tip or interesting writers' strike update to share? Drop us a line at tips@vulture.com.