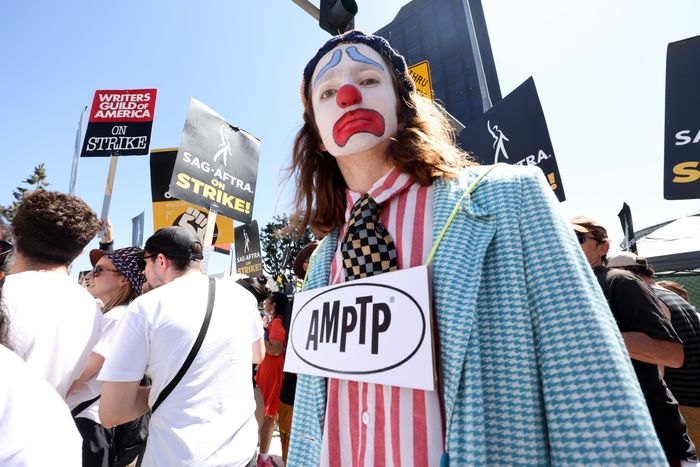 Photo: David Livingston/Getty Images
Welcome to Vulture's Strike Recap, or Strike-cap, if you will, a regular rundown of all the biggest news from the WGA and SAG picket lines.
The channels of communication between the WGA and AMPTP remain … open-ish. On Friday, August 4, the AMPTP met with the WGA's Ellen Stutzman and Tony Segall in "a confidential sidebar to discuss resuming negotiations for a new MBA," in the words of the WGA negotiating committee. According to an email from the WGA, the producers stressed a press blackout: "However, before the negotiating committee even had a chance to meet, our communications department began hearing from the trades asking for comments on studio-leaked rumors of the contents of the confidential meeting." So rather than adhere to the press blackout, the WGA emailed a recap of the event to its members. Per the WGA, AMPTP chief negotiator Carol Lombardini said the DGA deal would be the model for any issues shared by both guilds. She wasn't willing to discuss screenwriter issues or success-based residuals. The WGA countered that not only should the AMPTP address those issues but it should also tackle things like seeking the right for individual WGA members to honor other unions' picket lines. That would be big — and not just for the SAG strike, which is ongoing, but also for negotiations with IATSE next year.
While it seems the AMPTP is no closer to squashing the beef with SAG or the WGA, it hasn't stopped people from joking about the strike being over soon. Meanwhile, more famous people donated to strike funds, the guy from Heels turned heel, and Disney Channel stars spoke with candor.
SAG Comes to Universal
After weeks of fenced-off sidewalks, Universal Studios finally paved a little bit. To celebrate, SAG-AFTRA made Universal a picket location and huge crowds came to show support. In places where there still weren't sidewalks, Universal appeared to close lanes of the street. Eventually, the combined WGA and SAG-AFTRA forces closed down Lankershim Boulevard.
Big Donations From Big Names
A whole bunch of celebs made $1 million donations this week, following the Rock's lead. Seth MacFarlane donated to the Entertainment Community Fund, while folks like Oprah, Meryl Streep, the Lopez-Afflecks, the Reynolds-Livelys, and the Matthews Damon donated to the SAG relief fund.
The Dark Truth Behind Liv and Maddie: Cali Style
Disney Channel star Joey Bragg said on a podcast that Disney had figured out a way to Netflix its shows (i.e., cancel them before having to give paychecks) without really canceling them. Stars made 88 percent of scale for the first three seasons of shows with a promise of a raise at season four. After three seasons, many successful Disney shows got reboots that reset the clock on the pay structure.
To Promote or Not to Promote?
Speaking of Disney Channel shows, Wizards of Waverly Pod is taking a break because of the SAG-AFTRA guidelines about promoting past work. Other recap podcasts switched to just shootin' the shit (as the One Tree Hill pod Drama Queens did). Kevin McHale and Jenna Ushkowitz's Showmance is continuing because of its preexisting contract with iHeartRadio. But there's still a lot of gray area about what you can and cannot do under the SAG guidelines, which are stricter than the WGA's.
Bradley Cooper isn't attending the Venice Film Festival premiere of his film Maestro, which he directed and stars in, despite the DGA having settled with the AMPTP. At a recent convention appearance, DC star Zachary Levi called the SAG rules "dumb" and found ways to talk around his body of work. "I'm not allowed to talk about movies that I may be a superhero in," Levi said. "I'm not allowed to talk about TV shows that I may have been a nerd who worked at a Best Buy. I'm not allowed to talk about any animated princess movies that I was fantastic in as the best prince ever! I'm not allowed to talk about those things."
The Strike Main Character Award (Bad)
Stephen Amell, star of Heels and Arrow, was very critical of strikes in general at North Carolina's GalaxyCon. "I think it is a reductive negotiating tactic, and I find the entire thing incredibly frustrating," he said. "And I think the thinking as it pertains to shows like the show that I'm on, that premiered last night, I think it's myopic." It generated what his Heels character would call "cheap heat," with former Arrow cast members like Matt Letscher and Kirk Acevedo calling him out. Amell later clarified his stance on TMZ, reiterating that he stands with his union. But the people of the internet remain unswayed.
Themed Pickets and Strike Reunions
Despite his later statements, the beef with Amell apparently prompted an Arrow reunion picket. It will take place on August 11 at Warner Bros. The Good Place also had a reunion on the picket line at Universal. Jameela Jamil posted a picture of her and Mike Schur under the infamous shade tents on Lankershim. Plus we have the continued support of the Oppenhomies. Thank you, Oppenhomies!
Adam Sandler, What Are You Doing Here?
Do you have a story tip or interesting writers-strike update to share? Drop us a line at tips@vulture.com.