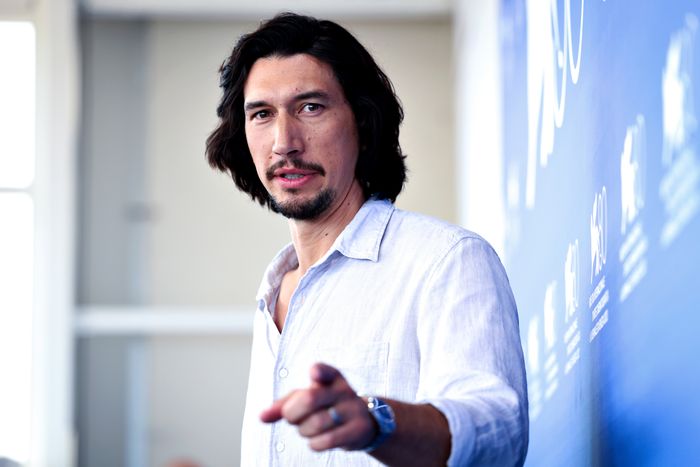 The
Ferrari
actor noted that smaller companies like Neon are meeting SAG's demands and questioned why "a big company like Netflix and Amazon can't?"
Photo: Franco Origlia/Getty Images
On Thursday afternoon at the Venice Film Festival, Adam Driver directly addressed the fact that he's one of only a handful of SAG-AFTRA actors present on the Lido this year, a fact that has been difficult to miss considering his categorical hugeness. The union's interim agreement for Michael Mann's Ferrari — whose distributor, Neon, is a non-AMPTP company — allowed Driver, who plays founder Enzo Ferrari, and his co-star Patrick Dempsey, who plays Italian racing driver Piero Taruffi, to attend both the film's press conference and premiere alongside Mann.
Asked about his attendance, Driver confirmed that he was "very happy to be here to support this movie," especially considering "the truncated schedule that we had to shoot it and the efforts of all the incredible actors working on it, and the crew," referring to the general difficulty of making the film, which Mann has been trying to get off the ground since the early 1990s. "But I'm also very proud to be here to be a visual representation of a movie that's not a part of the AMPTP. To promote the SAG leadership directive, which is an effective tactic, which is the interim agreement," he said, adding that it was important to "stop the bleeding a little bit as far as some people in IATSE and SAG, to be able to go to work." The other objective of the interim agreement, he explained, is to "obviously say, 'Why is it that a smaller distribution company like Neon and STX International can meet the dream demands of what SAG is asking for' — this is pre-negotiation, the dream demands of SAG's wish list — 'but a big company like Netflix and Amazon can't?' Every time people from SAG go and support a movie that has agreed to these terms, the interim agreement, it just makes it more obvious that these people are willing to support the people they collaborate with. And the others are not … I'm here to support and stand in solidarity with [my union] by showing up and further proving the point that it really is about the people that you make it with."
Those themes, he added, are "very resonant with our movie … It was touch and go." He joked that the lines between cast and crew on the scrappy Ferrari set were porous. "It seemed like one time someone was in the catering department, the next time they're on set with us playing a part in the movie … It's very impromptu, and you're battling nature and time and all of these things. That a movie is made at all is a miracle. This one in particular felt very important to show up for." His comments were followed up with applause and whoops from the audience.
Mann echoed his sentiments — "I stand in total solidarity with SAG and the Writer's Guild strike as well" — and added that the movie required sacrifices on the parts of everyone involved. "This picture, Ferrari, got made because the people who worked on Ferrari made it by forgoing large percentages of salaries, in the case of Adam and myself, and producers such as PJ van Sandwijk and John Lesher, who basically worked for no fees. It was not made by a big studio; no big studio wrote us a check. That's why we're here standing in solidarity with both unions."
Dempsey, who's a longtime racing driver, also waxed poetic about the addicting, transcendent euphoria of driving race cars, while Driver, who is very much not a longtime racing driver, explained that he was barred from actually driving on set. "They wouldn't let me drive the cars for insurance reasons," explained Driver, who says he drove a race car for the vibes during preproduction. On set, though, "they don't want me touching the thing that's the most expensive," he said. "They don't trust me with small pieces of equipment — big pieces of equipment, like sandwiches, they'll let me handle." We'll leave you with the image of Adam Driver handling a sandwich.