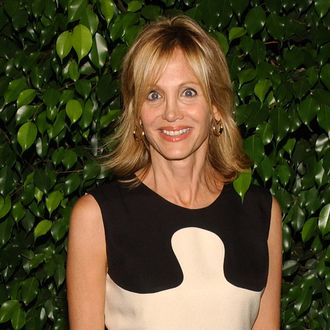 Photo: Jean-Paul Aussenard/WireImage
Arleen Sorkin, who originated the role of Harley Quinn and appeared on Days of Our Lives for more than 25 years, has died. She was 67. According to The Hollywood Reporter, Sorkin died Thursday after health issues had forced her into an early retirement. Sorkin inspired the creation of Harley Quinn, the Joker's girlfriend/henchwoman, and she voiced the role in Batman: The Animated Series. On Days of Our Lives, she played Calliope Jones for 427 episodes over 26 years (per IMDb).
Arleen Sorkin helped inspire the creation of Harley Quinn — who was a canon immigrant from the cartoon series to comics, films, and video games. B:TAS writer Paul Dini was a college friend of Sorkin. He cast her as Harleen Quinzel after watching her in a Days episode in which she played a harlequin. "I thought about a character kind of like her persona at the time, which was the snappy, wisecracking blonde," he said in 2016. Sorkin would get into character by singing "Adelaide's Lament," from Guys and Dolls, on the way to the studio. Harley Quinn wound up becoming a fan favorite, starring in her own TV show and film.
Beyond acting, Sorkin co-wrote the film Picture Perfect, starring Jennifer Aniston. She also wrote two episodes of Tiny Toon Adventures. Sorkin is survived by her husband, Frasier and Modern Family co-showrunner Christopher Lloyd, and their two children. On social media, she was mourned by DC Films head James Gunn, her Joker Mark Hamill, and more.