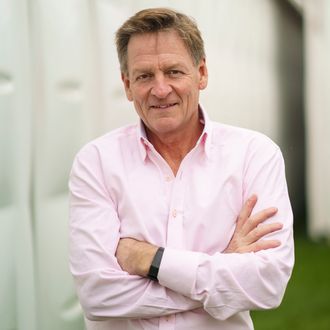 Photo: David Levenson/Getty Images
Michael Lewis, who wrote The Blind Side as well as other book-to-film phenoms Moneyball and The Big Short, spoke to the Washington Post about the lawsuit filed against his former subjects. Michael Oher has alleged in his suit that the Tuohys never adopted him, instead putting him in a conservatorship. Oher says the couple tricked him into signing a conservatorship shortly after turning 18. They then allegedly pocketed the money from selling his life rights to make The Blind Side, starring Sandra Bullock as Leigh-Anne Tuohy. The lawsuit alleges that the the Tuohys and their birth children got $250,000 each, plus 2.5 percent of the film's "defined net profits." Lewis told the Post that no one saw money from The Blind Side but the studios. "Everybody should be mad at the Hollywood studio system," Lewis said. "Michael Oher should join the writers' strike. It's outrageous how Hollywood accounting works, but the money is not in the Tuohys' pockets."
According to Lewis, both he and the Tuohys were offered profit participation in the film. After taxes and agent fees, Lewis says he and the Tuohys got around $350,000 each. Lewis says the Tuohys planned to split royalties among all family members, but that Oher began refusing his royalty checks.
Lewis first learned of Oher's story from his childhood friend Sean Tuohy. He says he feels "sad" for Oher. "What I feel really sad about is I watched the whole thing up close," Lewis said. "They showered him with resources and love. That he's suspicious of them is breathtaking. The state of mind one has to be in to do that — I feel sad for him."
An earlier version of this post mistakenly referred to Leigh-Anne Touhy as Megan Tuohy.