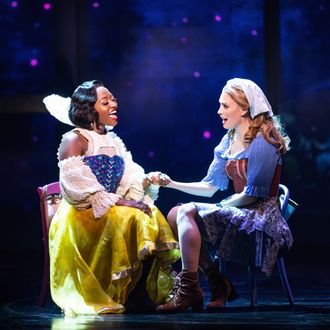 In an egregious violation of Britney Spears's 2011 royal decree that her subjects keep on dancing 'til the world ends, Once Upon a One More Time will close on Broadway this September. The all-Brit-no-skips jukebox musical only began previews in May and opened at the Marquis Theatre on June 22. The show stars Great News's Briga Heelan as Cinderella opposite From Justin to Kelly's titular Justin (Guarini) as Prince Charming in a fairy-tale crossover event, wherein classic storybook princesses gain enlightenment through a rogue copy of Betty Friedan's The Feminine Mystique and sing about it through classics like "Stronger" and "Toxic." It is unclear whether or not a copy of Blackout was also smuggled in from the real world along with the Women's Studies 101 reading material or if Snow White and Rapunzel were already fans.
"We could not be prouder of this beautifully joyous and exhilarating show — which is not only a love letter to Britney's iconic artistry and singular effervescence, but also a brilliant display of the boundless talent of our cast and creative team," said James L. Nederlander and Hunter Arnold in a joint statement announcing the news. "We want to express our heartfelt gratitude to this dream team of collaborators, performers, designers, staff, crew and investors who continue to share our passion and joy for this project. As plans take shape for the show's future life around the globe, we're excited to share more news soon!"
One More Time positioned itself in its marketing as a big, glitzy night out at the theater, and one can easily imagine a glittery Britney Spears musical being a smash in some other timeline. However, the show came hot on the heels of Bad Cinderella, another glossy, fizzy fairy-tale reimagining with a hot-pink coat of feminist paint, which also closed early after lukewarm critical reception. Both shows opened in the wake of October 2022 breakout & Juliet, a Max Martin jukebox musical that offers a feminist retelling of Romeo & Juliet, and also happens to offer four Britney Spears musical numbers. & Juliet went on to earn nine Tony nominations, while Variety reports that One More Time was regularly playing to half-capacity. The show will take its final bow September 3.
Spears has yet to comment on the show's closure, although she has informed her loving public that she is buying a horse named Roar … which also happens to be the name of the big 11 o'clock number in & Juliet.