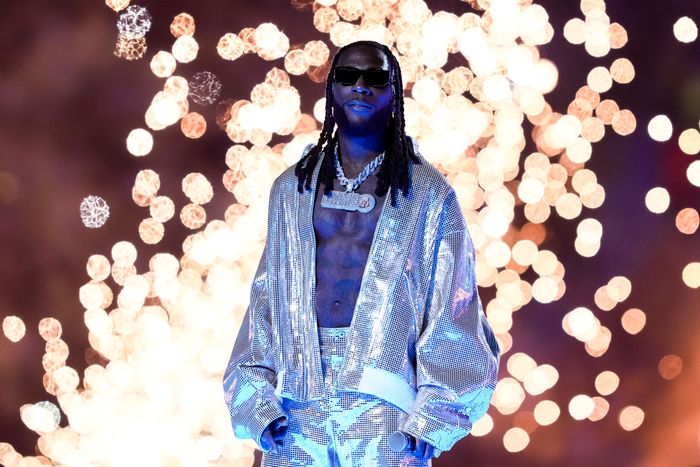 Photo: Giuseppe Maffia/NurPhoto via Getty Images
Burna Boy frames himself as a virtuous messenger to the African diaspora, here to deliver a better understanding of your cultural foundation. From the outset, his work has housed elements of Black music from across the globe, and he's prioritized collaborating with African artists outside of his native Nigeria, including Angelique Kidjo and M.anifest. But with 2019's African Giant, his fourth album and the one that made him a star overseas, he turned that Pan-African ethos into an official calling card, merging songs that expressed frustration over his home country's flawed sociopolitical isms with A-list features from artists of African descent from the U.S. and Caribbean. In interviews at the time, Burna stressed that working with popular acts like Future, YG, and Jeremih wasn't a cheap attempt to cross over; rather, it was a tactic to redirect displaced children of Africa back to their homeland. The goal was to forge transatlantic and intracontinental connections through art. "I care about crossing over but in the opposite way — I want to come here and cross you over to where I am, because where I am is your actual home," he told me in 2019. The 32-year-old's stylistic presentation — and convincing interpretation of hip-hop and dancehall — has gained him more credibility and commerciality in America than his Naija contemporaries, Davido and Wizkid. His semblance of familiarity, along with the specificity he used to detail his Nigerian upbringing, also added new layers to the global Black experience for Black Americans to peel back. It's a formula that's helped Burna construct a global empire.
But with the arrival of his new album, I Told Them …, Burna's self-image may be finally getting in the way of his artistic growth. Earlier in the year, he commented on the importance of the global diaspora returning to (an unspecified section of) Africa: "Why do you think the Chinese American has their respect and they don't go through the things African Americans go through? You know why? The Chinese American has a base. He actually knows where he comes from in China." Backlash ensued, and he responded by noting how sad it was that there were "Black people who would prefer we stay divided and conquered." Then, in an interview with Zane Lowe about making the new record, Burna spoke of frustrations with his Nigerian audience, explaining that people outside of his home country seem to know him best: "Most of Nigerian music — Afrobeats, that's what people like to call it — is mostly about nothing. Literally nothing. There's no substance to it. Nobody's talking about anything. It's just a great time." In both instances, the frailty of Burna Boy's attempt at prophetism came into focus. In posturing his music to be within the tradition of Pan-Africanism — all while holding position as Nigeria's most prominent international recording artist today — Burna is making a habit of speaking as an ill-informed authority without embracing the accountability of a sound leader. In doing so, he calls more attention to the holes in his own creative outlook.
This further plays out on I Told Them … Thematically, it aspires to be a validation of Burna's journey thus far. But the execution is rickety, and he ends up finger-wagging at people who didn't believe he'd be the West African torchbearer he is now. On the album's titular opener, he reminds us, "I told them I was amazing, they told me I was crazy." On "Normal," he makes mention of people doubting his potential — something he also spoke about in his conversation with Lowe: "You know they say a lot of times that a prophet is not really recognized in his home. So this one is for the people in my own home who didn't believe." These feelings of contempt are scattered throughout the album. But rather than going full villain as he does in conversation, he throws jabs at a generalized populace.
Burna is typically better at sticking to a script. After the foolproof narrative that accompanied African Giant, he kept up his momentum as a shepherd on the path to enlightenment. For 2020's Twice As Tall, he released a video comic strip that showed him being chosen by a legion of gods who extend affirmations: "Indeed, you will be as a god to these people. Walk under this glorious burden of purpose and know no fear." Diddy, who came on at the 11th hour as the album's executive producer, emphasized that "we from the same tribe" and are in desperate need of extending love to one another. And Coldplay's Chris Martin lended a hook to "Monsters You Made," one of Burna's most eloquent takes on the present-day legacy of Nigeria's colonization. Last year's Love, Damini was less anchored by this internalized obligation; though it featured one of the singer's most massive hits to date in "Last, Last," it loosened his grip on sociopolitical interests as a marketing tool by swinging for potential chart-toppers. (Guests on the album included pop juggernauts Ed Sheeran, J Balvin, and Khalid.)
With that history in mind, it's hard not to recognize this new go-round as a step behind. The artwork is in the form of a one-off magazine that teases lessons to live by: Don't Complain, Don't Explain, Just Believe. At times, it feels like I Told Them … is trying to convey some sort of battle Burna is enduring, while an outside voice offers motivation or assurance. At others, it's just the good time he reduced his musical contemporaries in Nigeria to in the interview with Lowe. Resentment and disconcertion are palpable in spurts. On "Cheat on Me," with British rapper Dave, he cautions people to take full consideration before criticizing. (In an interview with the Los Angeles Times, he expanded on some sources of his irritation. "To this day, there's many Nigerians who can tell you an American rapper who just started their career, and they'll say they're bigger than Burna Boy. They don't understand it.") And the album is bookended by loose narration from iconic New York hip-hop voices, with GZA and RZA dropping in from the dojo to sprinkle jewels of wisdom. GZA's contribution to the intro is ushered out by the banging of a gong, and lazily placed sound effects of kung-fu fight scenes are sparingly distributed throughout the album for no reason other than to call back to the Wu-Tang aesthetic. Though there are bright spots — the 255 and LeriQ–produced "Dey Play," which features the modern-day Afrobeats sound in its most recognizable form; the Jeremih "Birthday Sex"–sampling "City Boys"; "If I'm Lying," a stripped-down, emotional look inward about how trying perseverance can be even when Burna's up for the job — the album never quite rounds out the through-line it initially promises.
Considering his output over the past five years (I Told Them … is his fifth album since 2018) and relentless touring schedule, it feels like Burna Boy is entering a period of creative exhaustion. Record-breaking concerts and global name recognition abound, while an already stamped legacy affords him the ability to gleefully reflect on his place within the culture. But those accolades also present the risk of exceptionalist thought. Why else would a person whose whole thing is being a diasporic connector and a beacon of hope to his homeland make disparaging remarks about his peers on one of music's biggest digital stages in order to emphasize his significance? Why would he close the album with "Thanks," which, with the help of J. Cole, touts his personal success and efforts to bring Nigerian culture to the forefront as reasons for him to be exempt from criticism or skepticism in any form when there are more pressing issues at hand? "Is this the motherfuckin' thanks I get?" he asks. In what is meant to feel like a victory lap, we're left with something of the Drake variety: bitterness, paranoia, and a heightened self-consciousness stemming from the success he pushed for and the responsibility as a "chosen leader" he placed on his own shoulders. All because people aren't in a constant state of genuflection.