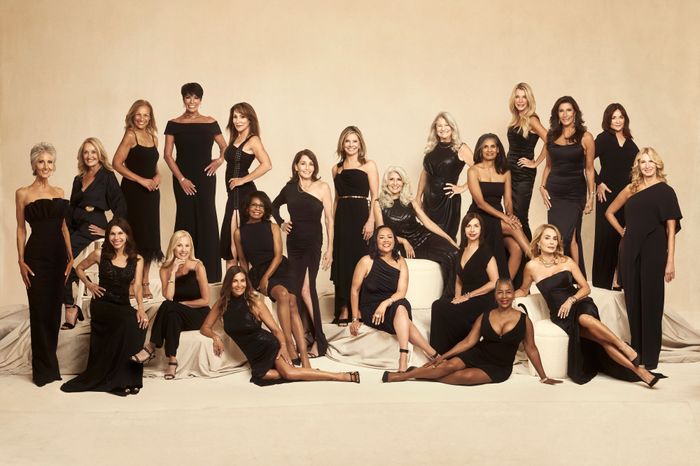 Tag yourself. I'm all of them.
Photo: Ricky Middlesworth/ABC
Back in July, the world gave a big, collective Awwwww to ABC's first-ever "Golden Bachelor," Gerry Turner. The 72-year-old widower is a Hoosier with a real aw-shucks thing going on, he seems to have a great relationship with his daughters and granddaughters, and he has a very cute dog. But as with any season of The Bachelor, we're not really watching for the Bach himself; we're here to watch the interpersonal dynamics of a huge cast of women, forced into a dating-scarcity microeconomy and living in a big house together. And by far the most exciting element of The Golden Bachelor is its cast of ladies 60 and up, which was revealed today in a People exclusive.
The Golden Bachelor girls are a far cry from The Golden Girls; for one, there are 22 of them, which amounts to a 550 percent Golden Girl inflation. Also, they're all mother in a very 2023 way, positively brimming with attitude, quirk, and cosmetological work. In a promotional video also released today, six of the women mentioned that they love pickleball, a hobby that Turner also mentioned in his Bach reveal. Leading with such a glaring red flag? Bold. Pickleball is a boomer epidemic! The Golden Bachelor premieres September 28 on ABC. Until then, meet all 22 contestants below.
Theresa, 69
She's a financial-services professional from New Jersey who says she "loves '70s rock, both soft and hard." Okayyyyy, naughty!
Sylvia, 64
This L.A. public-affairs consultant "loves any excuse to put on a costume" and "enjoys lifting small weights." She's going for relatable.
Susan, 66
She's a wedding officiant from Pennsylvania, which … does that mean she got ordained once for a friend's wedding? She's the one who looks like a Kris Jenner impersonator, and apparently it's intentional.
Sandra, 75
Does not look a day over 60. Every fact about this Georgia retiree is gold: Luther Vandross puts her "in the mood," she is "very proud of her high credit score," and she refuses to pick a favorite NFL team because she loves them all, which is honestly very adorable, like someone going to a game with a hat on that just says FOOTBALL. Or she just said that to hedge her bets with all possible Bachelors.
Renee, 67
A former Honey Bear cheerleader for the Chicago Bears, Renee "really wants to meet Harry Styles."
Peggy, 69
This dental hygienist from Connecticut would have a "very cute bichon frise named Libby." Hopefully she lasts long enough to share her love of go-karting with Gerry on a date.
Patty, 70
Literally Matt James's mom. She "loves her body glitter and encourages you to do the same," and don't even talk to her before she's had her java.
Pamela, 75
I think if I were brave enough to use the TikTok age filter, my best-case scenario would be looking like Pamela, who "can't get enough Judge Judy in her life."
Natascha, 60
This NYC native wants bell-bottoms to make a comeback (wait it out — they will) and is a "pro-aging coach and midlife speaker," which … what does that mean?
Nancy, 60
Nancy is sort of like the factory default setting of someone who would be a contestant on The Golden Bachelor: She dances at weddings, likes rom-coms, and is a retired interior designer from Alexandria, Virginia.
Marina, 60
Not going to lie — Marina is probably my favorite so far. She just seems like she's up to something. The promo included the crew off set laughing at her joke about bringing her pickleball gear to the Bachelor mansion, she does not stand in lines, and she has "not one, not two, but THREE master's degrees."
Maria, 60
One of Maria's three facts about herself is that she has "never gone paintballing but really wants to try," which is very impressive because she's from New Jersey and it seems like it's impossible not to be hit with a paintball at some point if you live in New Jersey.
Leslie, 64
This fitness instructor from Minneapolis hates mice, as opposed to all those people who love mice, and her favorite concerts ever were Lady Gaga and Post Malone. She seems very fun and very intense.
Kathy, 70
She's giving Mary Steenburgen. She's also "OBSESSED with Christmas."
Joan, 60
This private-school administrator seems like she'd be a really scary private-school administrator. Her favorite food is "a big juicy burger!"
Jeanie, 65
"Jeanie's favorite color is neon" — what more do you need to know?
Faith, 60
"Faith loves riding her horse, Liberty, through the mountains," so she is a living American Girl doll or, more realistically, just a Republican.
Ellen, 71
This platinum blonde is from Delray Beach, Florida, and she "idolizes Michelle Obama" and wants to go on an African safari. This is like a whole short story.
Edith, 60
This Californian "doesn't do cold. Ever." She is "building an ADU in her backyard." Apparently, this means accessory dwelling unit, so … basically a pool house.
Christina, 73
Ooookay, so here is a guy's girl. She keeps it real by being the only one in the photo shoot wearing pants. She drives stick and "loves a good dude ranch." She is from Sierra Madre, which, of course, translates to Sierra Mother!
April, 65
"Finding pennies out and about brings April so much joy" — are you not just so endeared by that? She's also a therapist, she's dripping in chunky jewelry, and she has a tattoo of her nickname, Presh. I mean!
Anna, 61
Another Jersey girl, this retired nutritionist loves dark chocolate, "especially lava cakes!"