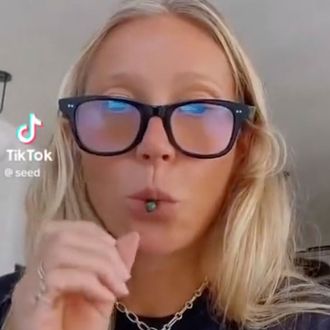 During the span of our decades-long parasocial relationship, I have trusted Gwyneth Paltrow with my life. As my credit-card statement can attest, she has convinced me to buy many extravagant, nonrefundable things. Par exemplé, a candle that smells like her vagina, a nine-day $7,500 trip to Positano, and a DIY Coffee Enema Kit whose effects I will not be speaking about. But as I was endlessly scrolling through social media on Cameron Diaz's birthday (August 30), Paltrow's new viral ad caught my eye and my Apple Pay was ready to buy whatever she was recommending, no matter how strange the ad was — and it was strange, even for her.
If you haven't seen this "ad" for Seed's probiotics, like most viral ads, it has everything! Paltrow is sitting at her kitchen table wearing a Roberto Coin chain-link necklace (opulence) and Martin Scorsese–style blue-light glasses (relatability) and talking into the camera as if she's your mom and you're walking her through setting up the Wi-Fi over FaceTime (confusion). She puts a small green capsule between her teeth, and just when you think she's going to swallow it like a normal person in a normal ad would — she sucks on it, takes it out of her mouth, and squeezes it between her fingers (a twist!). Before she can continue, we're bombarded by what sounds like a buffalo coming down the stairs and jumping into a waterfall. She barely acknowledges it and turns back to the camera. "Oh, Moses is steaming some milk," she says. Gwyneth, it wasn't that loud when Moses was parting the Red Sea! "It's so good for bloating and regularity," she says of the green pill while sucking on it (she still hasn't popped it), then the video ends! It ends. Love a queen who keeps us on the edge of our seat!
So what is Seed? If you're thinking it's one of those "Jack and the Beanstalk" situations in which she sells you magical seeds to put up your vagina and — photosynthesis be damned — you grow vines that bloom magical golden eggs (I think that's how the story goes; I didn't see the movie), you'd be wrong. But Goopies (Paltrow groupies) are more concerned about the ad in general and whether it was a paid one. As Vulture can confirm, it was not paid at all. (Gwynnie doesn't need the money. May I remind you of the one-dollar ski trial?) After Seed saw Paltrow post the video on her Instagram Stories as part of her "Wellness Wednesday" roundup, the company liked it so much it made it into an ad.
Despite the many, many confused comments, stitches, and xeets (né tweets) about Seed posting her video, like Sarah Polley it really has women, and everyone else, talking. I can't say for certain if I'll be adding to cart just yet; I need Paltrow to get back in the kitchen, rearrange a few things, and send me a second take of that ad. Otherwise, consider me Gooped and, like a person who doesn't know how to swallow a pill, gagged!