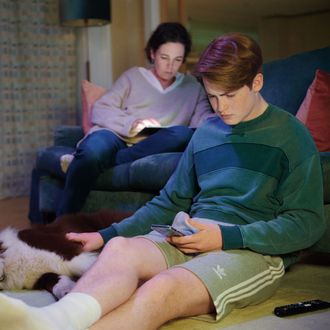 Once you slide in, you can't slide out.
Photo: Rob Youngson/Netflix/Rob Youngson
Netflix's Heartstopper is the classic "Romance with a capital R" that hormonal teens can only dream of: Meeting your person, following them on Instagram, getting that first message, sending good-morning texts DMs. Is that what Netflix thinks teens are doing on their phones all day? So much of Heartstopper is true to the experience of young love — the butterflies, the trying to navigate socially as a couple, the keyboard smashing. But the most inconceivable part of the show isn't the chastity of these relationships or the lack of Euphoria-esque extracurriculars but the use of Instagram as a primary mode of communication.
Of course, it's common to have chats in the DMs, especially if you're a sugar-daddy bot or a hacker desperately trying to post Ray-Ban ads. The first time Nick (Kit Connor) and Charlie (Joe Locke) have a moment is when Nick messages Charlie after he protects Charlie from Ben (Sebastian Croft) in the first episode. Fine, they haven't swapped numbers yet. But in season two, Charlie and Nick are hard-launching their relationship and telling their friends. Even after Hickeygate and two months together, they have yet to simply open iMessage and text.
Aside from potential product placement — the Instagram logo gets more screen time here than most of the supporting cast — the use of this platform may help viewers track who is talking. It's a feasible theory for the scenes with group chats since so many people are participating, but it still makes no sense for conversations between Charlie and Nick. Oftentimes, we get to watch the earnest teens type out their messages and keyboard smash, which leaves nothing to the imagination about who is talking. Also, profile pictures exist on text messages, too. (To be clear, this is not an iMessage sponsorship.)
Others theorize that Elle's identity as the sole Samsung user may be to blame for the unorthodox mode of communication. Yet one green chat bubble in your ecosystem is not a good reason for why you and your boyfriend don't have each other's phone numbers. In reality, Gen-Zers seldom use Instagram DMs for long bouts of conversation because, frankly, that's a very millennial thing to do. What will the Heartstopper crew do next? Send Harry Potter memes? Stop the madness. This façade of Instagram being the cool new way for teens to chat is more infuriating than Nick's not getting his boyfriend a one-month-anniversary present. But who knows? Maybe in season three, he'll get down on one knee and finally do the big thing: present his contact information to Charlie.