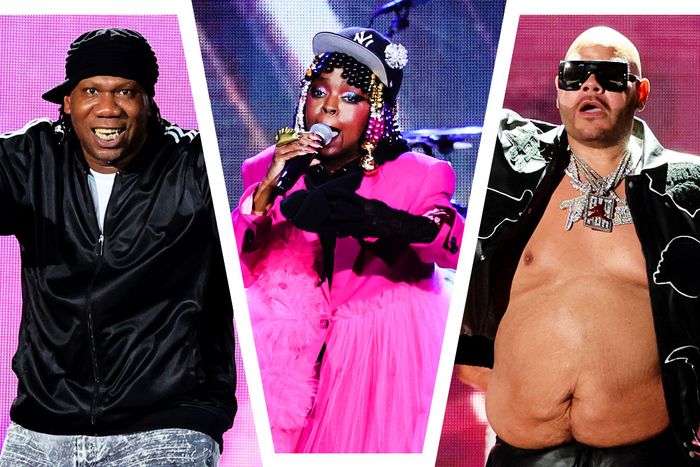 KRS-One, Lauryn Hill, and Fat Joe.
Photo-Illustration: Vulture. Photos: Getty Images
To see hip-hop today is to see a genre that rose from the depths of despair in the Bronx into a global cultural behemoth. That makes Yankee Stadium — which sits less than two miles from where DJ Kool Herc unofficially gave birth to rap at a 1973 party — the ideal locale to celebrate the genre's 50th anniversary in 2023.
On Friday night, a mix of old legends and current heroes turned out for a Black and bougie bash for the culture's past and present. Although Atlanta has long since replaced New York as the rap capital of the world, the event's lineup leaned fittingly toward its birth city with greatest-hits performances from Run-D.M.C., Fat Joe, Lil' Kim, Nas, and many more. For all the old heads and young steppers, I compiled the best, worst, and weirdest of what went down.
HIGH: Rap in the house Steinbrenner built. Yankee Stadium was really the only place that could have held an unofficial culmination of HH50 celebrations. It's just over the 161st Street bridge that separates Harlem from the Bronx and a stone's throw from 1520 Sedgwick Avenue, the location of Herc and his sister Cindy Campbell's party. Being at the ballpark was like watching a rap concert in the genre's backyard.
LOW: Getting into said house. That said, finding your way in to actually watch the show was a different matter. I understand how hard it is to put on events like this, but it took me more than an hour to get into the stadium and find my seats.
HIGH: They run New York. A common complaint about the evening's festivities: It was a little too New York. Sure, Lil Wayne, Snoop, and Common all showed up, but the city itself loomed large: Herc, Kurtis Blow, Run-D.M.C., and more all filled out the bill. Look, I get the frustration, but shouldn't New York get the most shine when the genre itself was born in the Bronx? There's a reason this event was being held in its birth borough.
HIGH: Common shows out for Chicago. I have a tendency to make fun of Common, who long ago became the go-to rapper for well-meaning liberals. Yet he was an incomparable professional on Friday, flying through hits "Testify," "The Food," and "I Used to Love H.E.R." The rapper may have been sweating through his shirt, but his rhyming was seamless and — a rarity for Common — imposing. OG was working hard.
HIGH: This is ladies' night. It's been a pleasant surprise seeing how much shine women in hip-hop have received during the 50th-anniversary celebration, from Netflix's Ladies First: A Story of Women in Hip-Hop doc to BRIC's ceremony honoring female MCs. That trend continued on Friday with a dedicated "Queens of Hip-Hop" set featuring Trina, Remy Ma, and Lil' Kim. (Juice Crew icon Roxanne Shante performed earlier in the evening during the show's "Pillars of Hip-Hop" section.) Trina and Remy sounded great, but Kim took the crown, running through "It's All About the Benjamins," "The Jump Off," and "Money, Power & Respect." Watching the Brooklyn-bred Kim — a woman who succeeded in rap despite the men around her consistently failing her — do her thing onstage was cathartic, and the crowd responded in full.
WHOA: Hey, it's Lil' Cease. Yes, Lil' Cease! Still around! The Junior M.A.F.I.A. member made a surprise cameo during Kim's set to perform his "Crush on You" verse. (He sounded good too.)
HIGH: Snoop anoints Scar Lip. Although the event's lineup lacked some of hip-hop's future stars, it was nice to see Snoop bring out the Bronx-born Scar to perform her breakout hit, "This Is New York," which is the kind of song you play before a knife fight. Snoop's set may have felt a little out of place at such a New York–centric event, but by inviting Lip to the stage, he showed us that closing the generational gap isn't nearly as hard as some fans make it out to be.
LOW: Ghostface's heel turn. Ghostface Killah has always done whatever he wants, so I wasn't that shocked to see the man rocking a Boston Red Sox hat in Yankee Stadium of all places. To be clear, that doesn't mean that I liked seeing him wear that thing in the Bronx (even noted Red Sox fan, Lil Wayne, did not rock any Sawx gear), just that it's par for the course for Pretty Toney.
WHOA: An actually diverse crowd. I have rarely seen as many Black and Latino people at a rap concert as I did here — a pleasant reminder that both of our communities have been together in this hip-hop journey side by side.
HIGH: Fat Joe goes All the Way Up. Joe is occasionally accused of diluting Big Pun's legacy, but he sounded dynamic onstage, repping the Terror Squad while casually but confidently performing "Lean Back," "My Lifestyle," and "New York" alongside a triumphant Remy Ma and Tony Sunshine. (He gets bonus points for bringing out Ashanti, who electrified the crowd with the hook to the duo's seductive 2002 collab, "What's Luv?")
WHOA: Lauryn Hill rules the world …
After running through boom-bap anthem "N.Y. State of Mind" and "Street Dreams," Nasty Nas brought out the always elusive Ms. Hill for their everlasting 1994 collab, "If I Ruled the World (Imagine That)." And she put on a master class, slickly blurring the line between singing and rapping with "World" and the Fugees' breakout single, "Killing Me Softly With His Song."
LOW: … But she still doesn't care about your schedule.
"I'm busy saving souls, and y'all complaining about my lateness," she told the crowd, referencing her tendency to never show up to her own concerts on time.
HIGH: The Captain comes home. During Kid Capri's set, the DJ brought out a "friend," Yankee legend Derek Jeter (sans gift baskets). The Hall of Famer told the crowd, "While you are celebrating 50 years of hip-hop, I want you to think about the next 50 years." Jeter's appearance felt like a necessary nod to how connected the city's hip-hop scene has been to the New York sports community.
LOW: Representing Atlanta: T.I.? Hip-hop still hasn't figured out what to do with the ATL superstar after he was accused of sexual assault and misconduct in March 2021 (and said a bunch of other stupidly inappropriate things). His set may have sounded good as he performed his hits "What You Know," "Whatever You Like," and "Bring Em Out," but why did he have to be the lone representative from Atlanta when there were a million other legends to choose from?
HIGH: Weezy still stands tall. The phrase "Hip-hop saved my life" may be clichéd, but Lil Wayne actually embodies it, going from a brutal upbringing in New Orleans's Magnolia Projects to being crowned Best Rapper Alive thanks to a relentless creative spirit and an uncontrollable id. To see Wayne perform hits like "6 Foot 7 Foot" alongside every other legend (and in a Yankees jersey, no less) was more than deserved.
(Grudging) HIGH: KRS-One's Bronx shout-out. After KRS-One's cringey photo op with Eric Adams last week, I expected to see him hanging with the NYPD during his set instead of performing. That, thankfully, wasn't the case, as he played two of his classic hits, "South Bronx" and "The Bridge Is Over." Decades into his career, KRS remains one of hip-hop's greatest live performers.
LOW: Give Run-D.M.C. some damn respect. Despite being one of the most influential groups in hip-hop history, the capacity crowd didn't seem interested in sticking around for what was supposed to be the group's last show. It was a strangely downbeat ending to an otherwise magnificent celebration.