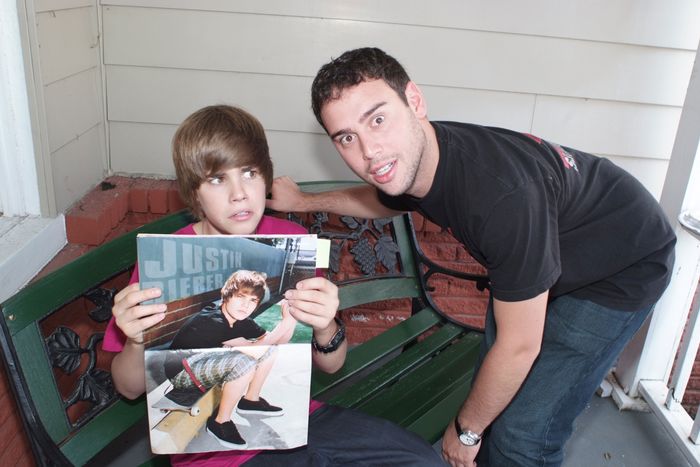 Photo: Micah Smith/Getty Images
Most great music managers want to get out of the spotlight to make room for their clients. Scooter Braun, though, thinks there's room for everyone. Even before he became one of the most powerful figures in the music business, he craved attention — like when he appeared on the cover of Atlanta alternative newspaper Creative Loafing in 2006, with the headline "The Hustla."
Back then, Braun was in the middle of a career pivot, from promoting hip-hop parties to managing artists and making business deals. A year later, he'd discover the act who would make him the person we know today: Justin Bieber. From the beginning of Bieber's career, Braun made it his mission to convince everyone within earshot that Bieber was the next big thing. As Bieber's profile grew, so did Braun's, and the two became inextricably linked — Braun would always be "Justin Bieber's manager," no matter what hot client he signed.
But that could all be ending soon, with reports that Bieber is searching for new management and has not spoken to Braun in months. It's a shock for the pair, whose working relationship has lasted over 15 years. (It is also worth noting that for most of Justin's career, he's also been managed by Allison Kaye, president of SB Projects and Braun's right hand.) Braun shepherded Bieber through teenage celebrity, managed headlines during a dark few years of arrests and controversies, and orchestrated a successful public comeback; more recently, Bieber returned the favor and stood by Braun as headlines turned against him in a feud with Taylor Swift.
Since their rift was first reported, the list of other high-profile artists leaving Braun (amid his new role as CEO of HYBE America) has only grown: Ariana Grande, Demi Lovato, Idina Menzel. But none of those clients have quite defined Braun — and been defined by him — like Bieber.
So here is a look back at the complete history of Justin Bieber and Scooter Braun, from the singer's early years to his downfall and comeback to their current standoff. It's strictly focused on their relationship, so it glosses over a lot of Bieber's career, especially his controversies from 2013–14 (which would take their own timeline to dissect). It also takes a bit of reading between the lines, like understanding the cushy relationship with TMZ that's powered Braun's public-relations maneuvering.
2007–08: Discovery
2007: Braun starts SB Projects, continuing his pivot to management after working with acts like rap group O.D. He wants to sign three specific artists: a white rapper, a girl group, and, as he later told Billboard, a kid who "could do it like Michael Jackson."
2007–08: After a night out at a bar, Braun is watching YouTube videos of a musician Akon wanted him to check out. He stumbles upon a different video of a kid performing "Respect," by Aretha Franklin, and is hooked. (Braun insists he wasn't drunk.) He later finds the theater where said kid, 12-year-old Justin Bieber, was performing in another video, which leads him to Bieber's school, and eventually, Bieber's mother, Pattie Mallette. She was initially skeptical of Braun's Judaism — "You could send me a Christian man, a Christian label!" she pleaded to God at the time, as she later told the New York Times — but agreed to work with him after praying with church leaders.
Braun eventually puts Bieber on his first flight, to Atlanta, for meetings and to record demos. In a studio parking lot, Bieber runs into Usher, a friend of Braun's from his party-promoting days. He sings for Usher, who isn't interested at the time; Usher thinks he's Braun's cousin. But soon after, Usher asks Braun about his new clients and Braun sends him clips of Bieber. This time, Usher is hooked, but Braun reminds him he already passed Bieber up once. Braun says the young singer has an upcoming meeting with Justin Timberlake, setting up a battle between Usher and Timberlake to work with the rising star.
July 2008: Bieber signs to Raymond Braun Media Group, a company founded by Usher and Braun. Usher introduces Bieber to L.A. Reid, the executive who first signed Usher to Arista Records when he was 14. Reid signs Bieber to Island Def Jam Music Group in a 360 deal, with a 50/50 profit split with RBMG. Bieber's Island Def Jam deal includes moving expenses to Atlanta, where he can record, along with a private tutor.
February 2009: Braun shows eight of Bieber's first songs to Reid, who approves.
May 18, 2009: Bieber releases his first single, "One Time," to radio. It's written and produced by a team of R&B talent, including Christopher "Tricky" Stewart and the Movement. It eventually peaks at No. 17 on the Billboard Hot 100.
June 13, 2009: Bieber releases the music video for "One Time," co-starring his friend Ryan Butler and Usher.
Circa 2009: Bieber begins wearing Invisalign braces, courtesy of Braun's orthodontist mother, Dr. Susan Braun.
July 2009: Bieber admits his celebrity crush on Disney star Selena Gomez in an interview with radio host DJ Skee. Gomez is dating fellow Disney kid Nick Jonas at the time. Some time later, Braun makes a call to Gomez's mom and manager Mandy Teefey to introduce the pair.
November 17, 2009: Bieber releases his first extended play, My World. The seven-track set includes a song with Usher, "First Dance." Braun is listed as an executive producer, as he will be on every Bieber release. The EP debuts at No. 6 on the Billboard 200, with the strongest entrance numbers for a new artist of the year so far. (He'll be bested the following week by a much different new artist: Britain's Got Talent winner Susan Boyle.)
November 20, 2009: Bieber is supposed to sign autographs at Roosevelt Field mall on Long Island to promote My World. Three thousand fans show up, prompting Nassau County police to cancel the event before Bieber arrives. Police reportedly ask James Roppo, senior vice-president of sales at Island Def Jam, to tweet that the event is canceled, but only Braun and Bieber know the password to Bieber's Twitter. Label employees contact Braun, who does not send a tweet; when police later ask Braun to tweet, he allegedly says he is in a meeting without a computer and asks them to spell his name correctly on his arrest warrant. Braun eventually tweets the event is canceled, and the crowd leaves within 15 minutes. Five fans are injured, and Roppo is held overnight on multiple misdemeanor charges.
November 23, 2009: Bieber opens for Taylor Swift's Fearless tour in London. He breaks his foot while performing "One Time," but returns the next day to open her show in Manchester. He'll also open a later show in June 2010 in Foxborough, Massachusetts.
January 18, 2010: Bieber releases "Baby," the first single from his upcoming album, My World 2.0. The song features Ludacris, whom Braun previously knew from Atlanta and had helped negotiate a deal with Pontiac. The song is an inescapable hit, debuting at No. 5 on the Billboard Hot 100.
March 19, 2010: Days after turning 16, Bieber releases his debut album, My World 2.0. The album hits No. 1 on the Billboard 200, making Bieber the youngest male artist to top the chart since Stevie Wonder in 1963.
March 24, 2010: Braun turns himself in to Nassau County police on two misdemeanor charges (reckless endangerment and obstruction of governmental administration) from the mall incident. He pleads not guilty. Braun's lawyer tells Rolling Stone he took seven minutes, "as fast as humanly possible," to tweet that the event was canceled. Bieber defends Braun in a statement, saying, "He is someone of high moral character and principle. The decisions he made that day were to protect the safety of myself and my fans and I am very thankful to have someone in my life who watches over me the way Scooter does." He also wears a "Free Scooter" shirt that day in Chicago.
August 2, 2010: Paramount Pictures is making a 3-D movie about Bieber, Deadline reports. And, yes, Braun and Reid are producing, as part of Braun's mission to turn Bieber into a multimedia star. Bieber confirms the "incredible news" on Twitter, adding that his show at Madison Square Garden will be filmed as well. The same day, HarperCollins announces Bieber's memoir, First Step 2 Forever: My Story, to be published October 12. "This is just another way for me to say thank you to my fans," Bieber says in a statement.
October 26, 2010: The first trailer for the documentary, Never Say Never, is released. "You hear these stories, how tough it is for adults," Braun says in the clip. "He's 16, and he's doing it all on his own."
January 2011: A source offers to sell a video to TMZ of Bieber singing his song "One Less Lonely Girl," but using the N-word instead of "girl." "If I kill you, I'll be part of the KKK," he sings in the clip. (He was reportedly 14 and imitating a comedian's bit.) TMZ acquires the video, and founder Harvey Levin calls Braun for comment. Braun tells Levin he's "going to ruin this kid's life," The New Yorker later reports, and pleads for the video not to be published. Levin calls Braun back the next day and says he's decided not to run the video, and Braun cries. Bieber personally thanks Levin as well.
February 11, 2011: Never Say Never premieres, featuring interviews with Bieber, Braun, Usher, and others. The New York Times says Braun's "inflections and intensity recall the young Rob Morrow," while the Village Voice pans the doc as "A Hard Day's Night half devoted to Brian Epstein," the Beatles manager. The film makes $29.5 million in its opening weekend. It will go on to become one of the highest-grossing documentaries of any genre in the U.S.
May 6, 2011: Island Def Jam pleads guilty to a lesser charge in the mall incident, through a deal Braun made with prosecutors. The label has to pay $8,000 and Bieber must make an anti-bullying PSA, but Braun's record is cleared.
June 18, 2011: Braun celebrates his 30th birthday at the Music Box Theater in Los Angeles. Usher emcees the event, where Bieber performs with Jaden Smith; Bieber also reportedly books the night's surprise guest, MC Hammer. Bieber also roasts his manager by impersonating Braun selling a sequel to Never Say Never. "My name has to be on the poster," Bieber reportedly joked. "And we're calling it Never Say Never Ever.'' The roast "had everyone in stitches," the guest adds. An attorney for Braun will later dispute the description of the bit, telling Insider, "The joke was that my client wanted more money."
2012–13: Adulthood
March 1, 2012: For Bieber's 18th birthday, Braun gifts him a $100,000 electric car (a Fisker Karma) on The Ellen Show. "You work really, really hard and I always yell at you, 'Don't get anything flashy, we're not about that, be humble, be humble,'" Braun tells him. "I kind of broke my own rule."
June 11, 2012: Bieber graces the cover of Billboard for the release of Believe. Everyone speaks about him becoming an adult artist — except Braun. "Just because he's legal now doesn't mean he's an adult," Braun says. "He still needs guidance; he's still finding his way."
June 15, 2012: Bieber releases his second album, Believe. It features songs produced by pop hitmaker Max Martin, EDM artists Diplo and Zedd, and hip-hop producer Hit-Boy. Many critics remark on the album's maturity: "Justin's 18 now, legal and, according to Believe, fully lethal," Rolling Stone writes. The album's bonus track, "Maria," is co-written by Braun, about a woman who claimed Bieber fathered her child. Believe sells 374,000 copies in its first week and debuts at No. 1 on the Billboard 200.
July 17, 2012: Bieber tweets a video of a 13-year-old singer named Madison Beer covering Etta James's "At Last." Braun will later sign Beer.
September 29, 2012: Bieber kicks off his second world tour. Opening the show are a few of Braun's newer clients, "Call Me Maybe" singer Carly Rae Jepsen and heartthrob Cody Simpson. More of Braun's clients, boy band the Wanted and former Nickelodeon star Ariana Grande, join later dates of the lineup.
December 5, 2012: "This kid deserved it," Braun tweets after Bieber is snubbed at the Grammys for Believe. "Grammy board u blew it on this one."
2013–14: Bieber's Dark Ages
January 2, 2013: Bieber smokes weed with some friends at a party. TMZ later publishes photos, claiming, "There was a LOT of pot smoke." Rapper Lil Twist, a new friend of Bieber's, reportedly rolled the blunts with his brother.
January 5, 2013: "Everyday growing and learning," Bieber tweets. "Trying to be better."
January 6, 2013: TMZ reports that Lil Twist "may be leading JB down a dangerous path." The story calls Twist "a powerful negative influence" and says people close to Bieber are worried that "bad things are going to happen" if they don't stop hanging out. Lil Twist later tells Insider that Braun planted stories to deflect blame from Bieber for his issues.
March 26, 2013: A neighbor in Bieber's Calabasas neighborhood claims the star spit on him, reportedly in an argument over his reckless driving and parties happening at his house while he was away on tour.
April 12, 2013: Bieber visits the Anne Frank house on a trip to Amsterdam. "Anne was a great girl. Hopefully she would have been a belieber," Bieber writes in the guest book.
May 13, 2013: Braun — whose grandmother is a Holocaust survivor — defends Bieber's Anne Frank comments to the Jerusalem Post. "What I saw was a kid who actually read The Diary of Anne Frank and understood that she was a huge fan of pop culture," he says, adding that Bieber spent an hour and a half in the museum and asked questions. Braun continues, "What he wrote in that book reflected his personal connection between him and Anne Frank. He wanted her to be a fan of his. And I think that the reaction to it was atrocious and insulting."
May 27, 2013: Bieber allegedly speeds through a 25-mph zone in his neighborhood in his white Ferrari. Neighbors — including former Tampa Bay Buccaneers wide receiver Keyshawn Johnson — call police, and Bieber refuses to be questioned.
June 21, 2013: A source tells Radar that Braun wants Bieber to go to rehab. "Justin is hanging out with the wrong people," the source said, citing his weed smoking, drinking, and partying. "It's been one incident after another with him and Braun has always been very supportive and still is. But now Scooter wants him to go to rehab to get his act together. Justin needs to get away from the bad influences in his life."
July 10, 2013: TMZ publishes a video of Bieber peeing in a mop bucket while leaving a nightclub with friends. Bieber also sprays a poster of Bill Clinton with cleaning fluid and says, "Fuck Bill Clinton!" in the clip. "We can't say for sure if the group was drunk, but it sure sounds like they were," TMZ writes.
July 11, 2013: Lil Twist is arrested for driving under the influence while in the Fisker that Braun gave Bieber. Police suspect he was high on marijuana and that he was speeding on the way to Bieber's home. Meanwhile, Bieber reportedly calls Clinton to apologize.
August 1, 2013: A woman accuses Lil Twist of battery for an alleged incident that occurs at Bieber's home. When the woman tries to leave around 3:30 a.m., Twist reportedly grabs her forcefully and tries to make her stay. A rep for Twist says he "was not involved in any battery," claiming he wanted the woman to leave and she had to be escorted out by security.
August 2, 2013: Braun wants Bieber to stop hanging out with Twist, TMZ reports, after the battery claim. Bieber and Braun reportedly have "a blowout fight" after Bieber defends his friend.
November 6, 2013: "Fuck u Scooter and everything u stand for … And all yo fake stories," Lil Twist tweets. He later adds, "It was all planned out … All a set up … Every story."
December 25, 2013: A sequel to Never Say Never, simply titled Justin Bieber's Believe, hits theaters. It bombs at the box office, grossing just $3.1 million in its first three days.
January 23, 2014: Bieber is arrested for driving under the influence in Miami Beach after police catch him racing his Lamborghini around 4 a.m. He reportedly told officers he had a beer, smoked marijuana, and was on antidepressants. He was also charged with resisting arrest and driving with an expired license. Bieber smiles in an instantly infamous mug shot. "Love you and i will act in the manner of someone who truly cares," Braun tweets at Bieber. "That is all I have to say."
January 26, 2014: Braun and Usher visit Bieber in Panama for what TMZ describes as a "Save Justin Summit." Or, as the site explains, "We haven't heard this word used, but this meeting has all the earmarks of an intervention."
January 29, 2014: Bieber is arrested again, now for assault in Canada. The charge comes from an incident where Bieber allegedly hit a limo driver in the head multiple times after leaving a nightclub. On Twitter, Braun asks fans to "be kind and hope for the best in people. not assume the worst."
May 26, 2014: Lil Wayne tells Braun to "stop talking shit about Lil Twist" in a video.
June 1, 2014: The Sun publishes a video of Bieber saying the N-word while telling a joke. Bieber apologizes in a statement to TMZ, saying, "As a kid, I didn't understand the power of certain words and how they can hurt. I thought it was ok to repeat hurtful words and jokes, but didn't realize at the time that it wasn't funny and that in fact my actions were continuing the ignorance."
June 4, 2014: The Sun reveals the existence of Bieber's racist "One Less Lonely Girl" clip. TMZ goes on to publish the "Lonely Girl" clip itself, claiming Bieber's team "wants to own what he did."
June 7, 2014: Usher writes on Instagram that Bieber "is unequivocally not a racist." (TMZ previously reported he showed Bieber "historically racist videos" after the clips came to light.)
June 16, 2014: Lil Wayne and Braun have resolved their beef, TMZ reports, after realizing it was "a huge misunderstanding."
July 6, 2014: Braun marries Yael Cohen, CEO of Fuck Cancer. Bieber reportedly sings "Call Me Maybe" with Carly Rae Jepsen at the reception.
July–September 2014: Bieber resolves most of his legal issues with a series of plea deals and dropped charges. He's ordered to pay fines, restitutions, and donations, and to take anger-management courses for multiple of the cases. (He does get arrested again during this period, for crashing an ATV into a minivan and allegedly getting into a fight with the paparazzo inside.)
2015: The Comeback
February 7, 2015: Cohen gives birth to a son. One of the first people to visit is Bieber. A few nurses "freaked out," TMZ reports.
March 30, 2015: Kevin Hart, Pete Davidson, Hannibal Buress, Martha Stewart, Will Ferrell as Ron Burgundy, Snoop Dogg, Ludacris, and more roast Bieber for a Comedy Central special. "Actually, you should thank me for participating in this extremely transparent attempt to be more likable in the public eye," Buress says in a joke cut from the telecast. "And I hope it doesn't work." Braun later says he planned the roast instead of an in-depth TV interview after Bieber's troubles. Bieber ends the special, awkwardly, by apologizing. "There's been a lot of moments I am proud of and a lot of moments I am disappointed for myself, but the things that I have done really don't define who I am," he says. "I am a kindhearted person who loves people, and through it all I lost some of my best qualities, and for that I'm sorry."
April 14, 2015: Braun clients Bieber and Ariana Grande, along with friends like Kendall Jenner and Lance Bass, post a video lip-syncing to Carly Rae Jepsen's new song "I Really Like You." Not even they can carry the song to "Call Me Maybe" heights — it peaks at No. 39 shortly after.
August 28, 2015: Bieber releases "What Do You Mean?", the lead single from his upcoming third studio album, Purpose. The release comes after a 30-day celebrity social-media countdown orchestrated by Braun, with help from clients like Jepsen, Grande, Tori Kelly, and Dan + Shay, plus friends like Ellen DeGeneres. "I love countdowns," Braun tells Billboard. "What Do You Mean?" debuts at top of the Hot 100, becoming Bieber's first No. 1 song.
October 15, 2015: A New York Times profile reveals Braun is now representing Poo Bear, a principal writing collaborator on Bieber's Purpose.
November 13, 2015: Bieber releases Purpose, his third studio album, capping off his post-arrests comeback. In addition to his No. 1 hit "What Do You Mean?" (and future chart-toppers "Sorry" and "Love Yourself"), the album includes the title track "Purpose," co-written by Braun. Purpose debuts at No. 1, beating fellow heartthrobs One Direction with their final album, Made in the A.M.
December 24, 2015: Braun reflects on Bieber's comeback to the New York Times, revealing he worried the singer "could've died" if he toured behind his 2013 mixtape Journals. "It was far worse than people realize," Braun says of Bieber's state at the time. He also says he'd been trying to help Bieber "for a year and a half." "It wasn't until something happened that it clicked for him," Braun continues. "He made the conscious decision as a young man: 'I need to make a change in my own life.' Braun says this "click" came 20 months before the interview, which would be around April 2014, and he started planning Bieber's comeback six months later, which would be around October 2014.
2016–18: Everything's Fine
February 15, 2016: Bieber wins the Grammy for Best Dance Recording for "Where Are Ü Now," with Skrillex and Diplo, ending Braun's yearslong quest for Bieber to earn the award.
July 29, 2016: TMZ reports that Braun threatened to quit as Bieber's manager if the star performed a gig associated with the Republican National Convention. Bieber had reportedly been offered $5 million for the 45-minute performance, which organizers said was "not political" nor associated with presidential nominee Donald Trump, despite being funded by Republican donors. When Braun suggested Bieber could display "Black Lives Matter" signs, the donors suggested "All Lives Matter" signs. Team Bieber had also been told LeBron James would attend the show, but James denied that to Bieber and asked him not to go; Bieber's all-Black band also said they would not perform. Braun reportedly gave Bieber the final call on the performance despite his ultimatum, and Bieber declined the offer.
April 28, 2017: Bieber features on DJ Khaled's "I'm the One," along with Chance the Rapper, Quavo, and Lil Wayne, after the latter's short-lived beef with Braun. It debuts at No. 1 on the Hot 100.
July 24, 2017: Bieber cancels the final 14 dates of his Purpose tour, with one source telling TMZ he's "just over it." Bieber then tells TMZ "everything's fine," saying he wants to relax and "ride some bikes." Braun defends Bieber's decision in a thank-you Instagram post, saying "a man's soul and well being I truly care about came first and We must all respect and honor that."
July 7, 2018: Bieber proposes to his girlfriend Hailey Baldwin on a trip to the Bahamas. Her engagement ring is reportedly from Solow & Co., owned by Jack Solow — who happens to be a close friend of Braun's. (TMZ reports it cost around $500,000.)
2019–23: Braun's Dark Ages
June 30, 2019: Braun's company Ithaca Holdings acquires Big Machine Records, including Taylor Swift's catalogue. Swift writes an incendiary Tumblr post about Braun's "incessant, manipulative bullying." She includes a screenshot of one of Bieber's Instagram posts, where he's FaceTiming Braun and Kanye West, a client of Braun's who's had a long-standing feud with Swift. Bieber's caption is "Taylor swift what up." Swift cites the phone call of her and West discussing his diss song "Famous," which was leaked by West's then-wife Kim Kardashian, and the song's "revenge porn music video which strips my body naked." Swift writes, "Essentially, my musical legacy is about to lie in the hands of someone who tried to dismantle it."
July 1, 2019: Bieber responds to Swift on Instagram, posting a photo from one of the Fearless shows he opened for her. "First of all i would like to apologize for posting that hurtful instagram post, at the time i thought it was funny but looking back it was distasteful and insensitive," he writes, adding that he wrote the caption himself. "Scooter has had your back since the days you graciously let me open up for you.!" he claims. "So for you to take it to social media and get people to hate on scooter isn't fair," he continues. "What were you trying to accomplish by posting that blog?" He says he and Scooter both "love" her and suggests they could talk. "I usually don't rebuttal things like this but when you try and deface someone i loves character thats crossing a line," he concludes.
July 3, 2019: While Bieber "felt the need to defend" Braun, a source tells People he "doesn't plan to make any more public statements defending Scooter."
July 4, 2019: Bieber spends the holiday at a parade with the people who matter to him most: his girlfriend Hailey Baldwin and Braun.
September 30, 2019: Bieber marries Baldwin in South Carolina. Braun is, of course, among the attendees, playfully kissing Bieber in photo-booth photos. "Incredible weekend celebrating love. Congrats to The Biebers ❤️. @justinbieber @haileybieber we love you," Braun writes on Instagram.
December 18, 2019: Bieber, his wife Hailey, Braun, and Braun's new client Demi Lovato all attend church together in Los Angeles. TMZ calls it "a united front" against Swift.
January 3, 2020: Bieber releases "Yummy," the first single from Changes. He promotes the song nonstop, even sharing (and later deleting) a fan-made graphic asking fans to make a playlist of "Yummy" to stream continuously, explaining how to buy multiple times via his website, and suggesting overseas fans can use VPNs to count for American streams. In a deleted tweet, Braun reminds fans not to buy more than four to five copies of the song for it to be counted on the charts. Their brazen strategy doesn't work — "Yummy" debuts at No. 2, behind Roddy Ricch's "The Box."
January 23, 2020: Bieber tears up while thanking Braun at a press event for his upcoming album Changes. "You walked with me through a lot of shit," he tells his manager. More generally, he adds, "I feel like God's brought me out of a really dark place."
January 27, 2020: Bieber's first docuseries, Seasons, premieres on YouTube. The series touches on his Lyme disease diagnosis, addiction, legal troubles, and new music. Hailey Bieber is a central figure: "I sleep great now that Justin is married and that she's around," says Allison Kaye, president of SB Projects. (Braun later called her "the breakout star" of the doc.) It came about after director Michael D. Ratner met Braun when his company, OBB Pictures, moved into a Hollywood office formerly occupied by SB Projects. Later, Braun reportedly showed Ratner a clip of Bieber in the studio, and Ratner pitched directing the doc.
February 14, 2020: Bieber releases his fourth studio album, Changes. It once again tops the Billboard 200 — making Bieber, at 25, the youngest artist with seven No. 1 albums.
May 8, 2020: Bieber and Grande release their (somehow) first collaboration, "Stuck With U," a one-off charity single inspired by the COVID-19 pandemic. (Charity has long been important to Braun's business.) Braun is listed among the co-writers.
May 18, 2020: "Stuck With U" debuts at No. 1 on the Hot 100. (It's Braun's first No. 1 as a writer.) Rapper Tekashi 6ix9ine, sour over his song "Gooba" debuting at No. 3, accuses Bieber and Grande of "cheating" and refers to 60,000 singles bought in an hour on six credit cards. The internet's eyes turn to Braun for the alleged scheme. Grande asks 6ix9ine to "humble yourself" on Instagram, without naming him, while Bieber clarified the numbers. "60,000 units came because we don't disclose our numbers until end of week," he wrote on his Story. "That's called strategy." He also defends Grande: "If you gonna say her name make sure you say mine because it's our song."
September 3, 2020: Bieber stars in the music video for "Popstar," by DJ Khaled and Drake. Braun cameos as himself — a reference to Drake's line "You would prolly think my manager is Scooter Braun."
September 18, 2020: Bieber releases "Holy," featuring Chance the Rapper. It's the first release in a new strategy developed by Braun — dropping a single about every month before announcing Bieber's new album. Bieber goes on to release "Lonely" with benny blanco in October, "Monster" with Shawn Mendes in November," and "Anyone" in January, before announcing his album Justice in February. All four songs crack the top 20 of the Hot 100 and become radio hits.
November 16, 2020: Braun tries to pull the thorn from his side and sells the master rights to Swift's first six albums to a mystery buyer for over $300 million. That buyer is later identified as private equity group Shamrock Holdings. Swift reveals that "under their terms, Scooter Braun will continue to profit off my old musical catalog for many years," and says that's "a non-starter" to cooperate with Shamrock.
January 23, 2021: Bieber reflects on his (first) arrest on Instagram. "Not proud of where I was at in my life," he writes. "I was hurting, unhappy, confused, angry, mislead, misunderstood and angry at god … I also wore too much leather for someone in Miami. All this to say God has brought me a long way. From then til now I do realize something … God was as close to me then as he is right now." Braun congratulates him in the comments, writing, "Proud of you."
March 19, 2021: Bieber releases his fifth album, Justice. Days later, he releases the Triple Chucks Deluxe, which includes the song "Lifetime," co-written by Braun. The album debuts at No. 1 (duh).
April 2, 2021: HYBE, the Korean company that manages BTS, acquires Braun's Ithaca Holdings and SB Projects in a deal reportedly worth over $1 billion. Braun, who will join the company's board, says the move "will help us to continue to further the careers of the artists we already work with." The deal includes $50 million in shares split among SB Projects employees and artists. Bieber receives 53,557 shares, worth around $10 million, tying Grande for the most.
July 1, 2021: Braun becomes co-CEO of HYBE America, alongside Lenzo Yoon Seok-jun.
July 9, 2021: A new client of Braun's, the Kid Laroi, releases "Stay," featuring Bieber. The song debuts at No. 3 on the Hot 100 and later tops the chart.
March 1, 2022: Business Insider publishes an exposé into Braun's management empire — on Bieber's birthday, no less. Among the revelations is a possible line of reasoning for Swift's hatred: Braun's allegedly overbearing involvement in Bieber's on-and-off relationship with Selena Gomez, one of Swift's best friends. One source claims "bad blood between the two camps" developed during the relationship, due to Braun; another source says Braun's handling of the relationship left a bad taste in Swift's mouth. Braun's lawyer, Marty Singer, said his client "continues to have a very good relationship with Selena," citing a photo of them together in 2015.
January 24, 2023: Bieber sells his publishing rights and master royalties to song fund Hipgnosis for over $200 million. It's Hipgnosis's largest acquisition ever, and Billboard calls it "the largest rights sale for any artist of Bieber's generation."
January 25, 2023: Braun becomes sole CEO of HYBE America as Yoon leaves.
March 1, 2023: After multiple delays, due to the pandemic and Bieber's diagnosis with Ramsay Hunt syndrome, Bieber quietly cancels the rest of his Justice tour — nearly 100 dates.
2023–present: The Breakup
August 17, 2023: Bieber is looking for new management, Puck reports, and has not spoken to Braun in months. The pair have not split yet because Bieber still has time left on his contract, which he reportedly signed before the HYBE acquisition. Puck also notes that Bieber left his agency, replaced his lawyers, and has a new business manager. The outlet credits the change to a "house-cleaning" effort by his wife, Hailey.
August 18, 2023: Sources tell Entertainment Tonight that Bieber and Braun "are still working together" and Bieber is not looking for new management. In fact, they say, the pair "recently worked on something together." Meanwhile, a source tells Vulture and other outlets of the reports, "Reps for all parties confirm this is not true." Matthew Belloni, who wrote the Puck report, tweets that Bieber made the statement "as a face-saving favor to Braun. Translation: Don't believe it."
August 20, 2023: "Page Six" confirms Puck's reporting on Hailey's involvement in Justin's business, with a source saying she "has taken control." "She's a part of meetings and she's talking a lot for him," the source continues, calling them "a power couple."
August 21, 2023: Billboard reports Demi Lovato split with Braun in July, after signing with him in 2019. Puck and Billboard later report Grande — Braun's top client after Bieber — has also left the manager.
August 22, 2023: The Hollywood Reporter adds Idina Menzel to the list of clients leaving Braun. A source tells multiple outlets the reports "are off," blaming the alleged "rumors" on contract renegotiations and Braun's new role. Meanwhile, Braun addresses the news on Twitter: "Breaking news … I'm no longer managing myself." (He's been away on vacation, with a group including none other than Usher.)
August 24, 2023: A Billboard report sheds more light on Bieber and Braun's situation, revealing Bieber is still under contract through 2027. Sources say Bieber is trying to resolve things with Braun rather than get out of a difficult contract, and could decide not to pursue new management. Meanwhile, a source confirms to People that Braun and Bieber haven't been speaking. While acknowledging Braun still manages Bieber, the source adds that Braun has "not set up one session or done one thing for this [new] record" (tacitly confirming a new Bieber album in the process). "The relationship with Scooter has run its course," the source adds.
August 25, 2023: Puck reports both Justin and Hailey have also been displeased with Allison Kaye, Braun's partner, over her management of his last tour, and channeled that displeasure toward Braun too.