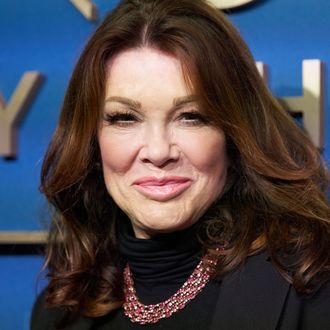 Lisa Vanderpump.
Photo: Allison Dinner/Variety via Getty Images
Lisa Vanderpump isn't "sure" about advocating for a reality-TV-star union. In this economy? On an episode of The Envelope podcast, released on August 17, the reality TV producer explained her position regarding the Bethenny Frankel–led effort to earn residuals and unionize the personalities who anchor unscripted shows. "I've been a producer now for 11 years. I'm thankful to the network, thankful for the opportunities and chances that they've given me," Vanderpump said. "So, I don't know, advocating for a reality-star union. I'm not sure about that. I'm really not." She got her start as a cast member on Real Housewives of Beverly Hills, before expanding into an unscripted-series empire, which includes Vanderpump Rules. A union would "change the business," according to the star.
"One of the great things about reality shows is that they've always been able to be produced for less money than scripted shows," Vanderpump continued. "And I don't really understand how you can have a union for people that are normally plucked out of obscurity." The podcast episode saw Vanderpump Rules executive producer Alex Baskin agree with Vanderpump's economic reasoning, but adding that unionization is "worth consideration." In contrast, Frankel is calling for colleagues to join SAG-AFTRA's strike and taking legal steps to figure out how to get performers involved in the union. Starting with … Rachel Leviss.