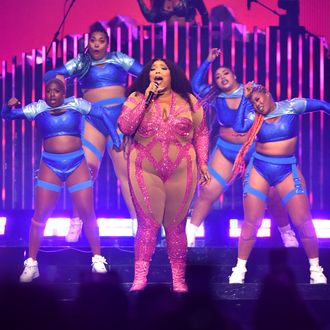 Lizzo.
Photo: Robert Okine/Getty Images
Months before a new lawsuit over workplace misconduct threatened to endanger Lizzo's positive brand, her team quietly settled a payment dispute with 14 dancers who said they appeared in the megastar's HBO Max documentary without their consent, the Los Angeles Times reports. None of the dancers who settled their claims in February are involved in Lizzo's current legal battle. The 2022 film Love Lizzo, co-produced by the Grammy-winning musician, depicts an intimate discussion between a group of dancers who talk openly about being plus-size and Black female artists during rehearsals for Lizzo's 2019 Video Music Awards performance. When the dancers learned they were featured in the documentary, they expressed frustration over the fact that they were filmed without their knowledge and consent and that they weren't compensated. In an email, a clearance producer offered one of the dancers, Latasha Bryant, $350 plus a 10 percent agency fee for each dancer to appear in the doc, as they did not sign documents for the non-union filming when the behind-the-scenes footage was shot, according to the Times. The day before the documentary was released, Bryant asked for manager Slay Smiles to advocate on the dancers' behalf.
"This was supposed to be a safe space to express and share with the Principal talent [Lizzo], so by sharing this unauthorized footage to the public without their approval/permissions, has truly exploited these women and violated the emotional safety they had in those moments," Smiles wrote in an email to co-producer Boardwalk Pictures on January 17, per the Times. Alan Brunswick, an attorney for Boardwalk Pictures, Lizzo's production arm, said footage "was captured openly." "They all knew the cameras were there," Brunswick said. "I don't think the documentary was even contemplated at that point." When a dancer hired their own attorney, the producers capitulated to their claims. All parties, including Boardwalk, Greenway Pictures, Warner Music Group Productions, and Live Nation Productions, signed confidential settlements in February, with dancers securing a total payout of $109,551: between $7,092 and $7,545 for each dancer.
Lizzo's attorney, Martin Singer, said that the singer was not aware of the payment dispute and the issue was resolved when the production company paid the dancers. "Lizzo had nothing to do with it and knew nothing about it," he said.