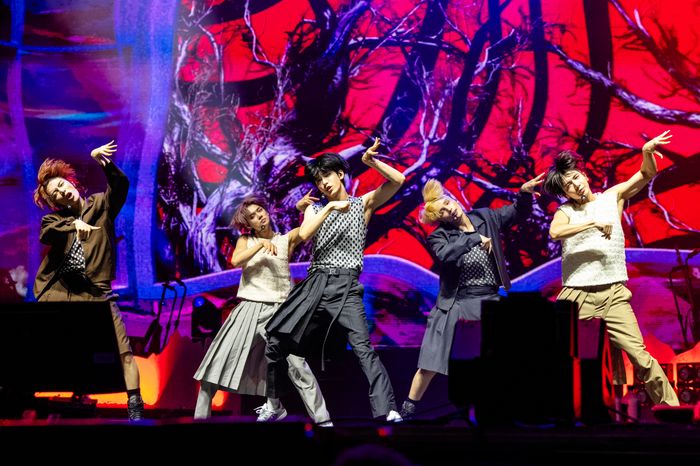 Photo: Josh Brasted/FilmMagic
The elements were barely in Lollapalooza's favor this weekend: Thursday was too hot, Saturday too wet, Sunday too muddy and chilly. But it was easy to ignore the weather — and the risk of other usual Lolla hazards like crowded festival grounds, expensive concessions, and whatever EDM dreck you might hear from Perry's Stage — in favor of anticipated K-pop sets by Tomorrow X Together and NewJeans, marquee performances by Billie Eilish and Lana Del Rey, and dozens of rising artists hiding further down the bill.
LOW: More people, less space.
Lollapalooza raised its daily capacity by 15,000 this year, a hefty bump for a festival that already felt stuffed at its previous peak of 100,000. But the increase didn't seem to come with any extra space — in fact, the festival replaced elevated VIP seating with cordoned-off standing areas in front of the main stages, which stayed mostly empty for the day and barred the larger crowds from some much-needed breathing room. (Watching the cameras try not to show the near-vacant pens was laughable. I can't imagine how weird it felt for the performers.) Fans could have especially used the space after the rain on Saturday and Sunday turned large parts of the grounds into massive mud pits.
HIGH: Rema gets the nyashes shaking.
Rema's music isn't the kind of thing you listen to standing still. The Nigerian singer and his band had everyone grooving in the late-day heat, though he paid a bit more attention to the women in the crowd. "As a man who loves women, I do not discriminate," he said, before telling the ladies to shake their nyash — the Nigerian word for "booty" — no matter the size. "All nyash matters to me." He then launched into a lively performance of "Bounce," one of the many highlights of his set. "If you're not gonna use your summer body at a Rema party, where else are you gonna use your summer body?" he asked. Once the music got going, nobody needed convincing.
HIGH: The international variety.
It was a historic year for Lolla with its first Latina headliner, Karol G, and its first K-pop girl group, NewJeans (the latter of which drew a headliner-level crowd for its first-ever U.S. performance). And that was just where the variety started: On the first day, you could see NewJeans and Rema back-to-back, grab some food, and then choose between headlining sets from Korean rock band the Rose or Karol G ("She's like Beyoncé for Latinos," one man gushed during her set). The lineup also included K-pop quintet Tomorrow X Together, Nigerian singer Tems, and Mexican regional star Ivan Cornejo.
WHOA: Billie Eilish's new red hair.
At first glance, Eilish's red-dyed roots seemed like a fun bit of coordination with her Michael Jordan Bulls jersey. But the singer-songwriter later explained that the new do was actually delayed by four years — she had planned to change her hair to red right after she did green in 2019, before that style became a calling card for her album When We All Fall Asleep, Where Do We Go? Eilish wasn't ready to call the new hair the start of a new era, though she did admit that she and brother Finneas have been working on her third album.
WHOA: Sudan Archives' crowd-pleasing violin.
I've now seen hundreds of people rage to an Irish jig, and it was glorious.
LOW: Emo Nite just made me sad.
The worst thing I heard all weekend was a dubstep version of Jimmy Eat World's "The Middle" mixed into Alice Deejay's "Better Off Alone" mixed into Good Charlotte's "The Anthem." I'd stumbled over to a DJ set by Emo Nite, the nostalgia-fueled party series that apparently now plays festivals. The horde of fans in the midday heat sang along to every word of their aughts favorites, unbothered by how those favorites had been bastardized by gimmicky bass drops. I lasted only a few minutes and quickly realized I'd made the right choice: While I was walking away, I heard the DJs mash Yellowcard's "Ocean Avenue" into "As It Was."
WHOA: Carly Rae Jepsen did just come here to dance.
Jepsen took the stage in a stunning sky-blue dress, but it barely survived the first half of her set. "I want to dance for this next one, so we're gonna have to do something about this," she said, bunching up its flowing train and calling for scissors from backstage. One snip and a few moments later, she was ready to bounce around to "Psychedelic Switch," a sublime house track off her just-released album, The Loveliest Time. (Her dress wasn't the only casualty — my sunglasses flew out of my pocket while I was jumping along to the chorus.)
LOW: Jared Leto, conductor of chaos.
When a performer takes the stage in a skeleton suit, red gloves, and turquoise eyeliner, expect some sort of insanity to unfold. In Leto's case, it was the bad kind (probably to distract from how lifeless Thirty Seconds to Mars' new songs are).
WHOA: The 1975 are still at their very best.
"Ladies and gentlemen, what would we do without a little bit of drama, right?" Matty Healy asked early into the 1975's headlining performance. That has practically been the front man's motto during his past few controversial months. But Healy went on to marvel about something that mattered even more to him: "Look at this! We're always on the internet, constantly unified by things that we don't like. And look, this is hundreds of thousands of people unified for something they do like!" The fans who crowded the field for the band's set didn't seem to care about any of Healy's recent headlines, either, jumping and shouting in rapture to favorites like "Robbers" and "The Sound." Without set pieces, raw-meat eating, or mid-show make-outs, the 1975's music really was the focus, and it sounded exceptional.
HIGH: Mavi ruined his $1,500 sneakers to set a vibe.
The sky might have been gray and rainy, but joy was in the air when Mavi took the stage to Blackstreet's "U Blow My Mind." The North Carolina rapper proved the perfect MC for the weather, hyping up the crowd between glowing performances of his most soulful tracks. He even treated the fans who braved the elements at the front of the stage by joining them on the muddy ground — which he said ruined his extremely pricey kicks — for a rousing final performance of "Selflove."
WHOA: Tomorrow X Together brings pure sweetness.
"Sugar Rush Ride" could double as a description for a Tomorrow X Together show. Everything is a tantalizing treat: the high-octane pop songs, the rigorous choreography, the neon lights and visuals (even the five boys themselves, who could melt the crowd with one smile or flip of a shirt). Returning as headliners after being a last-minute addition to 2022's lineup, the group put on one of the weekend's biggest spectacles — even as EDM duo Odesza were performing their own trademark over-the-top production just across the park. I came to the set barely familiar with TXT's music, but within minutes, I was screaming along with the stans and had picked out a favorite member of my own (Yeonjun, the bad boy of the evening).
HIGH: The country artists.
Mainstream music festivals don't tend to get much twangier than banjos and mandolins during a midday folk-rock set. So I was elated to hear Lainey Wilson's Louisiana drawl echoing off a stage in Grant Park, where she played a barnstorming set just before Billie Eilish. A quickly rising star in the genre, Wilson was one of a shocking four country artists across the weekend (the others: Morgan Wade, Ingrid Andress, and Madeline Edwards). None drew a massive crowd, but they each put on a hell of a show. Wade entered to Nine Inch Nails' "Closer" and kept rocking into a heavy version of her song "The Night" with multiple guitar solos (from a guitarist in a Kiss shirt), while Edwards won the crowd over with her husky voice, which was equally adept at singing her own hits like "The Wolves" and covers like Childish Gambino's "Redbone."
WHOA: Lil Yachty takes us on a trip.
"Don't ask no questions on the ride," Lil Yachty crooned from the stage, surrounded by musicians pounding out heavy psychedelic rock. He had just pulled off the wildest pivot of the weekend — after running through his rowdiest rap hits, he called out a band to do some cuts from his neo-Funkadelic album, It Starts Here. The rain started to pick up as one of his backup singers riffed over the full-band freakout at the end of "the BLACK seminole.," making for one of the set's many transcendent moments. Another: the supremely trippy "IVE OFFICIALLY LOST ViSiON!!!!," which he played right around the moment your edible would've hit if you had taken it at the beginning of the set. The crowd thinned out after the rap portion, but the fans who stayed got the real show.
HIGH: The keytar count.
Honestly, just one would have been notable for a festival in 2023, but I saw three: one Mica Tenenbaum played during Magdalena Bay's set, and two more that Madeline Edwards and her keyboardist dueled on during hers.
HIGH: My surprise-guest FOMO.
For most of the weekend, I seemed to be in the wrong place at the wrong time. I wandered over to Emo Nite too late for 3OH!3's appearance, I was taking in a few minutes of Odesza when Coi Leray joined Tomorrow X Together, and I was scarfing down a piece of pizza when Joey Bada$$ brought out Chance the Rapper. At least I caught Nelly Furtado working the stage like a consummate diva — in a sparkly snake breastplate, no less — during Dom Dolla's set, for a remix of "Maneater" and a bonus "Give It to Me."
LOW: A Californian Sophie's choice.
I didn't have to make many difficult choices with my schedule until the last day, when two of the West Coast's finest squared off at opposite ends of Grant Park: Red Hot Chili Peppers and Lana Del Rey. Do Illinois and California have beef now?
WHOA: Five Lollas later, it's still the same Chili Peppers.
The Red Hot Chili Peppers' set marked a record fifth headlining appearance at Lollapalooza, a relationship that stretches all the way back to the festival's second-ever tour in 1992. You could see the years onscreen in the band's new wrinkles, but you couldn't hear it — especially not with the virtuosic guitarist John Frusciante's return. Teens all around me sang along to the band's biggest hits, and the Peppers got especially heavy on "Suck My Kiss" and "Right on Time" in the middle of the set. As I was leaving, I heard one tank-topped bro explain to another that the Chili Peppers first played Lolla over 30 years ago. "Damn, that's actually wild, the longevity they had," he replied. "That's stupid."