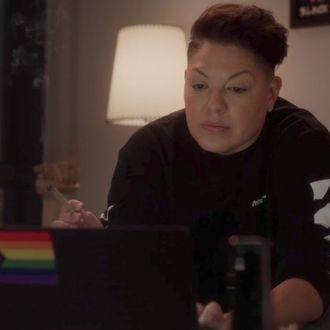 And Just Like That …
Photo: MAX
Max is finally getting into the top-ten game: Starting today, the Warner Bros. Discovery-owned streamer will begin publishing daily lists of its most popular TV shows and movies. The lists will appear within the app (but only on the profiles of adult members) and will pop up on the Max homepage, as well as in the series and movies hubs. The Max move aligns it with Netflix, Prime Video, and Apple TV+, which have all offered similar indicators of in-app popularity for a while now.
In terms of what subscribers will see, a Max insider tells Vulture its top-ten lists will vary from country to country and will first roll out in the United States over the next week; other markets will be added as Max expands. And only recently added content will be included: Movies will be listed if they were added to Max within the last eight weeks, while series will stay on the list if they've debuted a new episode within the past six weeks (ensuring Game of Thrones doesn't claim a permanent position). Max plans on updating its top-ten lists daily.
As for how the data will be calculated, the insider says Max will base its rankings on how many unique user profiles watch a title for at least two minutes, making it more an indicator of how much sampling a title gets versus its overall average viewership. Netflix used a similar two-minute metric early on when it began publishing top-ten lists but currently bases its rankings on the number of hours viewed divided by a title's runtime. Other streamers and even some linear networks still regularly use a two-minute rule to count views; apps such as Twitter or YouTube base their metrics on less than a minute of viewing. Finally, anyone hoping to do a deep dive into specific numbers (like, say, striking WGA and SAG members who've been demanding data transparency during contract talks) will be disappointed: Max currently has no plans to release the actual numbers behind the rankings. For those, ratings nerds can still look at Nielsen's linear numbers for the HBO cable network or that company's weekly streaming ratings.