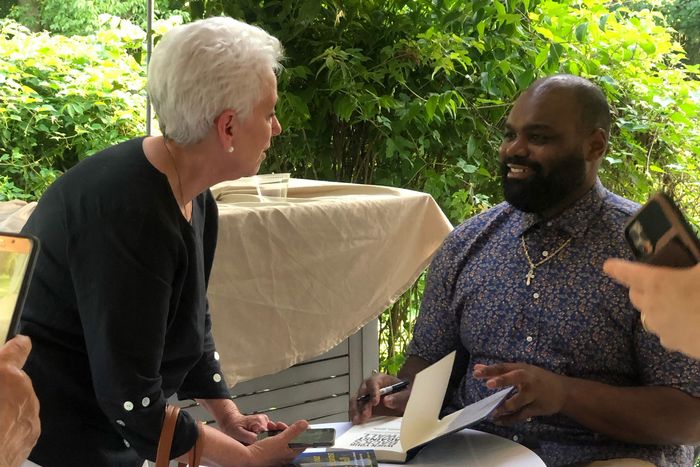 Michael Oher.
Photo: Claudia Rosenbaum
In his first public appearance since controversy surrounding his adoptive family broke, former NFL player and subject of The Blind Side Michael Oher declared he had no choice but to stand up for himself. "How I continue to fight back when your back is against the wall, that is how I have felt all my life," Oher said Monday night of his beliefs, detailed in his new book, When Your Back's Against the Wall. "I don't care what you are going through, whatever it is, if you are paralyzed with fear, if you feel like you can't get over the slightest thing, understand that you have it all inside of you." Oher referred to his book as the "playbook," thanking the crowd of around 50 people who had lined up to get a signed copy at the Ivy Bookshop in Baltimore. "One of the most important lessons in the playbook right here is look at yourself in the mirror and if you are going through anything, I don't care what it is, you have every answer that you need to get over what's going on," Oher said.
In his 209-page book, Oher details his career-ending "hard hit" injury of a concussion in 2017 that left him unable to play and how he had to transition his life from football. He thanked many people in the book — a family friend, a Bible teacher, other families that helped him growing up, the principal of Briarcrest private school, and the school's football team's coach for seeing promise in him as a young boy — but not Sean and Leigh Anne Tuohy, who took him into their home as a teenager. Despite his success getting drafted by the NFL, signing a five-year, $13.8 million contract with the Baltimore Ravens in 2009, playing eight years in the NFL, and retiring in 2017, Oher called The Blind Side an "exaggerated trial-to-triumph story" in his book.
Oher declined to discuss any specifics about his decision to file court papers August 14 against the Tuohys, portrayed in the 2009 film by Sandra Bullock and Tim McGraw. Oher said in his court papers that despite having "no known physical or psychological disabilities," he was deceived into signing conservatorship papers when he was 18 after he had been living with the Tuohys at their Memphis house for more than a year. He unknowingly gave away his rights to sign contracts and to make education and medical decisions to the Tuohys, believing the conservatorship papers were part of his adoption process, according to his court papers filed in Shelby County Tennessee Probate Court.
On August 21, Oher filed a petition with the court demanding a judge order a formal accounting of his conservatorship, which has been in place over him since 2004, stating that the Tuohys have failed to file a single accounting in his conservatorship with the court for the last 19 years. He is demanding that the Tuohys disclose income generated by any contract they entered on behalf of Oher, as well as any income they earned for the use of his name and likeness. He is also asking the Tuohys to stop falsely claiming that Oher was their adopted son and using his name and image as part of their marketing and business ventures.
The Tuohys have accused Oher of making his allegations merely to drum up publicity for his new book and said they had given Oher an equal cut of "every penny" received from the movie. "Even recently, when Mr. Oher started to threaten them about what he would do unless they paid him an eight-figure windfall, and, as part of that shakedown effort refused to cash the small profit checks from the Tuohys, they still deposited Mr. Oher's equal share into a trust account they set up for his son," Martin Singer, the attorney for Sean and Leigh Anne Tuohy, said in a statement released to Vulture.
Oher's fans eagerly lined up to support him despite the heat and humidity, waiting for their chance in a small outdoor courtyard for him to sign their book. Todd Allen, 54, made the hour-long drive to see him. For Allen, the recent revelation about Oher's dispute with the Tuohys was sad and disappointing, but it didn't diminish who Oher is and all that he has accomplished.
"You can't help but love his story," Allen said. "It's testimony of perseverance and overcoming obstacles."