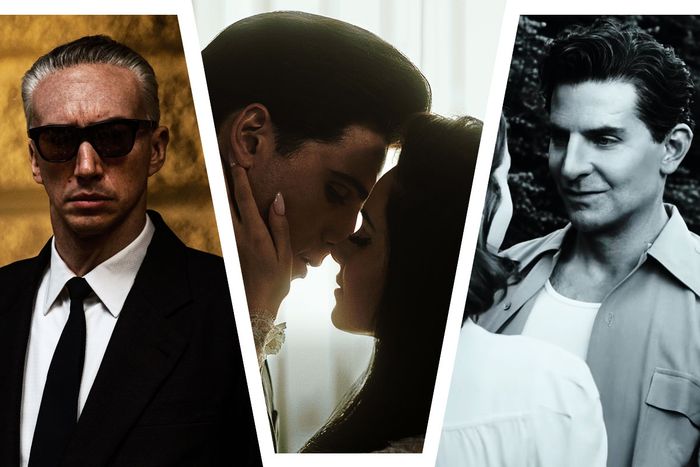 Michael Mann's
Ferrari,
Sofia Coppola's
Priscilla,
and Bradley Cooper's
Maestro
are among the films at this year's mid-strike fest.
Photo-Illustration: Vulture
It's been well over 100 days, and Hollywood is still on strike. The Alliance of Motion Picture and Television Producers has failed to meet the demands of not one, but two picketing unions, the Writers Guild of America (WGA) and the Screen Actors Guild (SAG-AFTRA). As a result, productions like Wicked and Gladiator 2 stand halted, and promotion of much-anticipated movies like Bottoms and Blue Beetle remains hushed. But, according to the Venice Film Festival, the show must go on. The Italian cinematic event is forging ahead with a substantial 2023 slate that barely reflects the tumult in the industry: a new movie from Michael Mann, a new move from David Fincher, a new nose from Bradley Cooper. (Sadly, no Challengers.) Some of these films' production teams have reached interim agreements with SAG (Mann's Ferrari and Sofia Coppola's Priscilla, among others) permitting their casts to attend the festival like usual. Other films from struck companies, like Netflix's Maestro, will premiere without the typical parade of movie stars (Bradley Cooper, who directed and stars in Maestro, will not be in Venice). Vulture will be on the ground covering the strange start to fall-moviegoing season, which kicks off on August 30, with our eyes on the following films:
1.

Emma Stone's monster turn
Poor Things
Emma Stone and Yorgos Lanthimos are back with another archly funny period piece about a bunch of kooks. In the adaptation of Alasdair Gray's 1992 novel, a "postmodernist revision of Frankenstein," Stone plays Bella Baxter, an "erotomaniac" who drowns and is then brought back to life by mad scientist Willem Dafoe. Unfortunately, she emerges from the afterlife with the brain of a baby, which means she must be rehabilitated, My Fair Lady–style. Before Dafoe can fashion her into his perfect companion, she runs away from society with her lover Mark Ruffalo on a whirlwind adventure across the globe. As always, Lanthimos's supporting cast is stacked — Ramy Youssef, Jerrod Carmichael, Margaret Qualley, and Christopher Abbott co-star, among others.
2.

Michael Mann's first film in eight years
Ferrari
It's a script Michael Mann has been trying to make since the early 1990s, though its roots go even further back, to the young Mann's fascination with Ferrari automobiles. (Viewers of a certain generation will recall that a Testarossa was arguably the third star of Mann's show Miami Vice.) This certainly doesn't seem to be an ordinary biopic about Enzo Ferrari (played by Adam Driver), however. It takes place over the course of a few months in 1957, a pivotal year in the automaker's life. And true to the director's obsessions, it appears to be as much about personal, intimate moments as it is about building beautiful cars and making them go at astonishing, dangerous speeds.
3.

A Leonard Bernstein biopic
Maestro
After the wild success of his 2018 directorial debut, A Star Is Born, Bradley Cooper just wanted to take another look at the Venice Film Festival. His follow-up feature is a biopic of famous composer Leonard Bernstein, with Cooper yet again in the lead role, swapping out Jackson Maine's self-tanner for some questionable prosthetics that have already caused quite a kerfuffle in the lead-up to the premiere. Nasal controversies aside, the movie centers on Bernstein's relationship with his wife, Felicia (Carey Mulligan), from their courtship to their marriage, which flexes painfully beneath the weight of his gay flings to the point where Felicia must sit in her clothes at the bottom of a pool. Cooper co-wrote the script with Josh Singer, and Martin Scorsese and Steven Spielberg produced, which means at least two Jewish people involved with production said, listen, the nose is fine.
4.

David Fincher's hit-man movie
The Killer
David Fincher made a hit-man movie. You don't need to say more than that. Few modern directors have a more rousing command of suspense, action, narrative, and style, Plus, he's one of those filmmakers who continues to have a blank check from Netflix. His last feature, 2020's Mank (also for Netflix), was a dream project he'd been trying to make since the 1990s. This one looks to be a more commercial project in all regards. (Which might mean it could be a huge theatrical hit, too — if Netflix actually bothers to give it a proper theatrical release.) It'll also be nice to see Michael Fassbender onscreen again.
5.

Harmony Korine's hit-man movie
Aggro Dr1ft
What happens when two of the most proudly chaotic men alive make a movie that's not exactly a movie together? We'll find out once we get a look at Aggro Dr1ft, a "sensual experimental elegy" by Harmony Korine and starring Travis Scott. Shot in infrared and billed as a "dreamlike portrait of a tormented assassin," Aggro Dr1ft follows Scott as he roams around Miami's criminal underworld, hunting down his next target. Demons are involved, somehow, as well, as they are wont to be in Scott's universe. In his accompanying director's statement, Korine says that he "wasn't wanting to make a movie," but instead "was wanting to make what comes after movies" and "wanting to be inside the world," then adds, "GAMECORE. Edglrd."
6.

A new release from Ryusuke Hamaguchi
Evil Does Not Exist
Drive My Car was one of the best films of 2021, but it was also an unlikely Oscar contender, somehow making its director Ryusuke Hamaguchi, an artist's artist fond of making exquisitely long, subtle, character-driven dramas, something of a household name in some circles. A new release by Hamaguchi is always cause for celebration, but it'll also be interesting to see how this new one — it supposedly follows what happens when someone tries to build a glamping site in a small village — builds on the success of his previous film.
7.

39 Minutes with Wes Anderson
The Wonderful Story of Henry Sugar
Wes Anderson's latest is a 39-minute short that adapts Roald Dahl's story of the same name, about a man who learns how to see without using his eyes and uses that skill to his gambling advantage. It's Anderson's second Dahl adaptation after 2009's Fantastic Mr. Fox, and it might not be his last — rumors abound that when Sugar premieres on Netflix at the end of September, it'll be accompanied by other adapted Dahl stories "The Ratcatcher," "The Swan," and "Poison." For now, the short will suffice, stuffed as it is with some of our greatest actors, including Ralph Fiennes, Benedict Cumberbatch, Dev Patel, Ben Kingsley, and Richard Ayoade.
8.

A Mads Mikkelsen–Nikolaj Arcel reunion
The Promised Land
Ludvig Kahlen was a Danish historical figure about whom not much is known — something of a folk hero, about whom stories have been conjured. What is known is that Kahlen, a veteran of the army, went out into the treacherous Jutland heath to tame and farm it in the name of the king. Danish director Nikolaj Arcel's film looks to breathe life into this figure with this story that follows his efforts to farm this hostile land, while also facing off against the brutal nobleman who technically governs it; it also reunites him with Mads Mikkelsen, who gave one of his best performances in the director's Oscar-nominated 2012 film A Royal Affair. Arcel was one of Denmark's most exciting filmmakers before he came to Hollywood and made The Dark Tower, a project with which nobody was happy. Now he's back in Denmark, tackling a story that seems to combine both the astute, character-driven work of his early career and the genre aspects of his later years.
9.

Sofia Coppola's Take on the Presleys
Priscilla
Sofia Coppola's take on Priscilla Presley will probably be the diametrical opposite of Baz Luhrmann's Elvis in every possible way. Not just in terms of where the movie's focus lies, either. Whereas Luhrmann's movies are confrontationally extravagant and (some might say) overstuffed, Coppola's tend to be delicate, understated. She prefers not to focus on big moments but on responses and effects — hers is an oblique cinema. Coppola's movies also typically to premiere to wildly divergent responses, so this one could be controversial, too.
10.

William Friedkin's final movie
The Caine Mutiny Court Martial
Before his recent passing, the late William Friedkin's final movie was already promising to be an emotional premiere, with the death earlier this year of one of its stars, Lance Reddick. It also returns Friedkin to the world of the filmed theatrical dramas with which he began his career, bringing the director back to his roots. (He adapted other acclaimed stage dramas in later years, with his knockout pictures of Tracy Letts's Bug and Killer Joe.) Herman Wouk's play, adapted from his successful novel The Caine Mutiny, is a fascinating drama that follows the trial of an executive officer who seized control of a minesweeper from its overwhelmed, paranoid captain during a deadly storm — a riveting procedural that then, in its final scene, pulls the rug out from under us in the most surprising way. It'll be fascinating to see how that ending plays in 2023.
11.

A Léa Seydoux sighting
The Beast
It's not an international film festival without a French movie starring Léa Seydoux. She's the lead in Bertrand Bonello's The Beast, a two-and-a-half-hour dystopian romance about her star-crossed love for George MacKay. Based loosely on Henry James's novella, The Beast is set in a near future overrun with AI where "human emotions have become a threat," following Seydoux's Gabrielle as she attempts to "purify her DNA," purging her various traumas in order to land a job. She revisits memories from various past lives she's lived, some of which involve torrid love affairs with MacKay's Lewis, over the course of the purification ritual.