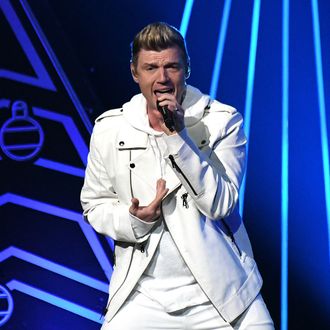 Nick Carter.
Photo: Desiree Navarro/WireImage
Update August 30: A Clark County judge has allowed Nick Carter to file a counterclaim against Melissa Schuman, per KTNV news. Both Schuman and Shannon "Shay" Ruth tried to block Carter's countersuit with anti-SLAPP motions, to no avail. The news comes the same day as a third woman sued Carter for sexual assault, when she was 15 years old.
Original story follows.
Singer Melissa Schuman filed a lawsuit against Nick Carter on April 11, accusing the Backstreet Boy of sexual assault and battery. The suit claims he'd used "his role, status, and power as a well-known singer to gain access to, groom, manipulate, exploit, and sexually assault" Schuman, per Rolling Stone. Schuman, who was part of the girl group Dream, said she was 18 when Carter allegedly raped her at his Santa Monica apartment in 2003. Schuman first publicly accused Carter of sexual assault in November 2017, writing in a blog post, "He was relentless, refusing to take my no's for an answer" and that he may have had a hand in sabotaging her career with the manager they shared. Carter, who first met Schuman while filming the made-for-TV horror movie The Hollow, denied the allegations shortly thereafter. Schuman then filed a police report at the Los Angeles County District Attorney's Office in February 2018, though authorities declined to pursue the case, saying that the statute of limitations had expired. Carter's attorney called the new suit a "PR stunt" in a statement to Rolling Stone.
This isn't Carter's first sexual-misconduct lawsuit: He was sued for sexual battery by Shannon Ruth in December, who said he'd invited her on a tour bus, sexually assaulted her, and gave her a sexually transmitted infection in 2001. Carter filed a countersuit against Ruth for $2.35 million in revenue lost because of the allegations. Ruth's suit accuses him of sexually assaulting three other women in addition to calling Ruth, who described herself as autistic, ableist slurs.