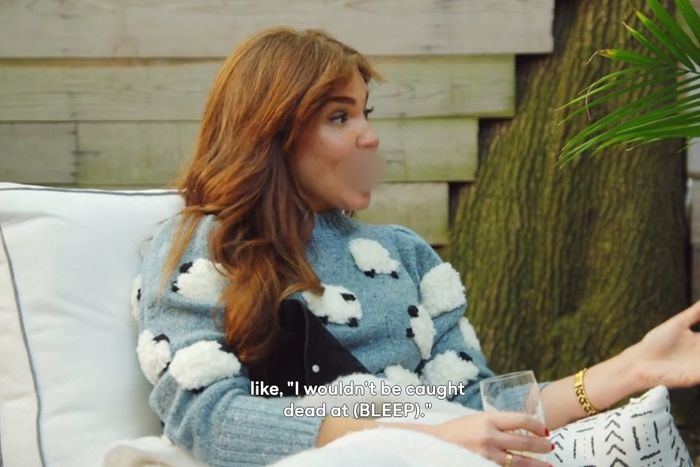 The premiere episode of the 14th season of The Real Housewives of New York City may be sporting an entirely new cast, but they are up to the same old petty drama we've come to expect. Yes, the biggest fight in the premiere is about a restaurant. Well, actually, it's about cheese, but there is ancillary restaurant drama attached to the same fight.
In "New Era, New York," Erin Dana Lichy is upset with her co-stars, Brynn Whitfield and Sai De Silva, because all of the women and a couple of their husbands were supposed to go to dinner together. However, Brynn and Sai decided to "dip out" on the dinner last minute when they discovered Erin's restaurant selection. Instead, they went to Casa Cipriani, the hot, private member's club next to the Staten Island Ferry depot. Their mistake was posting their dinner on social media, leaving Erin befuddled why they wouldn't go to her restaurant.
The wild thing is that Bravo decided to bleep the restaurant's name and even blur the women's mouths when they said it in the episode, so we have no way to know which devilish destination Brynn and Sai think they're too good for — or do we? Let's unravel this juicy blind item based on what we know from the episode.
"It was a huge group," Erin says about making the reservation. "Nothing was available, so I picked [bleep] … The restaurant used to be the hottest place in New York. It's easy to get to, and it's convenient."
Okay, good for groups, available at the last minute, formerly cool, and convenient. Got it. When Sai and Brynn talk about it at a separate gathering, Brynn reveals why she bailed: "I wouldn't be caught dead at [bleep]." Jessel Taank then asks her if it's 2006. Brynn replies, "It's not 2005, and I'm not a D-list model."
Sai then asks if it's bad that she doesn't want to go to [bleep] and says [bleep] is good for teenagers. Brynn says [bleep] is acceptable if you have people in from out of town … from Florida. Sick burn! Add to the evidence locker that [bleep] is tacky, used to be cool in 2005-2006, and is full of D-list models and people from Florida.
While there may be a bleep and blur going on, we can tell that the place's name has to be one syllable. My first thought was that it was Tao, the restaurant that opened in the early 2000s that Sex and the City put on the map in season four. It's huge, it's tacky, it's convenient, it's full of tourists, and it's been open since even before 2005-ish. But the mouth shapes the women were making didn't quite line up with the wide-voweled name of Tao.
It also doesn't line up with another clue we get later in the episode when Erin finally confronts Brynn about the dinner in Jenna Lyons' apartment (which, screw Zero Bond, is the chicest private club in New York). When Erin asks Brynn what her problem with [bleep] is, Brynn responds with a new variation on her earlier burn: "It's not 2012." Okay, Tao was already a punchline by 2012, so if this restaurant was cool enough for Brynn in the early teens, maybe it actually opened around then and Jessel and Brynn stumbled into an unintentional misdirect with that 2005/2006 stuff.
If we assume that Brynn initially misspoke and then did a quick Google search on restaurant opening dates in preparation for her confrontation with Erin, I think we're looking at Catch, which opened in October 2011. Tacky? Check. Huge? Check. Can take a last-minute reservation for a big group on the weekend? Check. D-list models? They're going to ask you to pick up the check, honey. And Brynn even said she wouldn't be "caught dead" there. Give her the Bethenny Frankel Award for best dialogue.
For non–New Yorkers, Catch is a giant nightclub-slash-seafood-restaurant in the Meatpacking District that can't even be on the street because all it knows are bridges and tunnels. In its review, the New York Times called it "a restaurant with a department store's dimensions and a nightclub's twitchy heart," and that was in 2012 when it was still cool. The same year, Bloomberg said it was a "Kardashian–esque seafood nightclub," and this was pre-Kim on the cover of Vogue, so Kardashian was even more of an insult.
Funnily enough, Catch's first executive chef was Hung Huynh, the winner of the third season of Bravo's own Top Chef. Maybe all the bleeps were to save him the embarrassment of being associated with a restaurant that not even Housewives would dare to go to. To be perfectly fair, I wouldn't be caught dead in Catch, either — but you can reserve a table for eight at 8 p.m. on a Saturday night by calling the night before. I know. I checked.
Update August 9: RHONY newbie Erin Lichy confirmed on Sirius XM's Jeff Lewis Live that it was indeed Catch getting bleeped over multiple episodes. Lewis was much more complimentary about Catch than the girls of New York. "We have Catch and we have Catch Steak in LA," he said. "Both are newer, so they're popular … but, see, I think they started in New York and I know these restaurants have this shelf-life." Vanderpump Rules also filmed at Catch's Playa Del Carmen location in season six. Bravo may be protecting the relationship, or at the very least trying not to make Catch seem any tackier than VPR's vacation shenanigans already did.