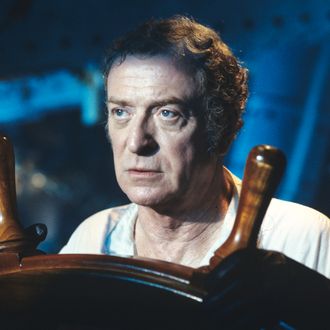 Michael Caine as Captain Nemo in the 1997 adaptation of
20,000 Leagues Under the Sea.
Photo: ABC Photo Archives/Disney General Entertainment Content via Getty Images
Even if your TV show is almost at the finish line, that doesn't mean it'll make it to air. Disney+ has pulled the plug on two series before they even made it to the streaming service: the television adaptation of The Spiderwick Chronicles and the 20,000 Leagues Under the Sea prequel Nautilus. Over the weekend, Variety confirmed that the mouse has crushed the Spiderwick despite being completed, and Paramount Television Studios and 20th Television are currently shopping it to other buyers. The Spiderwick Chronicles follows Jared Grace, who explores a fantastical estate filled with magical creatures. The series stars Joy Bryant, Lyon Daniels, Mychala Lee, and Noah Cottrell as the Grace family and Jack Dylan Grazer and Christian Slater as the mythical creatures Mulgarath and Thimbletack.
As for those deep in the ocean, it's the same story (with fewer spiders). Disney+ is reportedly helping Nautilus production find a new home for Captain Nemo and his crew members. The series follows Captain Nemo (played by Shazad Latif) as an Indian prince who is a prisoner of the East India Company. He eventually escapes and seeks revenge against his enemies while finding his crew along the way. But first, he's gotta find a new home for his show.