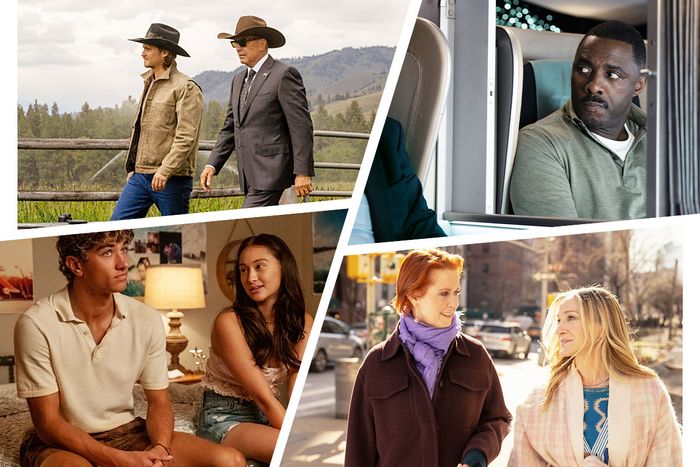 Imagine if you could watch
Yellowstone
,
Hijack
,
And Just Like That…
, and
The Summer I Turned Pretty
all in once place.
Photo-Illustration: Vulture; Photos: MAX, Apple TV, Amazon, Paramount
A veteran media executive I've known for decades has long had a theory about how the streaming revolution will play out. Even as legacy companies such as Disney and NBCUniversal started blowing up their business models to compete with the Netflixes of the world, he kept warning me that many of the momentous changes we were seeing wouldn't last forever. "All TV regresses to the mean," he would tell me over and again, almost like a mantra. His prediction has been proven right several times in recent years, from the shift back to weekly releases of shows to the introduction of ad-supported tiers on services that once shunned them. And now, there's evidence another golden oldie of TV's linear age could be poised for a comeback: the TV bundle.
The buzz about bundling has been steadily growing in TV industry circles since May, when Warner Bros. Discovery CEO David Zaslav took a break from his usual mustache-twirling to lay out case for why companies with streaming platforms needed to get on the ball and figure out a way to package their respective services together in one consumer-friendly package — a.k.a. a bundle. "For me, it seems very clear that if we were to package this great product that we have with others … it would be great for consumers," Zaslav said during an appearance at an industry conference. But more importantly from a corporate point of view, a bundle "would probably reduce churn," the CEO said, and could make it possible to spend less on promotion and customer acquisition since all parties in the bundle would "be marketing one product."
Reducing churn — how many people cancel a service every month — has taken on increasing importance as price hikes have rolled out across streaming (including the big ones announced Wednesday by Disney+ and Hulu). And this week, the number of prominent media execs signing a chorus of "I Want My Bundle Back" doubled when Paramount Global CEO Bob Bakish seemed to join Zaslav in affirming his support for the idea during an earnings call with investors. "We've been believers in bundling for a long time," he said in response to a question from an analyst. "Bundling has been one of the tried-and-true methods of value creation in media, and certainly, as we enter the streaming space, bundling is part of our strategy." To be sure, Bakish's praise of bundles was in the broadest possible sense and included shout-outs to ideas a few steps removed from the old cable bundle, such as his company's making a deal with Walmart to give Walmart+ customers free access to Paramount+. But he also pointed to agreements Paramount Global has struck outside of the United States, specifically partnerships with European satellite giants Sky and Canal+, as examples of "hard bundles" that might work one day in the States. "We are continuing to look at incremental opportunities in this regard, and the only thing we know for sure is it will be a growing part of what we're doing," Bakish said. "We like bundling."
But liking and believing in bundling are not the same as actually going all in on the idea. While Disney has had success packaging together streaming services it owns (Disney+, Hulu, ESPN+) into the Disney bundle, it hasn't shown any inclination to let its platforms be connected with third-party streamers. And while there are signs attitudes are softening — more on that later — that's largely been true of the other six biggest American streamers (Netflix, Max, Prime Video, Apple TV+, Paramount+, and Peacock). An industry insider I spoke to this week believes the holdup is understandable given the risks involved. "You're making serious trade-offs if you do this," he said.
The most obvious is that, because bundling involves discounting, companies make less money per subscriber than they would on an à la carte basis — particularly if a current customer switched to a bundle to save some dough. And with ad-supported tiers now standard across major streamers (even on Apple TV+, which has advertising in its sports programming), "You have to think about what the ad split is among partners and how it's constructed," the industry insider said.
And then there's the thorny question of whether competing streamers would want to handle the packaging and promotion of a bundle themselves (the way Disney does with its in-house services) or allow someone else to play middleman. The latter scenario would more closely mirror the linear model, where an Xfinity or DirecTV sells a bundle of channels and then pays individual services a pre-negotiated fee per subscriber. Both Paramount Global and Warner Bros. Discovery (at least under Zaslav) have been relatively relaxed about working with outside parties: Both participate in the Amazon Prime Video channels program, while Paramount has also opted into the Apple TV channels universe. Netflix, however, has refused to let its content get aggregated into those ecosystems, while Disney also currently boycotts those programs.
But interestingly, telecom giant Verizon has had much better luck getting streamers to play the bundle game. In June, it quietly began selling its customers a discounted package of Netflix's premium tier and Paramount+ with Showtime for $26 per month — about 20 percent less than the $32 it would cost to buy both separately. It's the first time the two streamers have ever been offered together in a bundle, and one of — if not the — first times Netflix has agreed to such a plan. One reason Verizon may be having more luck innovating in bundles is because it doesn't try to put content from various streamers into a single user interface the way the channel stores  do. Instead, it simply serves as a hub for Verizon customers to sign up and pay for subscriptions through their phone and internet account. Streamers are more comfortable with this approach because it means they retain tight control over user data and still have a semi-direct relationship with consumers. It wouldn't be surprising if we see Verizon, and possibly other cell carriers, leading the way in innovating on the streaming-bundle front.
That doesn't mean Amazon, Apple, and Google should be counted out as factors in the future of bundling. While Netflix might not need them for scale, other streamers might be more willing to compromise a bit in exchange for deals that help them dramatically increase their subscriber footprint. And while the tech companies have so far been focused on giving consumers a unified streaming experience — i.e., content from multiple streamers in one app — it's possible they might be willing to move to a Verizon-like role that makes them more of a hands-off wholesaler. Indeed, in his conference appearance earlier this summer, Zaslav suggested some of the tech giants might already be mulling the idea of creating their own bundles. "If we don't do it to ourselves, I think it will be done to us," he said. "It will be Amazon that does it. It will be Apple that does it. It will be Roku that does it. They're already starting to do it."
Indeed, we are seeing more bundles pop up with smaller streaming services. AMC Networks, for example, has been a big believer in the concept for some time now. Since last April, it's been part of a package pushed by Amazon's Prime Video channels bundling AMC+ with Starz at a discounted rate. (The plan works by giving anyone who signs up for either service the opportunity to add the other at a lower price point, effectively creating a discounted bundle.) In a May earnings call, AMC Networks CEO Kristin Dolan said her company's "long-standing distribution relationships" — namely, decades of working with cable companies — will help it during what she believes will be "the forthcoming shift to streaming bundles. These bundles are beginning to gain traction as the marketplace evolves and consumers seek a more simplified and integrated experience when it comes to managing their various services."
Other medium-size players seem equally keen on bundling. In addition to the mash-up with AMC+, Lionsgate-owned Starz is part of another bundle pairing its service with Amazon-owned MGM+ at a 20 percent discount. That offer is available on channel stores run by Amazon Prime Video, YouTube TV, and the Roku Channel.
Despite all the signs that streaming's future will involve more bundles, we might still be a few years away from anything close to what the cable ecosystem offered: one platform, one price. As noted earlier, several big streamers remain staunchly opposed to sharing the same user interface as rivals, and it's hard to see that changing soon. And as much as platforms want to reduce churn and, if possible, increase overall subscriber counts, they also want to be careful to not end up selling their product too cheaply. If you take in $2 less per user but net 20 million consistent subscribers, a bundle makes perfect sense. But if most of your users switch to a cheaper bundle deal and you only net a few million more customers, "Do you end up limiting your upside and how much you make overall?" our streaming industry insider wonders.
What's more, with so many changes expected to hit the industry over the next two years — many analysts have hinted at major mergers and acquisitions next year and in 2025 — there's always the danger of doing a deal that seems good now but ultimately becomes a headache. "Once you get into bed with someone, you're in bed with them for a while," the insider says. "You don't want to be locking yourself into the wrong deal." And yet, this same source also thinks we are still likely to see more aggressive bundling emerge relatively soon because, despite the risks, many streamers desperately need new ways to boost subscriber counts and revenue. "I wouldn't say everything is on the table, but the entire industry is looking for models that work," he says.