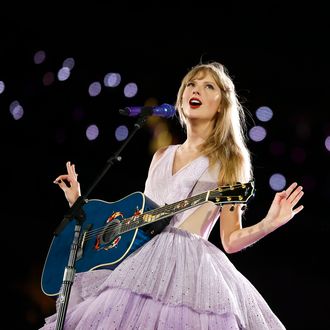 Photo: Emma McIntyre/TAS23/Getty Images for TAS Rights Management
The celebs were out for Taylor Swift's LA dates of The Eras Tour. Channing Tatum wore a shirt that read "It's Me, Hi, I'm the Daddy, It's Me" as he accompanied his daughter. Matt Rogers got verklempt at Tayla's surprise song. And Sarah Michelle Gellar went with buddy Jennifer Kaytin Robinson. Kaytin Robinson is the writer and director of Someone Great, and like Rogers she lost it when Swift played "Death by a Thousand Cuts." That song was inspired by Someone Great, which in turn was inspired by "Clean," of 1989. Aren't we all just a nice little community of artists, inspiring each other and exchanging friendship bracelets? Sarah Michelle Gellar caught the moment when Kaytin Robinson realized what song Swift was playing, and put it on her IG stories.
"Death by a Thousand Cuts" is one of the few surprise songs repeated by Swift on the Eras Tour. She discussed the song's inspo in 2019. "It's a movie about how she has to end this relationship that she didn't want to end because she's still in love with the person but they just grew apart and he's not a jerk," Swift said. "It's just sad because it's just realistic, time passed and now we're different people and that is the most devastating thing." Swift also said that writing the song was "the most meta thing that's ever happened to me," but now that's honor has probably been claimed by performing that song for the person who helped inspire it.