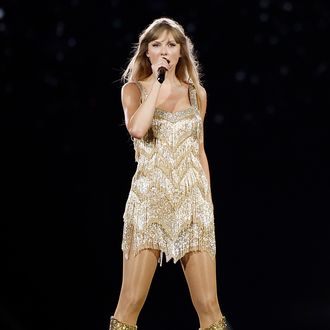 Photo: Emma McIntyre/TAS23/Getty Images
Taylor Swift doesn't want to be the anti-hero, but she might feel too big to hang out with her friends at a wedding rehearsal dinner, especially with what happened last night. Swift was spotted at Jack Antonoff and Margaret Qualley's rehearsal dinner at a restaurant in Long Beach Island, New Jersey, and groups of people quickly emerged to catch a glimpse of the star. Police soon arrived for crowd control, and X (formerly Twitter) was flooded with videos of people at the scene and even some photos of people knocking on the restaurant's windows. "Some people haven't seen this scene in Miss Americana and it shows …" wrote a fan online, referencing the Netflix documentary where Swift stated she was uncomfortable with fans swarming her private outings. Maybe a quick listen to "The Lucky One (Taylor's Version)" will allow for some perspective (or "Anti-Hero" and "peace").
"Page Six" reported Sunday that locals were miffed at Antonoff for scheduling his nuptials at the same time as the island's annual Beach Haven White Marlin Invitational. "Fuck the wedding," one fisher told the paper. "They should've planned it on a different weekend." And while Swift was escorted in sprinter vans between cordoned-off sections of the town, Lana Del Rey posed with fans in a local 7-Eleven. Nothing gets between Lana and her Diet Mountain Dew.
This post has been updated.